They think they are zamindars
The High Court yesterday observed that some deputy commissioners and officers-in-charge of police stations consider themselves as "zamindars" and act as if they are "all in all".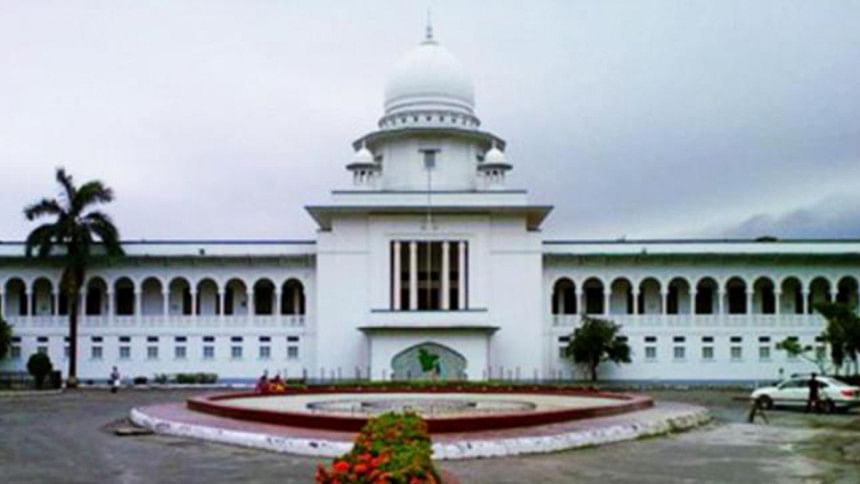 The High Court yesterday observed that some deputy commissioners and officers-in-charge of police stations consider themselves as "zamindars" and act as if they are "all in all".
It made the observation while hearing a bail petition filed by ex-Sonagazi OC Moazzem Hossain. The police official was sued for recording a statement of Nusrat Jahan Rafi, who was burnt to death in Feni, on his mobile phone and circulating the video clip on social media without her consent.
The court said Moazzem, the then OC of Sonagazi Police Station, utterly failed to protect the life of madrasa student Nusrat and damaged police department's image.
After hearing the arguments, the HC bench of Justice Md Moinul Islam Chowdhury and Justice Khizir Hayat rejected the bail petition on the grounds that it was not properly moved before the court.
Supreme Court lawyer Sayedul Haque Suman filed the case against Moazzem under the Digital Security Act on April 15.
At yesterday's hearing, Moazzem's counsel Md Ahsan Ullah claimed that a journalist copied the clip from Moazzem's mobile phone and made it viral on social media.
Then the court said that if journalists could get the clip earlier, Nusrat might not have been killed.
The allegations brought against Moazzem are abominable, it noted.
Ahsan said the case was filed under the sections, which provide for bail to the accused and sentences are lenient.
He also claimed that his client did not commit any offence by recording Nusrat's statement on his mobile phone.
The lawyer further said Moazzem is an "elderly person", and he needs bail for treatment as he has been suffering from heart disease.
He also assured that Moazzem would not leave the country if he is granted bail.
Opposing the bail petition, Attorney General Mahbubey Alam said, "The humiliating questions that the girl [Nusrat] was asked cannot be acceptable. I have not seen such an irresponsible act in my life.
"The officer-in-charge recorded her statement on mobile phone and made fun of her. What message will people get if he is granted bail?"
Mahbubey further said the jail authorities would see whether Moazzem is sick but he cannot be granted bail.
The court said Moazzem could have shown sympathy for Nusrat and could have even asked her to file a written complaint with the police station. If he had kept the girl in police custody, she would still be alive. 
Following the HC order, Ahsan told this newspaper that they would move a petition before the trial court, seeking his client's bail in the case.
If the trial court turns it down, another petition will be moved before the HC for his bail, the lawyer added.       
Nusrat, a student of Sonagazi Islamia Senior Fazil Madrasa in Feni, was set ablaze on April 6 allegedly for refusing to withdraw a case against the madrasa principal, Siraj Ud Doula, for sexually harassing her.
She died at Dhaka Medical College Hospital on April 10. The same day, OC Moazzem was withdrawn from Sonagazi as Nusrat's family alleged that he was not cooperating with them. 
At that time, a video clip showing Moazzem asking Nusrat some humiliating questions did the rounds on social media, drawing widespread criticism. Nusrat had gone to his office to file a complaint against Siraj.
Moazzem was suspended on May 8 for negligence in duty and attached to the office of the deputy inspector general of police (Rangpur range).
He had gone into hiding after the police authorities, instead of arresting him, allowed him to leave Rangpur for the capital two days after a Dhaka court on May 27 issued arrest warrant for him in the case filed by Suman.
After 20 days of hide and seek, police finally arrested Moazzem from the Supreme Court area on June 16. The following day, a Dhaka tribunal rejected his bail petition and sent him to jail.