Let Nusrat's demise strengthen our demand for justice
Nobody can survive after suffering 75-80 percent burn injuries. Despite this fact, we had hoped that Nusrat Jahan Rafi would somehow survive, by a miracle perhaps.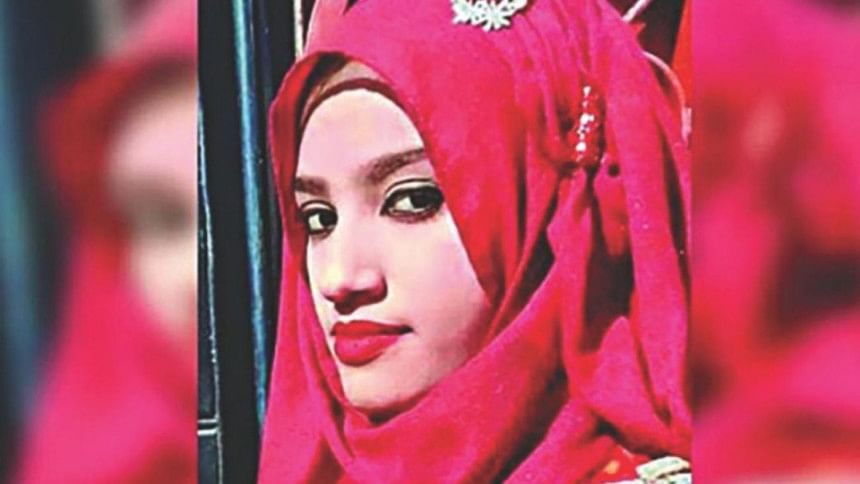 Nobody can survive after suffering 75-80 percent burn injuries. Despite this fact, we had hoped that Nusrat Jahan Rafi would somehow survive, by a miracle perhaps. But that was not meant to be. Nusrat passed away at the DMCH's Burn Unit on April 10, after going through unbearable suffering for five consecutive days. As long as she had the energy to speak, she insisted that Maulana Siraj Ud Doula—who had sexually harassed her—and those who set her on fire be brought to justice. Until her last breath, she demanded only one thing: justice.
On April 6, Nusrat, an Alim examinee, was doused in kerosene and set on fire by the alleged accomplices of Maulana Siraj Ud Doula, principal of Sonagazi Islamia Senior Fazil Madrasa where she was studying, for not withdrawing a case filed against him over sexual harassment. The girl's mother had filed a case against the principal on March 27 which was the reason for the attack on Nusrat. On that fateful day, as the attackers tried to intimidate Nusrat, the 18-year-old boldly said that the allegations brought against the principal were true and she would protest such a heinous act until her last breath, which she did.
Before she was put on life support on April 7, she gave a statement to the doctors, describing in horrific detail how she was attacked by a group of four people—all wearing burqas, veils and gloves. She mentioned one particular name—that of a girl whom she had heard during the incident—and also mentioned that the principal used to harass the female students of the madrasa on a regular basis.
Nusrat's family had not withdrawn the case against Siraj Ud Doula amidst pressure from a group of people and in the face of death threats by his accomplices. After the horrific incident of April 6, Nusrat's brother filed an attempt to murder case with the local police accusing Siraj Ud Doula and his assistants. But given the unfortunate culture of impunity that all kinds of criminals enjoy in this country, one wonders if the cases filed in the two incidents will ever see the light of the day.
The way the local police have acted since the filing of the first case against the madrasa principal indicates that they were well-connected with the perpetrator. As Prothom Alo reported, Nusrat's family said that they could not trust the local police as they tried to manipulate both the cases. The local OC himself has said that the case of sexual harassment against the madrasa principal was false. He even told a private TV channel that it was not clear whether the girl was attacked or it was a suicide attempt. The first case statement prepared by the police was full of wrong information and even the place of the attack was changed. According to the victim's family, in the statement, the police deliberately dropped the names of some of the accused including the madrasa principal, the main accused in the case. The OC was later withdrawn and the case was transferred to Police Bureau of Investigation (PBI), which is no doubt a positive step.
However, the fact remains that Siraj Ud Doula is a very powerful person in the area. An expelled Jamaat-e-Islami leader, he is backed by a section of local influential leaders. As this daily has reported, he had been sued for cheque forgery, vandalism and arson. Last year, a case was filed against Siraj over a Tk 1.39 crore cheque forgery incident. Although he was arrested in the case, he later secured bail from court and was released.
There were previous allegations of sexual harassment against him. Last year, a female student of the madrasa filed a complaint of sexual harassment against him but she was forced to withdraw the complaint later. According to locals and a number of staffers and students at the madrasa, no one at the madrasa dared to say anything against him. A Bangla daily reported that Siraj lost his previous job as a madrasa principal for sexually harassing a student.
In a society where criminals roam around proudly wielding political power and commit the most heinous of crimes and the victims live in constant fear of being further victimised, ensuring justice in such cases is far from easy. To make sure that Siraj Ud Doula and his accomplices are given exemplary punishment, which was Nusrat's only demand, we need a social movement with support from people from all sections of society.
It was worrying, to put it mildly, to see the reactions of a section of the madrasa teachers and staff who were allegedly working in favour of the perpetrators instead of supporting the victim and her family. And even many of those who feel the need to bring these criminals to justice are silent. We wonder if this is because Siraj Ud Doula is a madrasa principal. If we remain silent because of his religious identity and do not play our due role to bring him to justice, we might witness a rise in such incidents in future. If Siraj Ud Doula had been punished for his previous crimes, Nusrat would not have to face sexual harassment and been put through such misery and pain that eventually cost her life.
Siraj Ud Doula had gotten away with committing many crimes in the past. But this time we expect to see an exception. And the responsibility to ensure that he does not enjoy impunity in this case lies squarely with the government. After all that Nusrat has been through, the government must ensure that he faces a proper trial and gets exemplary punishment. The statement Nusrat gave to the doctors before being put on life support is strong evidence which should be used appropriately to deal with the case.
We, as a society, failed Nusrat. We couldn't do anything to save her. But what we can do at the very least is ensure that the people who were responsible for her fate are tried under the law of the land. If we can do that, it would be the first step towards ensuring the safety of our girls in educational institutions.
Naznin Tithi is a member of the editorial team at The Daily Star.