Nusrat Murder: Key accused confesses role
Feni AL leader held; madrasa committee dissolved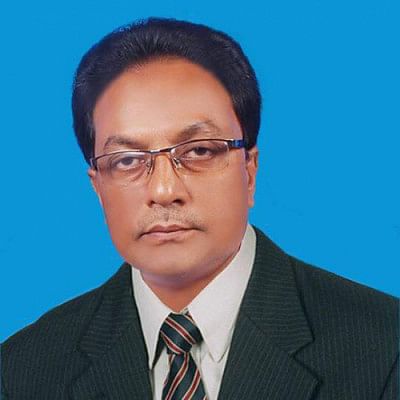 Umme Sultana Poppy, a key accused in the murder case of Feni madrasa student Nusrat Jahan Rafi, confessed to have called Nusrat to the rooftop moments before she was set ablaze, said police.
She gave the confessional statement before Senior Judicial Magistrate Shoraf Uddin Ahmed, said Md Moinuddin, additional superintendent of Police Bureau of Investigation (PBI).
She also admitted to have been directly involved in setting Nusrat afire, Moinuddin added.
On April 11, a Feni court placed Poppy on a five-day remand after she was picked up from her home on April 9.
The court also placed another accused, Javed Hossain alias Sakhawat Hossain Javed, on a three-day remand.
In the meantime, police yesterday arrested Sonagazi Awami League President Ruhul Amin over his alleged involvement in the murder.
A team of PBI, which has been tasked with investigating the gruesome killing of Nusrat, held Ruhul from Sonagazi municipality area in the afternoon.
PBI officer Moniruzzaman confirmed the arrest to The Daily Star.
Ruhul is also the Vice-president of Sonagazi Islamia Senior Fazil Madrasa's governing committee.
Ruhul's name surfaced after a number of arrestees in this case gave confessional statements before the court.
Sources close to investigators said on the day of the incident, Shahadat Hossain Shamim, another key accused in the case, called Ruhul over phone immediately after getting down from the rooftop of the madrasa where Nusrat was set ablaze.
Ruhul then asked him to run away, the sources added.
The arrest came a day after PBI chief Banaj Kumar Majumder told journalists that they were analysing statements of the arrestees regarding Ruhul's involvement.
Meanwhile, PBI investigators yesterday visited the crime scene with an accused, Kamrun Nahar Moni, who is on a five-day remand.
They also took her to a burka store in Sonagazi from where she purchased three burkas.
Shahadat, Zobayer Ahmed and Javed Hossain wore the three burkas while setting Nusrat on fire. PBI investigators said they were trying to seize the burkas.
In another development yesterday, the governing body of Sonagazi Islamia Senior Fazil Madrasa was dissolved by the authorities.
Alim examinee Nusrat lost her battle for life on April 10, five days after she was set afire allegedly for refusing to withdraw a case against madrasa principal Siraj Ud Doula for sexually harassing her last month.
Meanwhile, demonstrators under the banner of Students' Community against Rape and Sexual Violence yesterday organised a protest rally in the capital's Shahbagh, demanding a judicial inquiry into the role of police over Nusrat murder.