'Sexual harassment': Probe against commerce college teacher demanded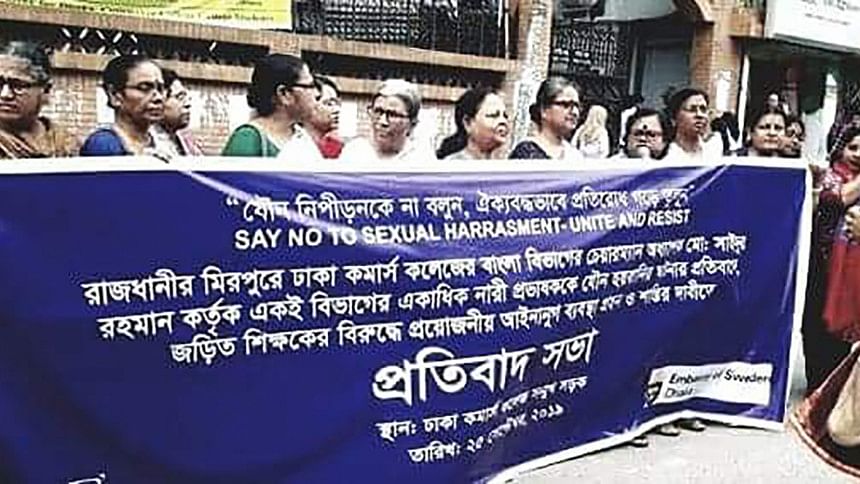 Bangladesh Mahila Parishad (BMP) today demanded investigation into the allegations of sexual harassment against the chairman of Bangla Department of Dhaka Commerce College.
The voluntary women rights organisation also urged the concerned authorities to suspend Prof Saidur Rahman, the chairman of the department, while conducting the probe, stating that his presence can influence the investigation into the matter.
Mahila Parishad organised a human chain programme in front of the college in Mirpur around 12:30pm following multiple allegations of sexual harassment against the professor.
Two female lecturers of the Bangla department had submitted separate written complaints against Saidur Rahman recently, one of whom also submitted a complaint with the Mahila Parishad, Dr Saudia Moslem, acting chairman of the organisation said at the protest programme.
Instead of launching a probe based on the complaints against Saidur Rahman, the college authority suspended one complainant and later reinstated her under pressure, Dr Saudia also said.
Around 50 members of the organisation took part in the protest programme including Laila Khaleda, secretary to movement affairs, Rekha Saha, secretary to international affairs of Mahila Parishad, and the organisation's members Advocate Maksuda Aktar and Brishty Sikdar.
Meanwhile, Prof Saidur Rahman recently put up a status on Facebook claiming himself as innocent. He also alleged that these allegations are conspiracies against him.