Setting Nusrat Afire: Brutality followed meet with Siraj
Followers visited madrasa principal in jail, got a 'directive'; attack was planned next day, says PBI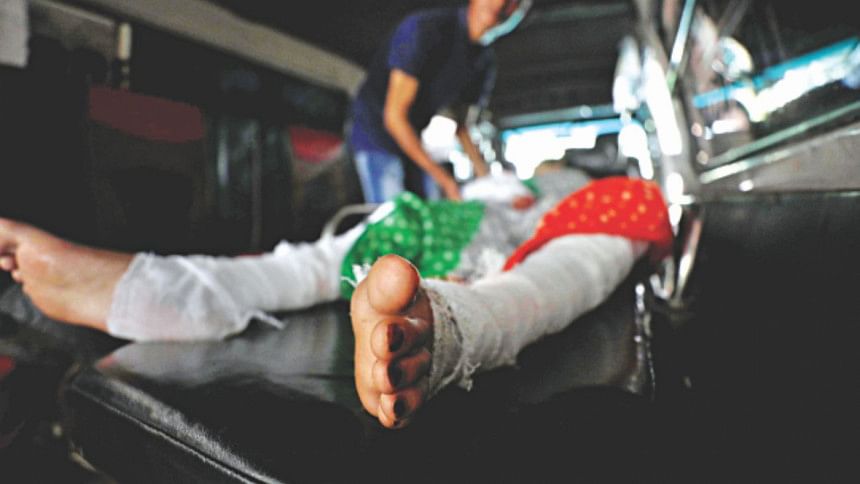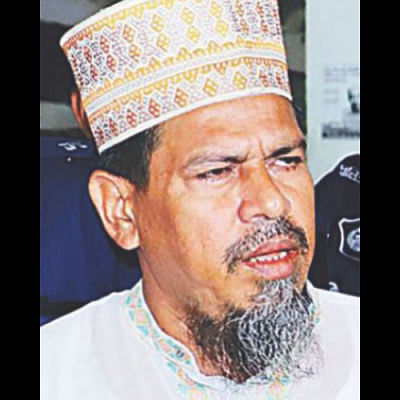 Nusrat Jahan Rafi was set on fire two days after detained Sonagazi madrasa principal Siraj Ud Doula gave a directive to some of his followers when they visited him in Feni district jail, investigators said yesterday.
It remains unclear exactly what the directive was but officials said two prime suspects -- Nuruddin and Shahadat Hossain Shamim -- and three other youths had planned the brutal act on April 5, just a day after the jail meeting.
So far, 13 people, including two female students of the madrasa, have been found involved in the crime, said Banaj Kumar Majumder, chief of the Police Bureau of Investigation.
Shamim was among the four who set Nusrat ablaze on the rooftop of the three-storey administrative building at Sonagazi Islamia Senior Fazil Madrasa in Feni on April 6, he added.
Investigators found that the attackers, all in veils, were students of the madrasa and included a female.
Briefing the press at the PBI office in Dhaka, Banaj said the group planned to burn her to death for two reasons.
Firstly, they believed Nusrat "demeaned Alem-Ulema" as the principal was arrested in a case filed for sexually assaulting her on March 27. Another reason was she repeatedly rejected Shamim's relationship proposal.
The victim was an Alim (equivalent to HSC) examinee and the incident took place minutes before the start of her Arabic first paper test at 10:00am.
Suffering about 75 percent burns, she died at the burn unit of Dhaka Medical College Hospital on April 10, triggering a huge public outcry across the country.
"They asked her to withdraw the case against principal Siraj Ud Doula. As she refused to budge, one of them poured kerosene on her from a glass and set her ablaze," her elder brother had earlier told The Daily Star, quoting her.
While the family members want a quick trial, the PBI said it would try to complete the investigation as soon as possible after arrest of other suspects.
"We want a fast, free and fair trial of those responsible," Nusrat's father AKM Musa told The Daily Star yesterday.
Earlier, local police officials had excluded the principal's name from the case but were forced to include it following objections from the family. The officer-in-charge of Sonagazi Model Police Station was withdrawn for negligence in handling the complaint of attack on Nusrat.
Meanwhile, two more accused, including Shamim, got arrested from Mymensingh and Feni on Friday night.
BURQA-CLAD ATTACKERS
Banaj, also deputy inspector general of police, said Nuruddin and some others met the principal in jail on April 4 after holding a rally and submitting memorandums to different authorities, seeking his release.
"They got a directive from the meeting," the DIG said.
Both Nuruddin and Shamim are Fazil (graduation) students of the madrasa and loyal to the principal, who was arrested on March 27 in the sexual harassment case filed by Nusrat's mother.
The two were made convener and joint convener of the 20-member committee that waged protests in the upazila town demanding release of the principal. They allegedly put pressure on Nusrat's relatives and others to withdraw the sexual harassment case.
Banaj said that around 9:30pm on April 5, Nuruddin, Shamim, Jabed Hossain, Hafez Abdul Quader, and another youth held a meeting at the West Hostel of the madrasa and planned to set Nusrat on fire. 
They later shared their plan with five others including two female students. As part of their plan, one girl was tasked with bringing three burqas and kerosene.
The next morning, the girl handed those items to Shamim and two others who were hiding inside the toilet on the rooftop of the building, he said.
"Another girl -- Shompa or Champa -- called Nusrat out of her exam hall and took her to the rooftop of the administrative building saying her friend Nishat was being assaulted there. As she reached the rooftop, the attackers in burqas first tied up her hands with her scarf and set her on fire.
"The building, also used as a cyclone centre, was empty and nobody heard her screaming."
Officials learnt that Shompa or Champa, now behind bars, is a relative of Siraj.
The attackers fled wearing burqas while five including Nuruddin stood guard at the gate to keep vigil, the PBI chief said.
"All [of the attackers] were students of the madrasa … We have come to know their identities," Banaj said replying to a query how the attackers escaped safely from a secured exam centre where police were deployed.
He declined to give names of the attackers, except for Shamim.
TWO MORE ARRESTED
Law enforcers said they arrested Shamim from Janata Guest House in Muktagachha municipality in Mymensingh and Jabed, another student of the madrasa, from Rampura area in Feni on Friday night.
Mononesh Das, an owner of the guest house, said Shamim booked a seat on Friday morning using a fake name. As he was from Feni and his behaviour was suspicious, they contacted police.
With Shamim and Jabed, some 13 persons have so far been arrested and seven of them are listed accused.
PBI officials said they are conducting raids taking Shamim with them to arrest the others. At least six others involved in the murder are still on the run, PBI officials said.
Meanwhile, a Feni court placed Jabed on a seven-day day remand after PBI Inspector Shah Alam, also the investigation officer in the murder case, produced him before the court seeking a 10-day remand. 
The court will hear the remand prayer for Maksud Alam, councillor of Ward-4 of Sonagazi municipality and expelled acting general secretary of the municipal AL, today. He is also an accused in the case.
Inspector Shah Alam said 10 arrestees among the 13 have been already been placed on remand.
'CONFIDENT TO COVER It UP' 
The planners earlier covered up several incidents of sexual harassment at the madrasa. Those who carried out an attack on Nusrat in 2017 also went unpunished, PBI officials said.
Talking to The Daily Star, a PBI official who interrogated at least two arrestees said the attackers and the planners left Feni and some of them came to Dhaka to avoid arrest.
Those who came to Dhaka were planning to meet at a city hotel on April 10 but they failed as the incident drew huge protests and media coverage. They changed their locations frequently and later Nuruddin and Shamim fled to Mymensingh, they said.
Both were planning to flee to India within a couple of days, said a PBI official after interrogating the arrestees.