From a t-shirt to Nusrat: Our right to protest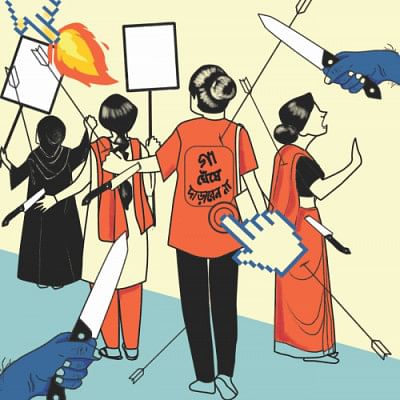 Nusrat Jahan Rafi died for protesting against sexual harassment on the same week that social media hyenas were tearing women apart for daring to wear the ga gheshe daraben na t-shirt on public buses.
"If they wear t-shirts on a public bus, then they should be raped!" was by far the most common, and the least violent, threat made by people regarding the much-debated women's t-shirt that recently went viral on social media for carrying a slogan that roughly translates to "don't rub against me." The majority of the comments delved into further graphic details about exactly how and where, and by how many men, the women who dare to wear t-shirts in buses, should be sexually violated. Instead of engaging with the subject of sexual harassment, the perpetrators (predictably) shifted the conversation to the tired and debunked theory that it is the women's clothes that incite rape.
Killing Nusrat was the ultimate show of this breed of toxic, violent masculinity that enjoys putting down women who challenge the system. What the social media users fantasised about from behind screens, Nusrat's killers brought to fruition. In a very Kadambini-esque fashion, Nusrat had to die to get people to believe what she had been trying to say for at least three years by now—that she is being sexually harassed by the principal of her madrasa and his disciples. Meanwhile, during the days before being set on fire, and even afterwards, while she lay on a hospital bed battling for her life, crowds of people took to the streets of Feni's Sonagazi protesting against the fact that the principal, who had sexually abused her, was arrested! Some of these people were her schoolmates. A girl wearing a niqab uploaded a video saying she's from Nusrat's school and that she had "problems"—essentially implying that she was promiscuous. A female principal of Feni Government Zia Women's College refused to let her students hold a vigil for Nusrat because she believed the girl was exchanging sexual favours for exam questions.
It was a classic act of slut-shaming that most school-age girls all over the world face. Except, in Nusrat's case, it was not limited to classrooms—these people actually took to the streets. These people actually killed her as much as the ones who set her on fire. If she had quietly accepted the principal's advances instead of sending him to jail, maybe she would have been alive today.
Similarly, any and every effort made by women last week to protest against sexual harassment in buses has left them violently attacked on social media. Last week, a young female television journalist uploaded a selfie of herself sitting in a bus, while a male passenger standing next to her rubbed the noticeable bulge at the front of his loose pants, on her shoulder. A sliver of the man's face was visible in the photo, showing him to be bearded, and of middle-age. Social media went berserk. How could the woman have the gall to blame someone who is so much older than her! It is a crowded bus, so of course, how else would he stand? They dug up every photo of her with men, to drive home the point that she is "sexually promiscuous". These people did not once question why the man had been so visibly sexually stimulated in the photo. Or realise that it is, in fact, possible to stand in a bus without rubbing your privates against another person. It was his right, they said, since the woman placed herself in a man's space. She deserved it, they also said, because she is the kind of woman who is not quiet.
Last week my female colleague from Star Weekend wrote a piece on the sexual harassment she faces in public buses, in an effort to defend the infamous t-shirt. Readers flooded the comments section with threats of rape, and personally attacked her with sexually explicit comments.  "Wear modest clothes. We get tingles when we see all this. We don't just feel like rubbing against your body, but also your breasts," said one commenter. "Feminists are simply legal sex workers," another said. "You wh*re, cover your breasts first, and then talk about morality," said another commenter. "Shivers ran through my member from reading your article," yet another commenter posted. There were hundreds such comments that sexually harassed, objectified and physically targeted my co-worker, simply for being a female, and writing a piece on sexual harassment in public spaces.
A social media user actually left a comment on the online business page of BJNS', the clothing store that brought out the ga gheshe daraben na t-shirt, saying that if they wanted to encourage women to protest by wearing clothes with such slogans they should have made kameezes or kurtis, so that men would not have a chance to deflect from the topic and shame them instead.
I recently ran across a pop-up store of BJNS'. They had several of the t-shirts on display. I gingerly inspected one. "Do you want one?" asked the salesperson. I shook my head and walked away. There is no way on earth I am going out alone wearing that t-shirt. In my regular clothes, I can quietly, unassumingly go about my day, navigate public spaces that were not built for me, not meant for me to be in. Wearing a t-shirt like that with such a bold, defiant statement will only further mark me as a target. I can almost visualise the story-line—it's a storyline women have experienced too many times. Someone sexually harasses us; we verbally protest and call the person out; he denies vehemently and says something about the clothes we are wearing so as to make a point about our character; some older man or woman tries to pacify the situation by asking us not to make a scene; meanwhile the bus conductor asks us to get off, and even if he does not, we get off ourselves, unable to stay in that bus a moment longer. Literally nobody takes our side. Even as we step off the bus and walk, we constantly look over our shoulders, to make sure the person we called out for harassing us is not following us.  Women who are afraid of confronting the men alone, suffer in silence.
With Nusrat's death the whole city has erupted into demonstrations, with everyone calling for justice. It is so easy to protest together, standing behind a banner next to people who are fighting for the same cause as you. It is that much harder to protest when you are one of the three women in a bus full of men.
"I will protest against this injustice till my last breath," Nusrat had rasped out to her brother, while fighting for her life. Inspiring words, but a last few breaths were all she had. What she has proved, though, is that for many of us and the women around us, challenging the injustices we face every day, is a matter of life and death.