Dhaka Metro Rail: Two more lines to cost Tk 93,800cr
Project proposals for Airport-Kamalapur, Hemayetpur-Bhatara lines up for Ecnec nod today; physical work to start soon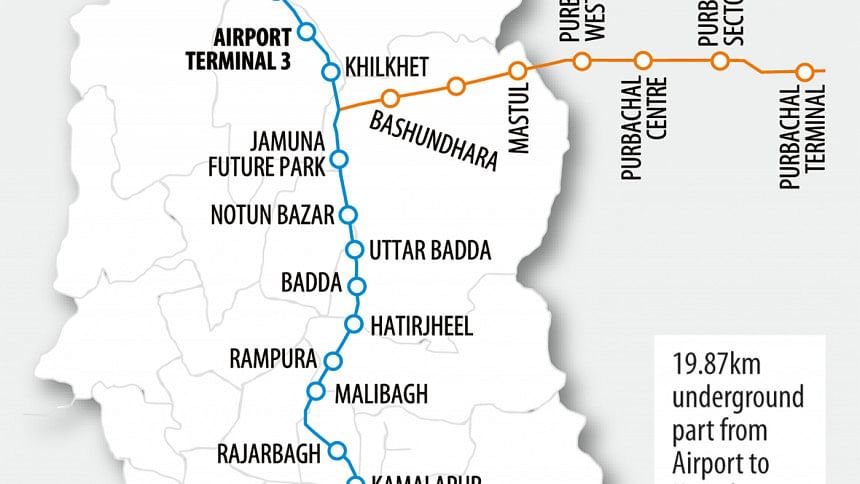 Construction work on two more metro rail lines will begin soon as the government aims to reduce traffic congestion and pollution in the capital.
Since there are no questions over the funds, the work will begin after the projects get the Ecnec nod, said a planning ministry official familiar with the developments.
Proposals for the two projects with an estimated cost of Tk 93,800 crore are scheduled to be placed before today's Ecnec meeting, a ministry official said.
The first proposal is on building Mass Rapid Transit-1 from Hazrat Shahjalal International Airport to Kamalapur Railway Station at a cost of Tk 52,561.43 crore.
This will be the country's first underground metro rail system. The 31.24km route will have an elevated section from Notun Bazar to Purbachal. Officials expect the project to be completed by 2026.
The second proposal is on building MRT-5 (northern route) from Hemayetpur of Savar to Bhatara via Gabtoli, Mirpur and Gulshan at an estimated cost of Tk 41,238.55 crore. The 20km line will consist of underground and elevated sections. The project commits to a 2028 deadline.
The Japan International Cooperation Agency will provide the lion's share of the costs in soft loans, officials said, adding that the loans, with an interest rate of 0.9 percent, is to be repaid in 30 years with a grace period of 10 years. This is the lowest rate Bangladesh gets from any multi-lateral and bilateral partners.
These projects are part of a long-cherished metro rail network for Dhaka and its adjacent areas. They are expected to ease the two major problems facing the capital: congestion and pollution.
The government aims to build five metro lines -- an elevated, an underground, and three elevated and underground -- in the capital and its adjacent areas by 2030.
In the last 10 years, the average traffic speed in Dhaka has dropped from 21kmph to 7kmph, which is slightly above the average walking speed, said a World Bank analysis of July 2017.
"Congestion in Dhaka eats up 3.2 million working hours a day. This costs the economy billions of dollars every year," it said.
Dhaka is the second most polluted capital in the world, according to the World Air Quality Report released in March. The Greenpeace and AirVisual, that monitor global air quality.
Work on MRT-6 between Uttara and Motijheel, the country's first metro rail project, has made 30.05 percent progress as of September and the lines are expected to open on December 16, 2021, when the country will be celebrating the golden jubilee of independence.
Once completed, the 20.10km metro rail service with 16 stations will be capable of carrying 60,000 passengers an hour, reducing travel time from Uttara to Motijheel from at least two hours to less than an hour.
State-run Dhaka Mass Transit Company Ltd is implementing the projects according to the Revised Strategic Transport Plan (2015-2035).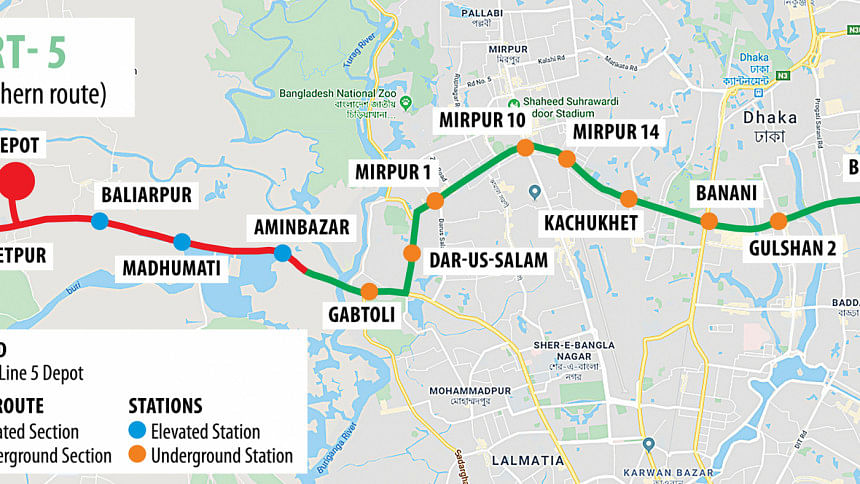 MRT LINE-1
This line will begin from the proposed Terminal-3 of Hazrat Shahjalal International Airport.
An estimated 14 lakh people will use this route a day, officials said.
It will also have an elevated part to connect Purbachal with Notun Bazar.
The 31.24km MRT Line-1 from the airport to Kamalapur will consist of underground, elevated, and transitional lines.
The route will have underground stations at the airport, Terminal-3 of the airport, Khilkhet, Jamuna Future Park, Notun Bazar, Uttar Badda, Badda, Hatirjheel, Rampura, Malibagh, Rajarbagh and Kamalapur.
The Purbachal part will have stations at Notun Bazar, Jamuna Future Park, Bashundhara, Police Officers' Housing Society, Mastul, Purbachal West, Purbachal Centre, Purbachal Sector-7 and Purbachal depot. Of these stations, Notun Bazar and Jamuna Future Park would be underground.
Of the total cost, the government will provide Tk 13,111 crore and Jica Tk 39,450 crore.
MRT-5 (NORTHERN ROUTE)
MRT-5 has two sections -- northern and southern.
The northern line will be between Hemayetpur of Savar and Bhatara via Baliyarpur, Modhumoti, Amin Bazar, Gabtoli, Dar-Us-Salam, Mirpur-1, Mirpur-10, Mirpur-14, Kochukhet, Banani, Gulshan-2 and Notun Bazar.
This 20km route will have 14km underground lines with nine stations and 6km elevated lines with five stations, according to the project documents.
Of the total cost, the government will provide Tk 12,122 crore and Jica Tk 29,117 crore.
The southern route, which is being planned, will connect Gabtoli with Purba Dasherkandi.
The 17.40km route, consisting of elevated and underground sections, will be completed by 2030, according to documents.
TWO OTHER MRTS
MRT-2 will connect Gabtoli with Chattogram Road via Basila, Jhigatala, Science Lab, Azimpur, Shaheed Minar, Golap Shah Mazar, Motijheel, Mugda and Demra.
MRT-4 will connect Kamalapur with Narayanganj with underground lines.