Cancer treatment far beyond poor's reach
They grapple with high costs of tests, medication; dearth of specialists, facilities makes things worse
When Mohammad Ershad arrived at a hospital in Dhaka four years ago with a persistent cough, he had no idea that it was symptomatic of something that could be so fatal.
A smoker for around four decades, he took treatment there and returned home to Keraniganj with signs of improvement. Doctors had advised him to give up smoking but he paid no heed to it.
Ershad's cough gradually turned chronic. Eight months ago, he started feeling severe pain in his chest and was whisked off to Mitford Hospital where he was diagnosed with advanced stage lung cancer.
The father of three shared his story while waiting at the medical oncology department at the National Institute of Cancer Research and Hospital (NICRH) in the capital's Mohakhali on Monday.
"My world was turned upside down upon hearing the news. I have spent a lot of money on tests and checkups. Now I don't know how to manage the treatment cost from my meagre earning," said the sixty-year-old, who works as a security guard in a private firm.
With every word, it was as if the reality of his situation had just begun to sink in. His sun-baked face, criss-crossed with wrinkles, turned gloomy.
Immediately after learning about the disease, Ershad visited a few hospitals in Dhaka for tests and checkups. But with a monthly income of Tk 7,500, he could not afford to take treatment in private facilities. He started going to NICRH for the last several months.
Apart from the treatment, he is now weighed down by treatment costs, along with the financial worries for his family.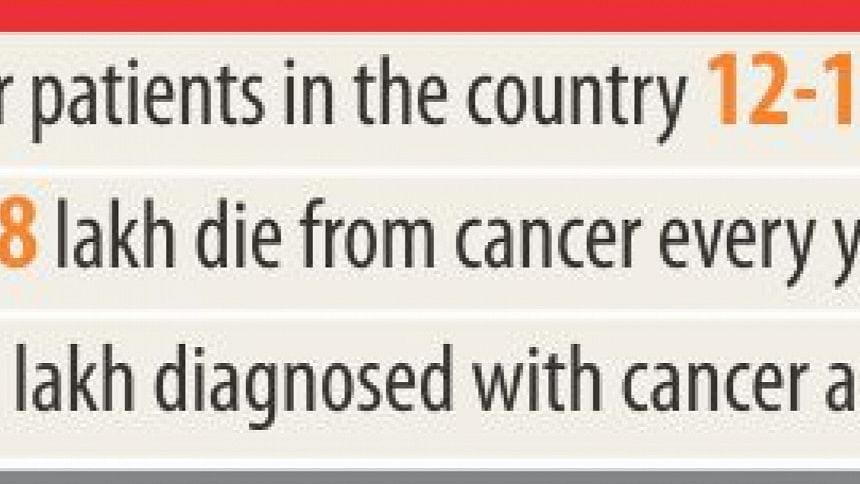 Patients like Ershad represent the vast majority of cancer patients from lower and lower-middle income families who can barely afford their diagnosis and treatment. Many of them have to sell off their properties and spend their life's savings just to bear the cost of treatment.
Although there is no concrete data on the number of cancer patients in Bangladesh, doctors at NICRH estimate that the number could be between 12 lakh to 15 lakh.
INCREASING PATIENTS, INADEQUATE DOCTORS
The number of cancer patients is on the rise due to various factors, including food contamination, unhealthy diet with low fruit and vegetable intake, lack of physical activity, obesity and infection, experts said.
Compared to the rising number of patients, the number of treatment facilities and specialist doctors are inadequate.
According to the International Agency for Research on Cancer's report last year, about 1.08 lakh people die, while 1.5 lakh people develop cancer every year in Bangladesh.
Currently there are around 200 cancer specialists in the country.
NICRH, the only specialised hospital for cancer treatment in the country, is the go-to place for patients in the low-income bracket. But with 300-bed, it is nowhere near enough because the number of patients seeking treatment there is on the rise.
According to the annual health bulletin of the Directorate General of Health Services-2017, the NICRH provided treatment to 1,91,000 outdoor, 4,813 emergency, and 8,365 indoor cancer patients in 2016.
Apart from the specialised hospital, there are only nine government medical colleges, which have logistics for cancer treatment, outside Dhaka. Although some private hospitals have been offering treatment in recent times through their oncology units, none of them specialise in cancer treatment. They are also too expensive for most patients.
Additionally, due to the constraints and a lack of confidence in the country's cancer treatment facilities, many patients, even those from the middle-income group, are going abroad for treatment.
Dr Mollah Obayedullah Baki, president of Bangladesh Cancer Society, said around 60-70 percent of the cancer patients take treatment in India and other countries like Singapore and Thailand.
However, the cost of treatment in India is almost equal to that of in Bangladesh, he added.
Even with the government hospitals providing medicines free of cost to at least 50 percent of the patients, families of many cancer patients are still unable to bear expenses and stop treatment halfway, said Muhammad Rafiqul Islam, assistant professor of the Department of Oncology of NICRH.
"We get many patients whose family's monthly income is less than Tk 5,000. How would they afford to get treatment in private hospitals?" he said.
The exact cost of cancer treatments varies depending on type and stage of cancer and the biological behaviour of the disease.
For example, the NICRH charges Tk 7,000-14,500 for a complete course of radiotherapy whereas private hospitals charge up to Tk 3,00,000, said Dr Md Moarraf Hossen, director of NICRH.
He said many cancer patients belonging to low income brackets cannot afford the treatment.
"Where would the people of the low income group go?
"On the other hand, we have some limitations in our hospital as well," said Prof Moarraf, pointing out the logistical and manpower issues.
Everyday around 550 patients take radiotherapy while around 275 patients take chemotherapy from the hospital at minimum cost, he mentioned.
But radiotherapy is not a single day's treatment; it takes at least six weeks to complete the course. It means that a patient needs to come to the capital or stay in the city, adding a further burden, he said.
Moreover, a patient cannot get appointment the day they come due to lack of capacity. "This waiting time is not good for the patient and we are trying to increase our facilities," he said.
The director, however, believes that the cancer treatment scenario would be changed for the better in the next three years, thanks to different initiatives of the government.
Prof Moarraf said the government had planned to set up 100-bed cancer hospitals in all eight divisional headquarters.
"Once the hospitals come into operation, cancer patients of low-income group will have more access in getting cheaper treatment," he said.