Tk 500 max for dengue diagnosis
Govt orders pvt hospitals, clinics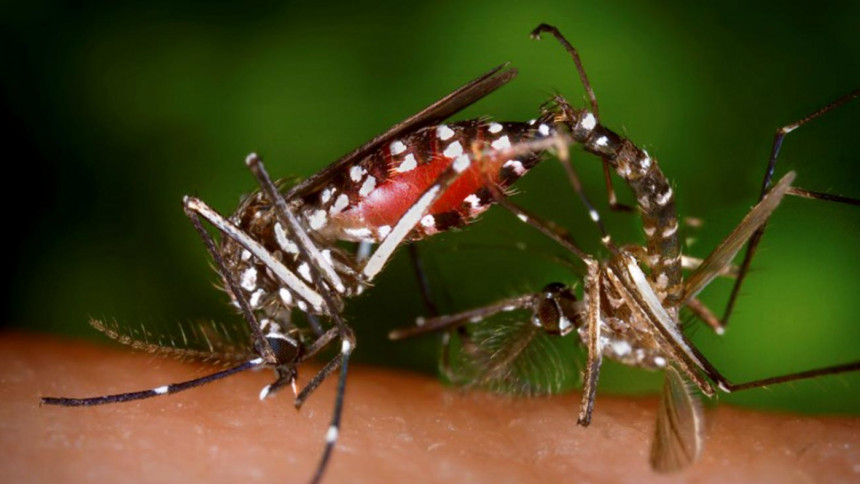 Showing symptoms of dengue, Kazi Jabunnahar, 29, went to a nearby private hospital from her Banasree house about two weeks ago.
After two days of treatment, her blood pressure dropped drastically and she went into convulsion several times.
Panicked, her husband Mustafiz Mamun paid the hospital bills of Tk 20,000 and got his wife released from there and shifted to another private hospital in the capital's Panthapath.
The cost of her treatment rose to about Tk 1 lakh in the next one week by the time she had recovered fully and went back home.
"It was quite difficult to manage the funds within such a short time. But her deteriorating condition didn't leave us any choice," said Mustafiz, a photographer by profession.
As the dengue situation worsened this month and took an alarming turn over the last week, public hospitals had to accommodate patients beyond their capacity and to the point that there was no space left even on the floors and corridors.
Against this backdrop, many patients went to private hospitals though it involved higher costs of diagnosis and treatment.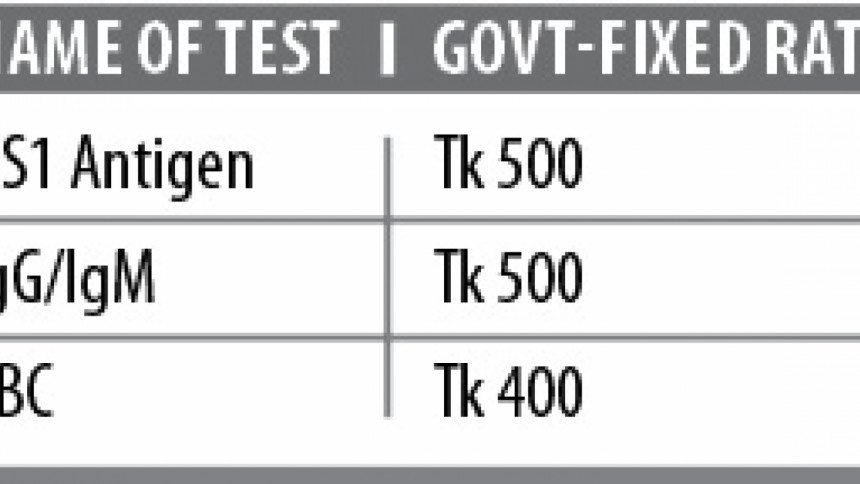 Given the situation, the government yesterday fixed the rate for tests, which are required prior and during the treatment of dengue patients, at the private hospitals across the country in an attempt to ease the cost of dengue treatment.
The maximum fee for NS1 Antigen test, which is conducted to diag-nose dengue within three days of fever, was set at maximum Tk 500. 
Two other tests -- IgG and IgM -- that are conducted to diagnose dengue at a later stage should not cost more than Tk 500.
The cost of complete blood count (CBC) test was fixed at maximum Tk 400.
Prof Abul Kalam Azad, director general of Directorate General of Health Services (DGHS), came up with the rates while addressing a press conference on overall dengue situation at his office in Dhaka yesterday.
Earlier, there had been allegations that private hospitals and diagnostic centres had been charging Tk 1,200 - Tk 2,000 for the NS1 test, Tk 800 - Tk 1,600 for IgM/IgE tests, and Tk 1,000 for CBC test, he added.
All these tests are, however, free of cost at the public hospitals.
In most cases, dengue treatments focus on fluid management and a few tests at least once or twice a day, which help doctors determine the next course of treatment.
The number of patients requiring blood transfusion is much less in comparison with that of the total infected patients.
Moreover, all hospitals have been instructed to increase beds for dengue patients.
With the increasing number of dengue patients, private hospitals are also accommodating patients to their full capacity.
There were 1,820 dengue cases reported in June, but the figure rose to 9,510 until yesterday. 
In the case of Jabunnahar, close supervision by the doctor to bring her pressure to the required level was all that she needed, said her husband, adding that the doctors had kept her on saline drip along with CBC test twice every day.
The long queue of patients to get the tests done at the public hospitals forces many patients to go to private diagnostic centres, said Prof Sayeeda Anwar, head of paediatrics department at Dhaka Medical College Hospital (DMCH).
One of such patients is seven-year-old Ankan Ranjan Kar who had fainted at his school before his family rushed him to DMCH on Thursday.
"Since it was an emergency, we didn't wait and got the tests done at a private diagnostic centre," said his mother.
The tests cost us around Tk 5,000, she added. With the test results, the family brought the child to the hospital where Ankan had to share a bed with three other children diagnosed with dengue.
"Our capacity to deal with the dengue crisis is limited. But our main target is to save people's lives and provide them with proper treatment," said Prof Abul Kalam Azad, director general of DGHS at the press conference.
Asked about the high charge of the Intensive Care Unit at Square hospital, where a student of Dhaka University died of dengue, he said, "We will look into the ICU costs of different hospitals to fix a rate soon."
To ensure that hospitals are treating patients as per the national guidelines issued to treat dengue patients, 10 monitoring teams will start working in the capital today, the DGHS DG added.
They will visit private hospitals and diagnostic centres to see if instructions given by the DGHS are followed and to collect information about dengue patients, he added.