No let-up in dengue woes
Number of infected people rising again after slight drop on Eid Day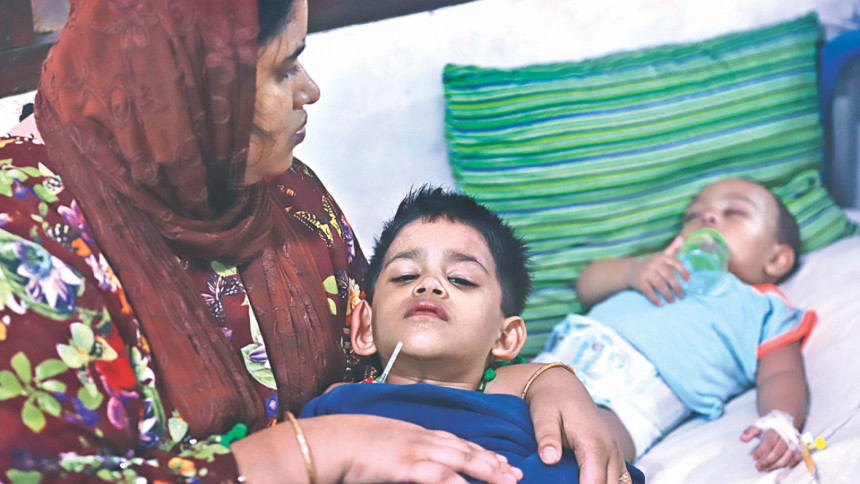 The number of dengue patients in the capital has begun to show an upward trend in the past two days, following a fall during the Eid vacation.
According to the Director General of Health Services, 1,929 patients were infected in the last 24 hours across the country till 8:00am yesterday. Of them, 811 were in the capital and 1,118 outside Dhaka.
The number was 1,200 on August 13.
Director of Shaheed Suhrawardy Medical College Hospital Uttam Kumar Barua said the number of admitted dengue patients has been on the rise immediately after the vacation period.
Around 383 dengue patients were undergoing treatment at the hospital on August 12, while it was 281 and 448 in August 13 and 14 respectively. Till yesterday, 432 patients were undergoing treatment there. 
Barua said the number of people taking dengue tests had not reduced even during Eid.
Some 6,207 people took dengue tests since August 1 to 14, whereas it was 2,873 in July and 997 in June.
A similar situation was found in other hospitals.
"We thought there would be fewer patients yesterday as it was a government holiday, but many people came," said Assistant Director (administration) Nasir Uddin of Dhaka Medical College Hospital (DMCH).
There were 710 dengue patients on August 12, while it was 601 and 640 respectively in August 13 and 14. Till yesterday, 601 patients were undergoing treatment in the hospital.
On average, 1,000 to 1,500 people come to the hospital to get tested for the dengue virus, but only 10 percent test positive for the mosquito-borne infection, said Nasir.
The huge rush of people going to hospitals to take the tests is also taking a toll on already stretched medical resources.
Eight-year-old Jannat had been waiting in a chair near the queue of a lab of DMCH for the last few hours to do a blood test for dengue.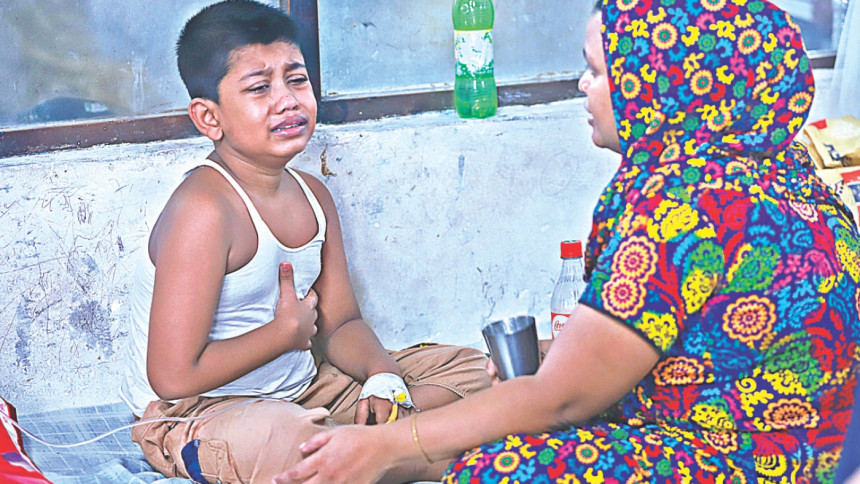 As around 1,500 people came to the hospital with fever to do NS1 dengue test, Jannat had to wait around three hours in serial after completing all necessary procedures.
"I brought Jannat to the hospital as she has been suffering from fever for the last two days and many neighbours suggested she be taken to hospital immediately," said Rubina Begum, aunty of Jannat.
The child had to wait several hours to give her blood after around three hours' journey from Keraniganj, she said.
Abdur Rahim, 70, and his wife Rabeya Khatun, 60, who came to the Shaheed Suhrawady Medical College Hospital from Uttara sector-14, also had to wait for hours to take the dengue test.
Both of them could stand in the long queue only for around 20 minutes due to their high fever and eventually they sat on the hospital's floor near the lab and waited for their turn.
"We are very panicked about dengue virus as we have been running a high fever for the last three days," said Rahim.
In the latest tally, the number of dengue patients is 48,280, of whom 7,570 are currently admitted to hospitals across the country.
THREE MORE DIE
A medical assistant of Madaripur Sadar Health Complex, Tapon Kumar Mandol, died of dengue in the city's Bangladesh Medical College Hospital.
He was admitted to the hospital yesterday afternoon and breathed his last around 1:30pm, said a hospital official.
Mandol was diagnosed with dengue around four days ago.
An official of DGHS said Tapan was transferred to zone-10 (Shyampur and Jurain) of Dhaka South City Corporation from Madaripur two weeks back to assist dengue patients.
Meanwhile, at least two other people died of dengue fever in Dhaka yesterday, taking the unofficial death toll to 93.
The official death toll, however, is still 40.
Raz Chowdhury, an around 3-year-old child, died of dengue at Dhaka Shishu Hospital yesterday.
Raz, son of assistant register of National Institute of Cardio Vascular Disease Nirmol Kanti Chowdhury was admitted to the hospital around 3:30pm, said Abdul Hakim, public relations officer of the hospital.
He was shifted to the Incentive Care Unit immediately but breathed his last around 1:30pm yesterday, Hakim added.
In DMCH, Mousumi, 25, a resident of Agargaon Taltola of Mirpur died of dengue yesterday.
Mousumi was admitted to the hospital around 9:30am yesterday and died around 11:30am, said Nasiruddin Mamun, husband of Mousumi.
In Bagerhat, eight dengue patients were identified yesterday, increasing the number of such patients in the district to 79.
Bagerhat Civil Surgeon Dr GKM Shamsuzzaman said most of the dengue infected people were returned from Dhaka. 
Health officials are advising dengue patients to stay in mosquito-nets so that it cannot spread, he said.
Our Bagerhat correspondent contributed to the report.