Little souls in distress
Half of refugees from Myanmar are children, adolescents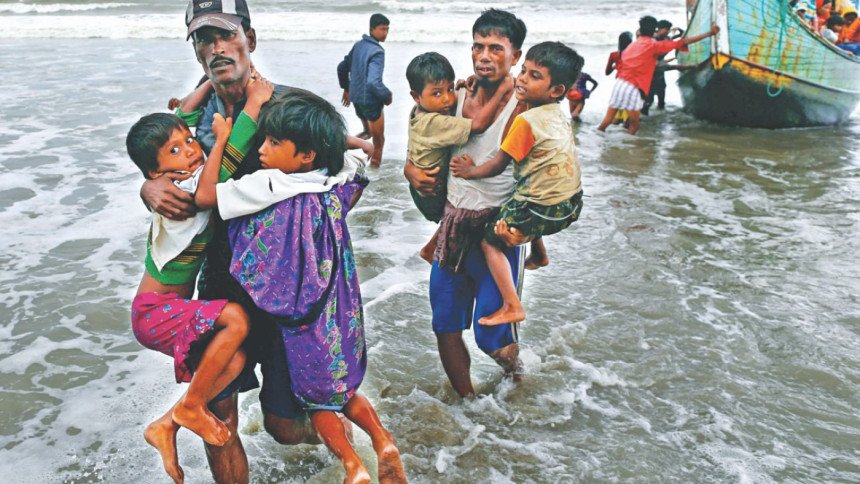 Noor Ankis looks pale, tired and terrified. The seven-month pregnant woman walked through jungles and hills for ten days and nights before reaching Ukhia's Bagguna, where a camp is being set up by the new arrivals from Myanmar.
"I walked some distance, stopped to rest a little and began walking again. One child was in my arms and my father carried the other," said Noor, 25.
Her two children -- Tahura Bibi, 4, and Mansur Ali, 2 -- were visibly sick as the three sat on the slope of Bagguna hills. Last time they ate was on Wednesday morning.
Like Noor, tens of thousands of women, many of them pregnant, have fled to Bangladesh with infants and young children who are in urgent need of food, treatment and protection.  
Bangladesh government officials and various aid agencies working to support the refugees estimate that about half of some 164,000 Rohingyas who entered Bangladesh in the last two weeks are children and adolescents.
In a statement yesterday, Unicef Executive Director Anthony Lake said nearly 80 percent of the new arrivals are women and children.
These correspondents yesterday saw thousands of Rohingya women and children sitting along the Cox's Bazar-Teknaf Highway as they have yet to find any shelter.
"We are waiting for food here," said Zaheda Begum, 40, who crossed the border with her six children on September 3 but failed to find a place to live. 
For the first two days, a family of Kutupalang Rohingya Camp provided them shelter and then asked them to leave because they would take in other Rohingya refugees.  
Since then, she has been spending the day on roadsides with her four children, keeping her two teen daughters at some locals' homes for their safety. At night, the family reunites and sleeps wherever they can find shelter.
Zaheda's daughter Ismat Ara, 10, said a passerby gave her a toast and a banana in the morning.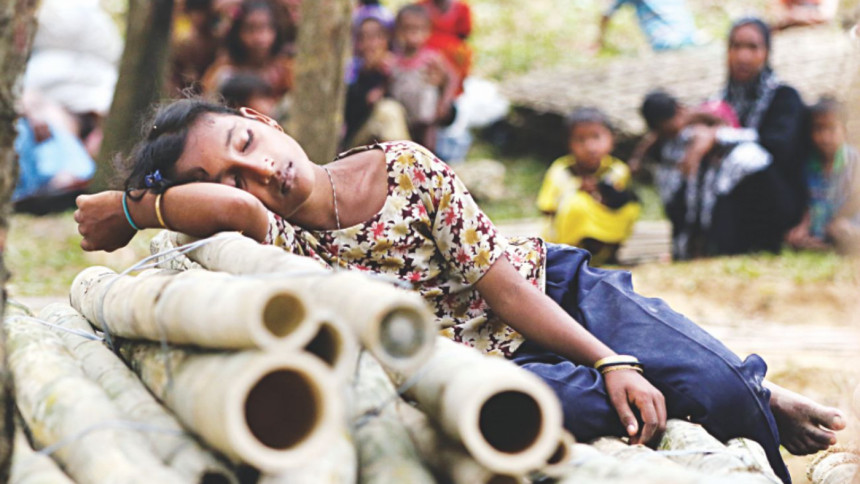 It was around lunchtime when The Daily Star talked to her and she didn't know if she would get to eat anything for lunch. "If I get something, I will eat. Or else, I won't."
NGOs providing supports to Rohingya refugees say children are at greater risks on many counts.
"There are children who are severely malnourished. Often, they are found sick. Unless they are given special care, these children may face a dangerous situation," said Mohammad Mahadi, coordinator of Action Against Hunger in Cox's Bazar.
The children, who walked long ways from Myanmar to reach Bangladesh, did not have good food on the way and there is no coordinated effort to feed them here either, he said.
Action Against Hunger, which used to distribute lunch and fortified biscuits to 1,000 people before August 25, now provides it to around 20,000 people a day in Kutupalang and Ukhia. "But this is nowhere near enough," he said.
"Many of these children saw violence, killing, torture and shooting. So they are traumatised," Mahadi said, adding that they were providing mental support to them as much as they could.
The children who lost their parents also face a grave risk of being trafficked, particularly the teen girls, he warned.
Bimal Chandra Dey Sarker, chief executive of a local NGO Mukti, said, "We have found many Rohingya children suffering from cold and fever.
"These Rohingya children need to be identified and settled if they are to be provided with better services and protection. It will take some time."
The Unicef is scaling up its efforts to support these children, he added.
Rohingya Refugee Repatriation Commissioner Mohammad Abul Kalam said the Bangladesh government was aware of the need of the children, but the sudden and massive influx was beyond its imagination.
"We neither have the manpower nor the infrastructure to support so many people. Still we are trying to help them on humanitarian grounds. We need some time to ensure better protection for them," he told The Daily Star.
Anthony Lake of the Unicef in his statement stressed the need for urgent help and protection of children both in the Rakhine state and those who have fled to Bangladesh due to violence in Myanmar.
The UN office in Bangladesh also made a similar call.
Various UN agencies in Cox's Bazar are providing emergency shelter, food, clean water, and nutritional support. To enhance access to clean water and sanitation facilities, agencies are quickly installing new tube wells and latrines, it said in a press release.
In response to the health need of the new arrivals, mobile medical teams are providing emergency health services, and health facilities are working to scale up services to meet increased needs due to the recent influx.
Child-friendly spaces have also been established to provide vulnerable children with appropriate psychosocial support, it added.
Citing UN officials, Al-jazeera reported that as many as 300,000 Rohingya Muslims could flee the violence in northwestern Myanmar to neighbouring Bangladesh.