Death came hissing through the air
Survivors recount how Myanmar troops shot people dead, burnt down houses in a Rohingya village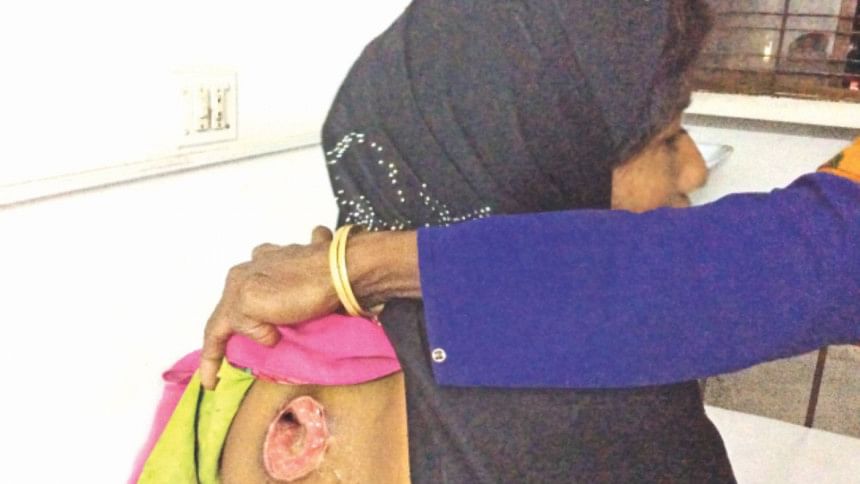 Hearing gunshots, Md Yunus realised that troops were closing in on their village. So he instantly ran towards a nearby hillock to hide with a belief that the military would target only young and grownup males.
But it was soon clear to his wife, Taslima Begum, that the army men were shooting at anyone and everyone.
There was no time to lose. So she quickly grabbed some cash and gold ornaments hidden at a corner of her house and started running towards the hillock. Her younger son Hafiz was in her arms while the elder one, Abdul Hannan, 8, was trying to keep pace with her.
"Suddenly, I was hit in my shoulder and knee. I realised both my sons got shot. I don't remember anything … I collapsed…," said Taslima, now being treated at the 250-bed District Sadar Hospital in Cox's Bazar.
When she regained consciousness, it was evening, she recalled. Her mother-in-law came to look for them when the troops left the village of Hasoprang in Rachidong and woke her up.
But what she heard from her mother-in-law next, shattered her world once and for all: Both her sons had died. 
"They killed my sons … I could not save my sons," said Taslima, 25, tears rolling down her cheeks.
The first bullet pierced through the arms of her younger son and then hit her shoulder, she said, pointing to her injuries.
Like her, 84 Rohingyas -- men, women and children of different ages -- are being treated at the Sadar hospital with bullet injuries and fractured bones.
The Daily Star spoke with four victims who are from the same Hasoprang village which was attacked on August 30, five days after the Myanmar military launched a crackdown on Rohingya villages following attacks by Rohingya insurgents on police and army camps early on August 25.    
Describing the indiscriminate shooting on innocent civilians, Taslima said she lost five members of her family -- her two sons and her father-in-law, brother-in-law and sister-in-law -- in the attack.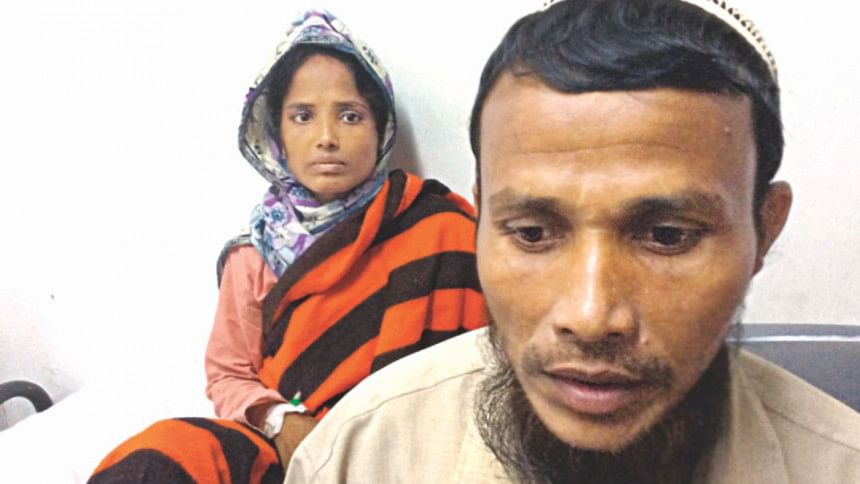 "We could not even bury them. We had to flee for our lives, leaving them behind in the open field," said Taslima's husband Yunus, who reunited with her after the army left.
Wearing a lungi and an unusually large shirt that someone gave him at the hospital, he recounted what he saw while hiding in the hillock.
It was around 3:00pm. First, the troops encircled the entire Hasoprang village. Then they raided every house, looking for youths and able-bodied men. Forcing them out of their homes, the army set fire to the houses and shot at anyone trying to flee.
He could not give any number but said many died while many others were injured.
The family could not bring anything other than what they were wearing. The cash and the ornaments his wife managed to grab before fleeing were gone after the shooting. Yunus thinks the army men stole those before leaving the village.
"I had cows, goats and many sacks full of rice in my house. We had to leave behind everything," he said. 
Zamila Khatun, barely 15, was sitting on the bed next to Taslima's. She cannot lie down even when she wants to. The bullet that hit her chest came out through her back, just below her shoulder blade. Her grandmother, who is also Taslima's aunt, brought her to Cox's Bazar.
Zamila lost her father when she was a child and her mother married another man. So she was raised by her grandmother.
The two -- the grandchild and the grandmother -- trekked through jungles and hills for four days before reaching Cox's Bazar.
Nasir Ahmed, from the same village, narrated the ordeal of carrying his bullet-hit son, Enayetullah, on his shoulder for one day and one night before he entered Bangladesh.
Mohammed Hossain, 75, is the oldest of this lot. He had witnessed persecution of Rohingya population by successive Myanmar regimes before.
"But I've never seen such atrocities in my life. They were shooting at will at people in the village, setting bombs [landmines] near the fence. They wanted to kill all the Rohingya Muslims."
A portion of his one leg was blown off as a landmine exploded while he was crossing the border. All the eleven other members of his family reached safely at the border near the Lambar Beel in Whykang.
"This time they sent the nastiest troops from Yangon. They are shooting people at first sight. People had no option but to flee to save their lives," said Hossain, a resident of Kumirkhali village of Maungdaw.
But it is not only his age that separates him from the rest of the group; he had been a refugee before. When the Myanmar army launched a crackdown on the Rohingya in 1978, some 3,00,000 fled to Bangladesh. He was one of them.
"But I don't like to live the life of a refugee. So after about a year in the Kutupalang camp, I went back to my village," he said.
His village, Kumirkhali, is just a two hours' walk from the Bangladesh-Myanmar border.
"This time, they [troops] started torturing Muslims so severely. They prohibited prayers in local mosques around a year ago. They also shut down the local madrasa, Amirul Ulum Madrasa, three years ago. Later, they imposed restrictions on education of Muslim students one year ago," he said. 
His grandson Rafiq Mia was a class five student at the time. He had to quit as the authorities were not allowing Muslim students in the school, he said.
They are not rich, but they do not have much of a problem supporting the family either. They have their own land to grow crops, raise cattle and poultry to raise and rice stock to sustain them throughout the year.
"We did not have any problem other than the army repression. I never wanted to come again as a refugee. My father and my grandfather lived and died there. They have their graves there. But we had no other way but to flee to save our lives," he said.
Shaheen Abdur Rahman Chowdhury, resident medical officer of the hospital, said they were providing free treatment and medical supplies to the Rohingya people.
During surgeries, they found pellets, bullets and parts of metals, possibly from landmines, in the bodies of these patients, he said.
"The pressure was so high that we had to open a special orthopedic surgery unit only for the Rohingya patients," he said.