Fresh influx on
Around 1,000 Rohingyas reportedly sneak into Bangladesh; BGB sends back 146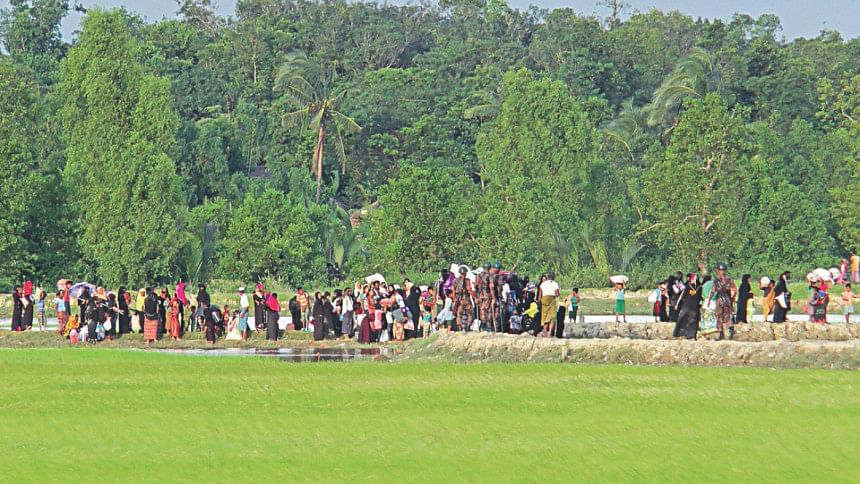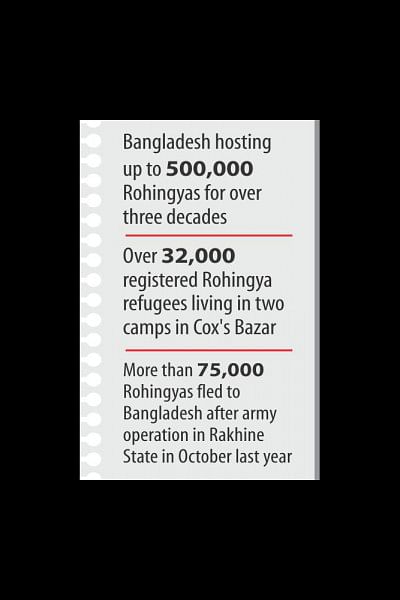 In the wake of Rohingya insurgents' attacks on police and army personnel in Rakhine State, Bangladesh yesterday saw a sudden influx of Rohingyas who fled Myanmar for fear of persecution.
More than a thousand Rohingyas, including women and children, crossed the Naf river early in the morning and entered Bangladesh through several points along the Teknaf and Ukhia borders, say locals.
They made their way through Kharaingaghona, Lambabeel and Ulubunia in Teknaf upazila, and Anjumanpara and Thaingkhali Rahmaterbeel in Ukhia upazila.
Villagers in Teknaf and Ukhia said they heard gunfire from the bordering Myanmar villages from Thursday night to yesterday morning.
Contacted, Cox's Bazar Deputy Commissioner Ali Hossain said he was aware of the Rohingya influx.
He, however, refused to speak further.
Border Guard Bangladesh said it yesterday sent back 146 Rohingyas hours after they entered the country.
Muslim militants in Myanmar staged a coordinated attack on 30 police posts and an army base in Rakhine State yesterday. At least 59 of the insurgents and 12 members of the security forces were killed, reports Reuters.
The fighting marked a major escalation in a simmering conflict in the northwestern state since last October, when similar attacks prompted a big military sweep beset by allegations of serious human rights abuses, it mentioned.
Syed Hossain, a Rohingya fisherman who took shelter in Teknaf's Lambabeel village yesterday, said he along with his 15 family members, including his wife, children and elderly mother, fled home in Myanmar's Maungdaw after he saw fire and plumes of smoke in nearby areas.
He, however, had to leave behind his son-in-law and a two-year-old grandson.
"I don't know about their fate," the 55-year-old man said, adding that they would seek shelter at a refugee camp.
Mohammad Lalu, a Rohingya boatman staying at Ukhia's Kutupalong refugee camp, said he learnt from his relatives in Myanmar's Mannama area that members of the Myanmar army set fire to Rohingya houses in the area on Friday night.
Zafar Alam, local Awami League leader in Ulubunia, said several hundred Rohingyas entered Bangladesh at dawn and took shelter at an embankment near a shrimp enclosure in Teknaf's Lambabeel village.
But most of them left the place before BGB personnel reached there, he mentioned.
Jalal Ahmed, member of Hoaikangway union parishad, said a large number of Rohingyas entered the area by crossing the border early yesterday.
They took shelter at different refugee camps and adjacent villages, he added.
A number of locals said Rohingyas are taking shelter at unregistered refugee camps of Leda, Kutupalong and Balukhali in Ukhia.
Talking to The Daily Star, SM Ariful Islam, commanding officer of BGB Battalion-2 in Teknaf, said 146 Rohingyas crossed the Naf river and entered Bangladesh through Palongkhali of Ukhia upazila, and Ulubunia, Lombabeel and Kharaingaghona of Teknaf upazila.
"Border Guard Bangladesh members gave the 146 refugees food, water and medicine and then sent them back to Myanmar."
The BGB official said they beefed up security measures along the    border.
Rohingya intrusion usually takes place whenever Myanmar military launches a crackdown in Rakhine state.
Bangladesh is currently hosting an estimated 500,000 Rohingyas since they started coming to Bangladesh to escape persecution three decades ago.
More than 32,000 of them are registered and live in two camps in Cox's Bazar. Others live mainly in different areas of Cox's Bazar and Chittagong.
After Myanmar armed forces launched a counterinsurgency operation following attacks on security personnel in Rakhine State in October last year, more than 75,000 Rohingyas fled to Bangladesh. 
[Our Cox's Bazar correspondent contributed to this report]