In desperate need for shelter
90,000 refugees already in; many stay in tents, hills, forestland
Nearly 70,000 Rohingya refugees have gathered at two newly built camps in Teknaf and Ukhia of Cox's Bazar as the old shelters in the district are already overcrowded.
So far, an estimated 90,000 Rohingyas have arrived in Bangladesh in the wake of violence triggered by a Rohingya insurgent attack in Myanmar's Rakhine State on August 25.
Visiting Naikhyangchhari in Bandarban and Teknaf and Ukhia in Cox's Bazar, it was seen that refugees are taking shelter wherever they can -- yards of local houses, hills, forestlands, crop fields or roadsides.  
One of the two new camps mushroomed some three kilometres off Cox's Bazar-Teknaf road in Teknaf over the last three days with the refugees putting up makeshift tents and seeking help from commuters, journalists and aid workers.
Pronoy Chakma, executive magistrate and AC land, said about 35,000 refugees have taken shelter at the camp encompassing Raikhyang and Putibunia villages in Whykang union.
While half a million Rohingyas are living in the district for years, the local administration and international organisations are struggling to provide the new arrivals with food and shelter.
After visiting the bordering area, Md Ali Hossain, deputy commissioner of Cox's Bazar, told The Daily Star that the situation is getting worse as more and more Rohingya people are pouring into the country every day.
The registered and unregistered camps, including that in Leda, Kutupalong and Balukhali, have been filled as the rate of refugee inflow increased two days ago.
Hundreds of Rohingya families were seen yesterday pitching tents using bamboo and polythene sheets in hills and crop fields of Whykang.
And several hundred more families were coming towards Cox's Bazar town by trucks and three-wheelers after crossing the Naf River, which marks the border with Myanmar. 
Talking to many refugees, it was learnt that they were not facing any obstacles on the border. But BGB was intercepting vehicles in Unchiprang of Teknaf and sending them towards Putibunia and Raikhyang.
Syed Karim, an elderly farmer from Nagpura in Maungdaw in Myanmar, reached Unchiprang last night. Two youths were carrying him in a plastic chair.
Asked, Karim said he fell down while fleeing atrocities by Myanmar army. Since then he cannot stand on his feet.
His son, one of the youths, said they were taking him to Cox's Bazar Sadar Hospital as he suspected that his father suffered a fracture in the waist.
Rangbahar Begum, 23, a mother of two minor children, arrived in Putibunia yesterday.
"My husband was with me. But I have lost him while coming here. Now I do not have a single penny with me. How would I feed my two children now?" said Rangbahar, weeping.
They had been starving for the last two days but nobody gave them any food at that newly established camp, she said.
Abdul Baset, a member of Whykang Union Parishad, said more than 30,000 Rohingyas took shelter in the two villages.
BGB men were providing them with medical treatment while the staff of International Organisation for Migration (IOM) were making a list of the newly arrived refugees.
In the last five days, locals and the administration have recovered 54 bodies of Rohingya people as three boats sank in the Naf.
Meanwhile, another camp was set up in a forest land along the Cox's Bazar-Teknaf highway in Taingkhali under Palongkhali union of Ukhia upazila.
Thousands of Rohingyas were seen felling trees planted under the social forestry programme of the forest department and putting up tents.
A number of refugees said initially they tried at the Kutupalong and Balukhali camps. But there was no room for them.
Mozaffar Ahmed, acting chairman of Palongkhali union, said nearly 40,000 people streamed into the Taingkhali camp in last three days. They are staying in tents.
A few thousand others are staying under the open sky in a vast area of forestland near the television relay centre in the upazila. They were yet to pitch any tent there.
Abu Siddique, president of management committee of the unregistered Rohingya camp in Kutupalong, said nearly one lakh Rohingyas have entered Bangladesh in the last few days as he found in a survey he was conducting.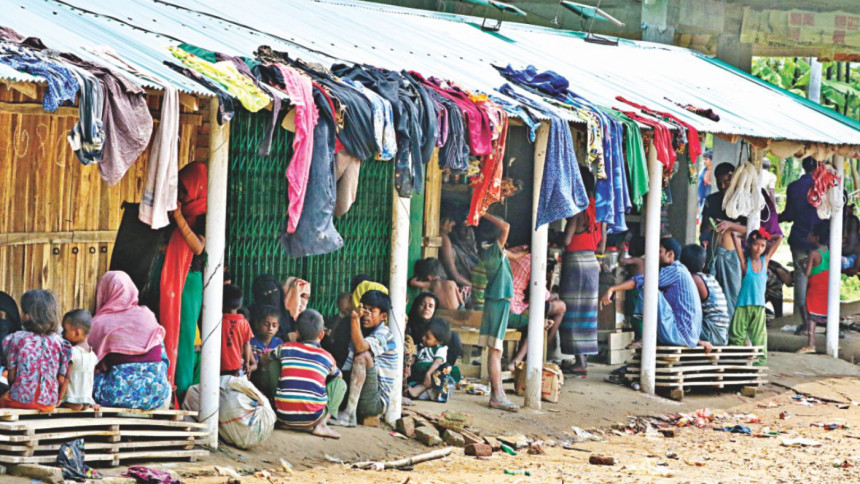 Md Mainuddin, upazila nirbahi officer (UNO) Ukhia, said Rohingya people "grabbed" forest land in Taingkhali and set up a camp after plundering trees but the forest department did not take proper action.
A section of local people also encouraged the refugees to set up the camp without permission from the administration, he added. 
SM Ariful Islam, director of BGB Battalion-2, said they did not open the border, and the border guards are active against illegal entrance of Rohingyas.
BGB is trying to gather all those who were able to cross the border and providing them with food and shelter. Steps will be taken regarding them based on the government decision, he added.