I want my boy back
Pleads mother of quota reform leader Tarek who went missing 2 days ago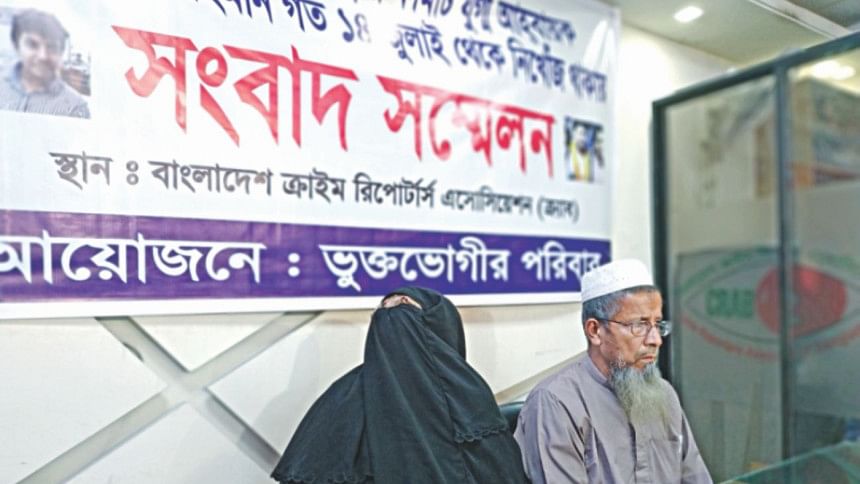 Shahana Begum was frequently turning back to have a look at the photo of her son printed on the banner. Eventually she broke down in tears, which made it difficult for her to start the press conference.
Two days went by and her son did not come home.
She had a sleepless night worrying and attending two police stations to file a general diary but all in vain, while her husband Abdul Latif came all the way from Bogra early in the morning yesterday.
Both in their 60s, the parents, however, managed to speak at the press conference convened by them at the Crime Reporters' Association of Bangladesh in the capital's Segunbagicha at noon.
"I just want my boy back. May he return safe and sound," Shahana said, addressing journalists.   
Tarek Rahman has been traceless since Saturday night after he went to Fakirapool area for printing        some banners for quota reform demonstrations, say his family and friends.
He is a joint convener of Bangladesh Shadharan Chhatra Adhikar Sangrakkhan Parishad, the platform spearheading the movement.
Talking with The Daily Star, Tanjila Yesmin, his elder sister, on Sunday said the last time she could contact him was around 4:00pm Saturday.
"He went to Fakirapool in the evening [on Saturday]. Since then he has been traceless," she said quoting his friends. "Before going missing, he told his friends that plainclothes men were following him."
The Daily Star could not independently verify the claims.
Hasan Al Mamum, convener of the quota movement platform, told this newspaper that he could not reach Tarek over his mobile phone after Saturday night.
"I talked to him over the phone around eight o'clock that night when he went to Fakirapool to print banners for Sunday's demonstrations. But I could not reach him afterwards," he added.
Earlier, four other quota reform leaders -- Faruk Hasan, Mahfuz Khan, Jashim Uddin Akash and Moshiur Rahman -- "went missing" before resurfacing in police custody one or two days later.
Law enforcers are currently cracking down on quota reform leaders and arresting them in lawsuits, a measure that has almost crushed the movement.
Tarek, an MBA graduate from Comilla University, was admitted to a coaching centre in Dhaka to prepare for BCS exams.
Tanjila said he used to stay at her house in the capital's Badda. "As he got involved in the movement, he started staying away from our house since the Eid-ul-Fitr to avoid arrest."
At yesterday's press conference, Abdul Latif, a stationery shop owner, said his son was picked up by police in earlier days of quota reform movement but he was released later.
"I told him not to join the quota reform demos as he was not a university student anymore. But he said they were demonstrating for jobs. Then I said it's okay. If the government agrees to your demands, why should I disagree?"
Asked if they have any involvement in politics, Latif said they don't. "But Tarek was an organising secretary of Bangladesh Chhatra League at Comilla University."
Tarek's mother said she went to Motijheel Police Station around 10:30pm on Sunday to file a general diary, where the duty officer asked  her to go to Shahbagh Police    Station, saying it's not in their jurisdiction.
When she went to Shahbagh Police Station around 12:15am yesterday, the officials there didn't record any GD and only took her phone number. "They said they would first verify the complaint."
Abul Hasan, officer-in-charge of Shahbagh Police Station, told this newspaper around 9:30pm yesterday, "I was not aware of it first but heard about the incident from journalists."
"The area of his [Tarek's] residency or the place of occurrence is not under Shahbagh Police Station."
Around 9:45pm, Omar Faruk, officer-in-charge of Motijheel Police Station, said, "The family members didn't come to this police station. You better contact Paltan Police Station. Fakirapool comes under both the police stations."
Paltan Police Station's OC Mahmudul Haque said he was not aware of the incident.
Contacted, Devdas Bhattacharya, additional commissioner of Dhaka Metropolitan Police, said they didn't detain Tarek. "But we are looking for him," he said, without going into details.
According to police, some 18 people, including several quota reform leaders, have been arrested so far and they are accused in different cases filed in April in connection with the agitations.