'What an ordeal I am facing'
Toriqul likely to be brought to capital today; doctor says his condition worsened since release from RMCH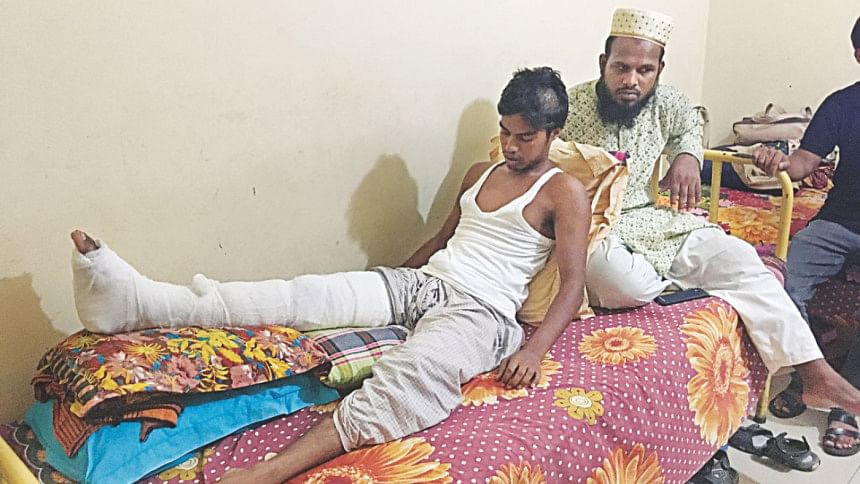 With bandages from toe to thigh on his right leg and eight stitches on left side of his head, Toriqul Islam is unable to turn to any side while lying in his hospital bed.
All he can do is often sit by keeping his legs straight and resting his body on his hands behind, and lie again.
"When I move, the broken bones create pains like needles pricking my body," said Toriqul, a quota movement leader of Rajshahi University, brutally beaten by BCL men on July 2.
At the Royal Hospital in the city's Laxmipur, a doctor saw him Thursday night and prescribed some tests. Then no doctor visited him till 9:30pm yesterday; nurses are attending him often though.
"What an ordeal I am facing. I have been denied treatment at the government hospital and now I am not getting a doctor at this private hospital," said Toriqul, who was hurriedly released by the RMCH on Thursday.
His sister Fatima Begum and friends said they had an online consultation with a doctor at Dhaka Community Hospital, who saw his x-ray and other reports and recommended an immediate surgery.
"We are taking him to Dhaka on Sunday [today] for better treatment," Fatima told this correspondent.
"We are not getting proper treatment in Rajshahi," she said and his friends who were attending him echoed her view.
When this correspondent visited him at 3:00pm, Toriqul was having lunch -- some rice, small fish curry and pulse that his friends bought from a roadside hotel. His sister was helping him eat.
Moments after finishing the meal, Toriqul vomited. Nurses rushed in and asked his attendants to inform them if he vomits again.
His friends are looking after him by turns. They are bearing his medical expenses with donations.
"Some of those visiting him are donating to us," said Manjurul Alam, one of his friends. He said they have so far spent Tk 30,000 for different tests and now hardly any money is left for further treatment.
A hospital staff said Toriqul was undergoing treatment under Sayeed Ahmed, also an orthopaedic surgeon at Puthia Health Complex.
Talking to The Daily Star over the phone, Dr Sayeed said he would see Toriqul after 8:30pm.
Contacted after an hour, the surgeon said he saw Toriqul's test reports at his chamber minutes ago and he would later visit the patient.
Toriqul's condition deteriorated since his release from Rajshahi Medical College Hospital (RMCH), he said.
"I learnt from his latest x-ray report that the alignment of his broken bones has changed. It is due to his movement while being shifted from one hospital to another.
"We will manually try to bring his bones in proper alignment. If it is not corrected this way, he would require a surgery in two or three days."
The doctor suspected some problems in Toriqul's backbone seeing the latest x-ray report. It was not detected during his treatment at the RMCH, he said.
"Toriqul has complained of severe pains in his back. I could not come to any decision from the x-ray report.  For confirmation, I recommended an MRI and a CT scan."
Earlier, Dr Sayeed had said, "Toriqul's broken bones came out through his skin. He will need a surgery after two weeks when the cut areas are likely to be fixed. He has a serious head injury and we also need to wait for its healing to conduct the surgery."
BCL men attacked Toriqul on July 2 with a hammer, bamboo poles and sticks leaving both the bones of his right leg fractured. He was going to join a procession demanding the gazette notification on quota reforms in government jobs.
Toriqul got admitted to the RMCH the same day but the state-run hospital released him on Thursday despite repeated requests by family and friends to keep him for a few more days. He was later shifted to the Royal Hospital.
Talking to The Daily Star, Rajshahi University teacher Moloy Bhowmik said the RMCH authorities should explain their position on releasing Toriqul before he got better.
"Getting treatment at a government hospital is a right of any citizen. Doctors should never judge patients based on their political views," he said.
Another RU teacher, Abdullah Al Mamun, said releasing Toriqul from hospital was an "inhuman act".
Murad Morshed, district coordinator of Ganosamhati Andolon, said, "The doctors in Rajshahi are showing reluctance in providing proper treatment to the patient."
Talking to this correspondent while visiting Toriqul, Murad alleged that the release from RMCH was done "with the ulterior motive" to project his grievous injuries as minor ones and provide his attackers an opportunity to avoid tougher punishment in court.
Mosaddek Hossain Bulbul, ex-mayor and city BNP president, who also visited Toriqul at the hospital, said with his release from RMCH, Toriqul's right to treatment as a citizen has been denied.
Prof Subrata Kumar Pramanik of RMCH Orthopaedic Surgery department, however, told this newspaper on Thursday that Toriqul has to wait two weeks for surgery. "Until then, he can take rest at home but will need dressings time to time. We have accommodation problem at this hospital amid rush of patients."
Toriqul's sister said proper care for her brother is not possible at their home in Gobindaganj of Gaibandha.
Both his parents are ill and they can barely afford education expenses of Fatima and her two brothers. Their family's economic condition is not good enough to bear his medical expenses.
She mentioned that a BCL man went to their home in Gobindaganj and asked her parents whether Toriqul and other family members are involved with Jamaat-e-Islami. Two other men also visited their house and questioned them.
"We were never involved in politics," she said.