Quota reform leader Faruk denied bail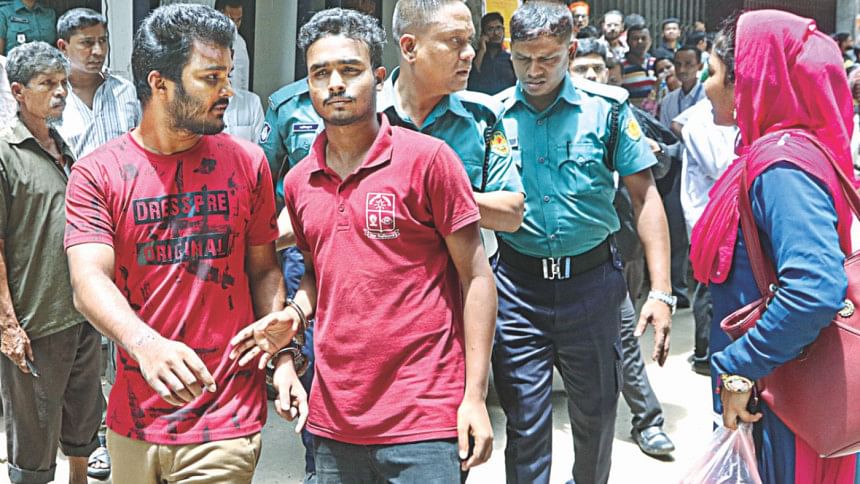 A Dhaka court rejected the bail petition of quota reform leader Faruk Hassan today in a case filed for attacking police and vandalising vehicles during the quota movement.
Faruk is the one of the joint conveners of Bangladesh Sadharan Chhatra Adhikar Sangrakkhan Parishad, a platform that spearheaded the quota reform demonstrations.
Additional Chief Metropolitan Magistrate Md Kaisarul Islam passed the order after Faruk's lawyer filed the bail petition on his behalf.
Yesterday, a Dhaka court sent Faruk and two other joint conveners of the platform -- Jashim Uddin Akash and Moshiur Rahman -- to jail on completion of their two-day police remand.
Faruk was shown arrested in a case filed for attacking police and vandalising vehicles during the quota movement while Jashim and Moshiur were shown arrested in another case filed for the attack on the Dhaka University vice-chancellor's residence on April 9.
Earlier on Tuesday, the trio were taken on two-day remand each.
Earlier in April this year, students of public and private universities across the country took to the streets demanding reforms in the quota system.
In the wake of their protests, Prime Minister Sheikh Hasina in parliament on April 11 announced that the quota system will be abolished.
After the government's failure to issue a gazette notification to that end, the quota reform platform on May 14 started an indefinite boycott of classes and examinations at all universities and colleges.
They also issued an ultimatum for publication of the gazette notification by May 13.
On May 21, they postponed their decision of boycotting examinations considering the month of Ramadan and possible "session jam" caused by the strike.
However, on June 26, the PM suggested continuation of the existing freedom fighter quota in the civil service.
In a latest development, the prime minister on Thursday in parliament said it is not possible to reform the freedom fighters' quota in public service due to a High Court verdict.