Quota Movement: DU, RU given legal notices over attacks by BCL men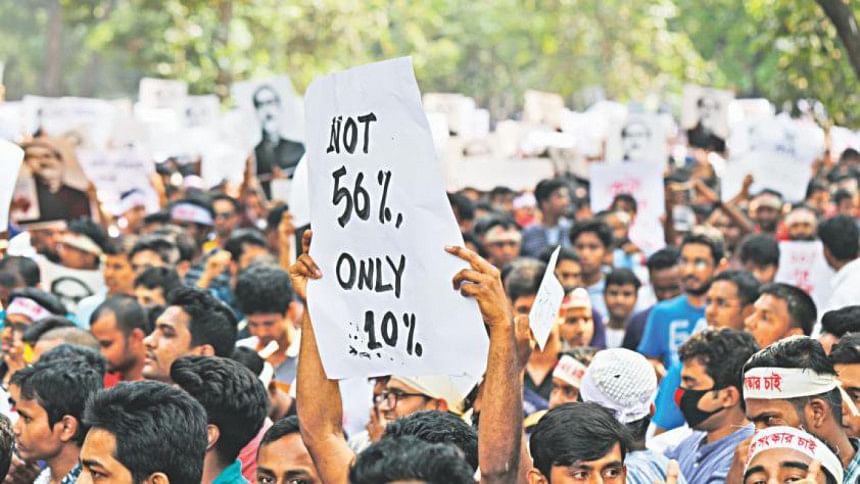 Thirteen Supreme Court lawyers yesterday sent legal notices to the authorities of Dhaka and Rajshahi universities to inform them in 24 hours what action has been taken against the BCL men for attacks on students demanding quota reform in public jobs.
The two notices, served on the vice chancellors, proctors and registrars of the universities, said "legal action will be initiated against them" if they don't inform the lawyers in writing about action taken against Bangladesh Chhatra League activists for attacking quota reformist students.
The counsels sent the notices on behalf of DU students Md Faruk Hasan, Md Moshiur Rahman, Jasim Uddin and Rashed Khan, and RU student Tariqul Tarek.
The five students were injured in attacks during protests over quota reform on the university campuses.
Citing from the notices, Hasnat Quaiyum, one of the 13 lawyers, said BCL activists attacked and tortured the quota reformists on DU and RU campuses, and reports on the incidents were published in the media with photographs and video clips.
But the authorities of the two universities have not yet said what action has been taken against the perpetrators, the lawyer told this newspaper.
FARUK DENIED BAIL
A Dhaka court yesterday rejected the bail petition of quota reform leader Faruk Hassan in a case filed over attacks on police and vandalising of vehicles during protests by quota reformists.
Faruk is one of the joint conveners of "Bangladesh Sadharan Chhatra Adhikar Sangrakkhan Parishad", a platform that spearheaded the quota reform movement.
Additional Chief Metropolitan Magistrate Md Kaisarul Islam passed the order on Faruk's bail petition filed by his lawyer.
On Saturday, a Dhaka court sent Faruk and two other joint conveners of the platform -- Jashim Uddin Akash and Moshiur Rahman -- to jail on completion of their two-day police remand.
Faruk was shown arrested in a case filed over attacks on police and vandalising of vehicles during demonstrations by quota reformists while Jashim and Moshiur were shown arrested in another case filed over the attack on the DU vice chancellor's residence on April 9. The trio were placed on two-day remand on Tuesday.
Earlier in April, many students of public and private universities across the country took to the streets demanding reform in the quota system.
Prime Minister Sheikh Hasina in parliament on April 11 spoke of abolishing all types of quotas in public jobs amid demonstrations by students and job seekers demanding reform in the quota system.
As no gazette notification was issued in this regard, the protesters started preparing for fresh programmes after the Eid-ul-Fitr last month. But they came under attack allegedly by BCL men.
On July 2, the government formed a seven-member body, headed by the cabinet secretary, which will review the reports of all the committees formed so far regarding civil administration reform.
Later on July 12, the PM told the House that it is not possible to reform the freedom fighters' quota in public service due to a High Court verdict.
REFORMIST LEADER 'MISSING'
Tarek Rahman, joint convener of Bangladesh Shadharan Chhatra Adhikar Sangrakkhan Parishad, had been missing since Saturday night, said his family members and leaders of the platform.
Police said they did not detain him, but they were looking for him.
Talking to this correspondent, Tarek's elder sister Tanjila Yesmin said she contacted her brother the last time over his mobile phone on Saturday afternoon.
"He went to Fakirapool in the evening. He has been traceless since then. Plainclothes men were following him [Tarek]," she said quoting Tarek's friends.
"As he got involved in the [quota reform] movement, he started staying away from home somewhere in the capital since the Eid-ul-Fitr to avoid arrest," Tanjila added.
Hasan Al Mamum, convener of the platform, said he could not reach Tarek over his mobile phone since Saturday night.
"I talked to him over the phone around 8:00 o'clock that night when he went to Fakirapool to get a banner for today's [Sunday] programme. But I could not reach him afterwards," he added.
Mamun said he also talked to Tarek's friends with whom he stays in the capital.
"They don't have any clue where Tarek is now," he added.
Contacted, Devdas Bhattacharya, additional commissioner (DB) of Dhaka Metropolitan Police, said they didn't detain Tarek.
"But we are looking for him," he said without giving details.
Asked, Najmul Islam, additional deputy commissioner of the DMP's Cyber Security Unit, also denied arresting the reformist leader.