Tigers on 5-day breather before the final push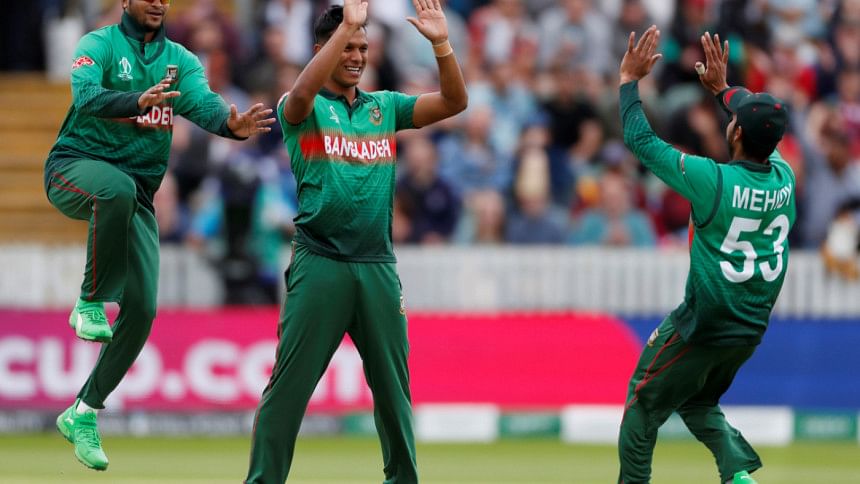 Having done the needful in their World Cup campaign so far, the Bangladesh team will now enjoy a five-day break before they attempt to take their World Cup campaign to the next level in the match against India on July 2.
10 members of the squad made the journey yesterday from Southampton to England's second-largest city, Birmingham, where they will play the hitherto unbeaten India to keep their World Cup hopes alive. Their highest run-scorer and wicket-taker Shakib Al Hasan, opener Tamim Iqbal, batsman Mohammad Mithun and pacers Abu Jayed Rahi and Mustafizur Rahman will use the break to recharge their batteries and rejoin the team in Birmingham on June 29, with official practice to begin the following day.  
Bangladesh have so far done what the fans would have hoped. Beating higher-ranked South Africa was a pleasant surprise to open their campaign, but they have so far avoided any banana peels and beaten pre-tournament lower-ranked teams West Indies -- who usurped Bangladesh's seventh position in the course of the event -- and Afghanistan. Rain had cost them the scalp of the other lower-ranked team in Sri Lanka, and that has proved costly as they would have had eight points instead of seven and so would not have needed to rely on other results to make the semifinals, provided that they manage to beat India and Pakistan to tie the bow on a fine first round.
With little cricket in the immediate offing, other results were what the team had their eyes on before boarding the bus towards Birmingham. Skipper Mashrafe Bin Mortaza asked after the state of the match between England and Australia, which had just started a half-hour earlier. When he had heard that Australia were batting first, he looked disappointed. Bangladesh, currently placed fifth in the race to the semifinals and with two tough matches against India and Pakistan left, will need England to keep losing in order to make the semifinals.
Yesterday, it could be said that the number of Australian fans in England grew by 15, at the least.
For those looking for omens, the last long break Bangladesh had -- after the Sri Lanka match was washed out in Bristol on June 11 -- resulted in a refreshed outfit that played perhaps their best match of the tournament during a seven-wicket win over West Indies in Taunton.
"We have a long break before our next match... the players deserve a break actually. It's a long tournament and players have been playing since the Ireland tri-series [which ran from May 5 to 17]," Bangladesh team manager Khaled Mahmud told reporters yesterday in Southampton.  "There is a lot of mental pressure while playing cricket continuously for a long period of time. We want our players to spend some time away from cricket and relax. We have two big matches ahead. It will not be easy for our players and we want our players to be as free from worries as possible over the next few days. Hopefully this break will help them to refresh mentally. It will also help us recover from the niggles we have in our team."