England ended their 44-year wait for a maiden 50-overs World Cup title by beating a gutsy New Zealand side on boundaries after a tied Super Over amidst heart-stopping drama on Sunday.
Chasing 242 for victory, Ben Stokes' scintillating 84 not out helped the hosts tie the see-saw contest, forcing the Super Over where more nail-biting excitement unfolded.
Buttler and Stokes took 15 runs off Trent Boult's Super Over without losing their wickets.
New Zealand also scored 15 runs off Jofra Archer's over but England won on boundary count, triggering wild celebrations at Lord's as the hosts capped a stunning turnaround.
Since being unceremoniously dumped out of the 2015 edition of the marquee tournament in Australia, Eoin Morgan's England side have reinvented themselves as a white-ball juggernaut, heading into this World Cup as overwhelming favourites.
Back-to-back defeats by Sri Lanka and Australia in the group stage helped England rediscover the attacking brand of fearless cricket which has been the hallmark of the current team.
They dismantled India and New Zealand to storm into the semi-finals, where they crushed Australia with another ruthless display of all-round excellence.
Sunday's final, England's first since 1992, pitted them against a New Zealand team chasing their own slice of history after spending decades as the tournament's bridesmaids.
CONTROLLED BOWLING
Morgan lost an important toss, but Liam Plunkett and Chris Woakes led England's controlled bowling display to restrict New Zealand to 241 for eight on a two-paced wicket.
Henry Nicholls made 55 and Tom Latham chipped in with 47 but lack of significant partnerships hurt New Zealand, who eventually settled for a below-par total.
Nicholls and Williamson put on 74 runs to bolster the New Zealand innings but Plunkett's two-wicket, cross-seam masterclass took the wind out of their sails.
Plunkett dismissed both batsmen just when the partnership was looking dangerous and he eventually finished with 3-42.
Woakes claimed three as well, including the wicket of Latham just when the batsman was looking poised to provide the late charge that could have taken New Zealand past the 250-mark.
New Zealand's new ball pair of Trent Boult and Matt Henry returned determined not to let it become a cakewalk for the hosts.
Henry dismissed the in-form Jason Roy for 10 and Colin de Grandhomme put a struggling Joe Root (7) out of his misery.
England could have been in a bigger hole had de Grandhomme not dropped a waist-high return catch from Bairstow, then on 18.
England were gasping on 86-4 when Stokes was joined by Buttler for a 110-run stand to revive the chase and tie the scores, producing one of the most thrilling matches in the history of the game. (Source: Reuters)
England win a thriller to clinch their maiden World Cup after tied match. England lift the World Cup courtesy of more boundaries in the match as the Super Over also finished on a tie. Both teams scored 15 runs in the Super Over. England are ecstatic after this unbelievable game that created heart-stopping drama right till the last ball of the tournament. 
The Kiwis fought till the end and in the final ball of the Super Over, they needed two but Guptill fell short of his crease after hitting it towards mid wicket. Jason Roy picked the ball up at midwicket before he threw it at the striker's end and Buttler took off the bails to hand England the trophy. It took a tie-break rule to seperate the two sides and England won it because of more boundaries in the match.
New Zealand need 16 runs in the Super Over to win the World Cup. Neesham and Martin Guptill are batting for New Zealand.
0.1 - Wide ball from Archer
0.1 - NZ runs two
0.2 - A humongous hit from Neesham. What a hit. Six!
0.3 - Neesham takes two again. NZ need five runs from three deliveries.
0.4 - Another two from Neesham
0.5 - A single this time and Guptill to play last delivery. NZ need two
0.6 - Guptill tries two but he is short of his crease. Run out ! The match is tied but England win the World Cup
Ben Stokes and Jos Buttler has come into bat for England in the Super Over. Boult to bowl the Super Over for the Kiwis. England gets 15 in the Super Over.
Super Over England
0.1 - Three runs. Stokes gets a top edge and goes over third man and England run three.
0.2 - Buttler takes a single
0.3 - Stokes plays it fabulously over mid wicket for four
0.4 - Buttler takes a single
0.5 - Two runs
0.6 - Stokes gets a four.
49.6, Eng 241 all out - The final between New Zealand and England has gone to Super Over in what is the most thrilling final ever in a World Cup match. England needed 15 in the last over and 2 runs were needed off the last delivery bowled by Trent Boult and Stokes who has been batting brilliantly, checked his stroke in the last delivery that he played at long on and tried to steal two. He runs two but his partner Mark Wood at the other end is short of his crease. Run out! What a game of cricket! The World Cup final is tied and there will be a Super Over to decide the fate of the game. Rashid run out (Santner/Boult) 0 (0b 0x4 0x6)
48.6, ENG 227/8: Jofra Archer clean bowled by Neesham by a slower ball.
48.3, ENG 220/7: Plunkett looked to score a six but was caught at long off as Jimmy Neesham scalped his second of the day.
46.1, ENG 203/6: Another wicket as Lockie Ferguson sent Chris Woakes sent back. Ferguson banged in short and a top edge led the ball high in the sky. Wicket keeper Tom Latham went behind to take a comfortable catch at the end to bring life to this chase. Nail biting as Ben Stokes still in the middle. Liam Plunkett in the middle to accompany Stokes.
44.5, ENG 196/5: Lockie Ferguson breaks the hundred run partnership as the substitute fielder Tim Southee took a catch at sweeper cover to send Jos Buttler back. It seemed like this pair would take the England over the line but the batsman sliced a 123kmph ball and never looked in control. New energy in the New Zealand players as they feel like they can defend the total.
New Zealand bowlers have no answer to the Buttler, Stokes pair as the batsmen look to hammer through to victory. Jos Buttler jabbed a Trent Boult ball off the mid wicket for four to bring up his half century, whereas, a ball later, Ben Stokes took a single as he pushed a ball towards to bring up his half century. This one hundred run partnership was the one thing England needed and the New Zealand looked to have no answers to the havoc. Game slipping away from the Kiwis.
A fifty run stand between Ben Stokes and Jos Buttler as England look to chase the total of 242. The batsmen had to toil hard for each run in the initial stages of their innings but as the partnership grew, the players looked to play more freely. A long way to go for the English side to lift their first World Cup as New Zealand do not seem to have lost any energy in the middle. The Kiwi bowlers and fielders have done everything possible to subdue the run rate and create pressure till now. However, this partnership looked dangerous for the New Zealanders.
20.1, ENG 86/4: A stunning catch by Lockie Ferguson sent an unsettled Eoin Morgan back to the dressing room for nine in 22 balls. The whole stadium was in awe as Ferguson came running from the boundary line and dive infront towards the ball only to scalp one of the best catches in this tournament. The umpires sent it upstairs to get a closer look but the catch was clean. Jimmy Neesham gets his first of the day.  EJG Morgan c Ferguson b Neesham 9 (22b 0x4 0x6) SR: 40.90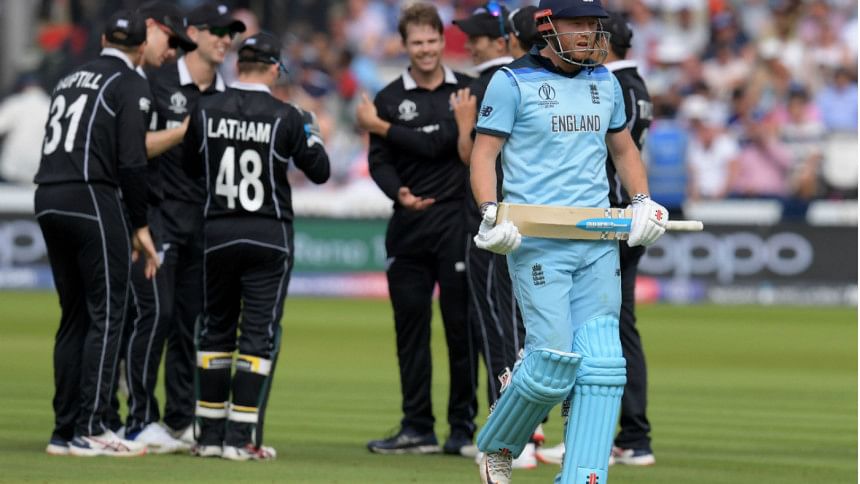 19.3, ENG 73/3: Jonny Bairstow chopped himself out as Lockie Ferguson scalped his first of the day. Bairstow scored 36 runs off 55 balls as England lost wickets in quick successions. Runs have been hard to come as New Zealand's fielding made sure the English had to work hard for every run. In desperate need of a partnership, Ben Stokes came onto the field in hope to steady the ship for England. JM Bairstow b Ferguson 36 (55b 7x4 0x6) SR: 65.45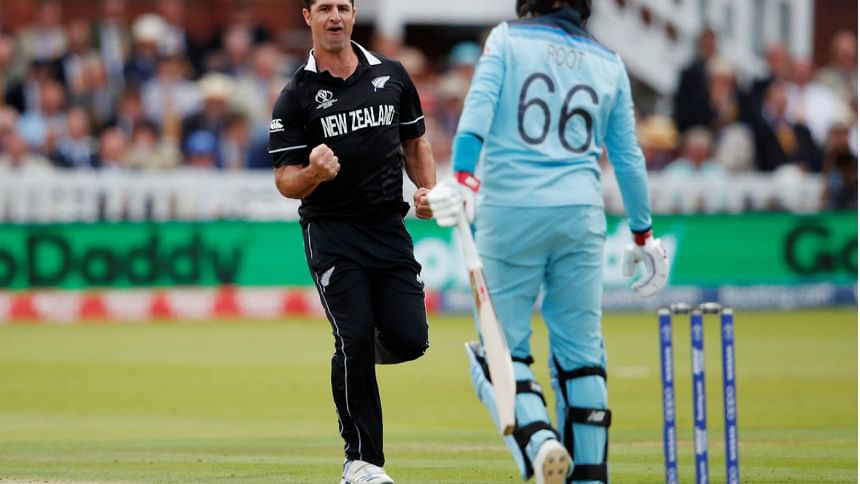 16.3, ENG 59/2: Colin De Grandhomme sent back Joe Root, as the batsman nicked the ball to the keeper Tom Latham. The England number three never looked comfortable in the middle as he scored seven off 30 deliveries. JE Root c †Latham b de Grandhomme 7 (30b 0x4 0x6) SR: 23.33
England bring up their fifty within 15 overs with major contribution from Jonny Bairstow who looked to score with ease in the middle. The batsmen scored 30 runs with Joe Root on the other side. New Zealand bowlers and fielders have been excellent to keep the runs in check. 
5.4, ENG 28/1: Mat Henry got the prized wicket of Jason Roy as New Zealand got their first wicket. Angling in towards the off stump, the ball was inviting as Jason Roy nicked it to give the Kiwi wicket keeper Tom Latham a comfortable catch behind the stumps. A huge blow for England as Roy always ensured England got a perfect start at the beginning. Joe Root came onto the field to accompany Bairstow in the middle. JJ Roy c †Latham b Henry 17 (20b 3x4 0x6) SR: 85.00
England came down to chase a total of 242 runs after their excellent display of bowling and fielding in the first innings.

New Zealand bowlers were on top as Jason Roy survived an early scare of a LBW. However, after the umpire adjudged it not out, Kiwi skipper Kane Williamson took some time before deciding to review it. Fate was not on his side as the ball just clipped the stumps, thus the on field umpire had the last say.

The ball looked to swing in and out and also stuck on the pitch in the first five overs but the England openers Jonny Bairstow and Jason Roy, despite having started shakily, upped the tempo.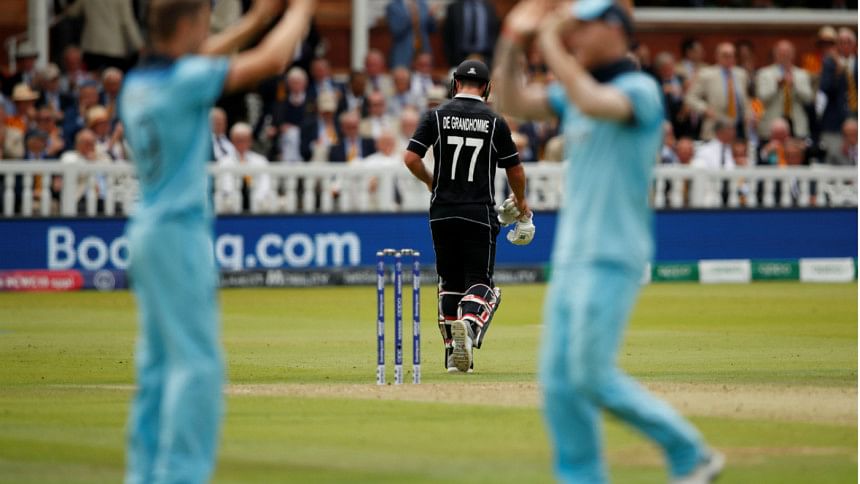 England restrict New Zealand for 241
Having chosen to bat after winning the toss, New Zealand could only manage 241 for eight at the end of their 50 overs. 
England restricted New Zealand to 241-8 in the World Cup final as the hosts boosted their bid to make history by winning the tournament for the first time on Sunday.
Eoin Morgan's side were fuelled by three wickets each from Liam Plunkett and Chris Woakes on a green-tinged pitch in cloudy conditions that aided the pace bowlers at Lord's.
New Zealand captain Kane Williamson had elected to bat first, but his gamble backfired, with only Henry Nicholls (55) reaching a half-century for the 2015 World Cup runners-up in their 50 overs.
England struck early when opener Martin Guptill was dismissed by Woakes, before Williamson and Nicholls put on 74 for the second wicket.
Plunkett restored England's grip on the match with two quick wickets to remove star batsman Williamson for 30 and then Nicholls.
New Zealand, who are aiming to win the World Cup for the first time, could not establish any momentum after that as economical bowling from Plunkett, Woakes and Mark Wood turned the screw for England.
Plunkett finished with impressive figures of three wickets for 42 runs from his 10 overs, while Woakes took 3-37 from nine overs.
Derek Pringle was the only previous England player to take three wickets in a World Cup final, his haul coming against Pakistan in 1992.
Pringle's efforts were in vain as they lost that final against Pakistan 27 years ago.
England were also beaten in their two other World Cup finals, against Australia in 1987 and the West Indies in 1979.
Thanks to Plunkett and Woakes, England are within touching distance of finally ending their long wait to join England's footballers in 1966 and the 2003 rugby union team as world champions.
 (AFP)
49.3, NZ 240/8: Mat Henry just looked to hit the ball over the boundary without looking for proper timing. A full ball right on to the stumps as Jofra Archer bagged his first of the day.
48.3, NZ 232/7: Another soft dismissal as Tom Latham lofted one to mid off fielder James Vince. Chirs Woakes was the second man after Liam Plunkett to scalp three wickets. England completely in control as they look to finish strong. TWM Latham c sub (JM Vince) b Woakes 47 (56b 2x4 1x6) SR: 83.92
46.5, NZ 219/6: A soft dismissal as Chris Woakes scalped his first wicket of the day. Colin De Grandhomme never looked comfortable in the middle after he was struck on the head by Jofra Archer. England seemed to be in charge as New Zealand were not given a chance to free their hands too much in the third power-play yet. Mitchell Santner came on to the field to accompany Latham. C de Grandhomme c sub (JM Vince) b Woakes 16 (28b 0x4 0x6) SR: 57.14
39, NZ 173/5: A big bump in the road for New Zealand as Jimmy Neesham was sent back by Liam Plunkett. A straightforward catch at mid on by Joe Root as Neesham had to walk home despite having scored freely in the middle. The partnership of Jimmy Neesham and Tom Latham looked to be dangerous for England but Plunkett who was brought in by England skipper Eoin Morgan to break this partnership struck gold again. JDS Neesham c Root b Plunkett 19 (25b 3x4 0x6) SR: 76.00
33.1, NZ 141/4 :  Mark Wood sent Ross Taylor back as England do not seem let New Zealand build a partnership. The ball angled in from wide, as the ball struck the pads of the New Zealand batsmen Ross Taylor, given out by the umpire. The Kiwis were not able to review the decision as Martin Guptill used the allocated review for New Zealand. However, the ball tracker showed that the ball would have missed the stumps as it would have gone over the leg stumps. LRPL Taylor lbw b Wood 15 (31b 0x4 0x6) SR: 48.38
26.5, NZ 118/3:  The ball nicked the bat before it went to hit the stumps as Henry Nicholls was sent back by Liam Plunkett. Two breakthroughs in quick successions by Plunkett as he scalped his second in the match to put England in the driving seat. New Zealand were looking comfortable in the middle with Nicholls and Williamson, building a strong partnership but two strikes by Plunkett sent both these batsmen back to the pavilion. HM Nicholls b Plunkett 55 (77b 4x4 0x6) SR: 71.42
25.1, NZ 110/2: Henry Nicholls scored a fighting half century despite losing his opening partner Guptill and skipper Williamson on the other side. Nicholls's kept his celebrations in check keeping in mind the task he has in hand to take the Kiwis to a decent total. 
22.4, NZ 103/2: Liam Plunkett sent New Zealand captain Kane Williamson back to the dressing room as a review turned the decision to the favor of the Englishmen. Umpire Kumar Dharmasena initially ruled it as a not out but, the England skipper, Eoin Morgan was very confident as he instantly took the review. The ball seemed to get a heavy touch with the bat before landing inside the gloves of Jos Butler, an easy catch for the wicket keeper. Williamson out after scoring 30 runs off 53 balls as Ross Taylor made his way into the crease. KS Williamson c †Buttler b Plunkett 30 (53b 2x4 0x6) SR: 56.60
21.2, NZ 100/1: New Zealand skipper Kane Williamson and Henry Nicholls put up a 50-plus run partnership in the middle to take the Kiwis past the hundred run mark within 22 overs, after the early demise of Martin Guptill. The batsmen took comfortable singles and doubles and scored odd boundaries in loose balls to put the Kiwis in a srong position to put up an above par score in the final.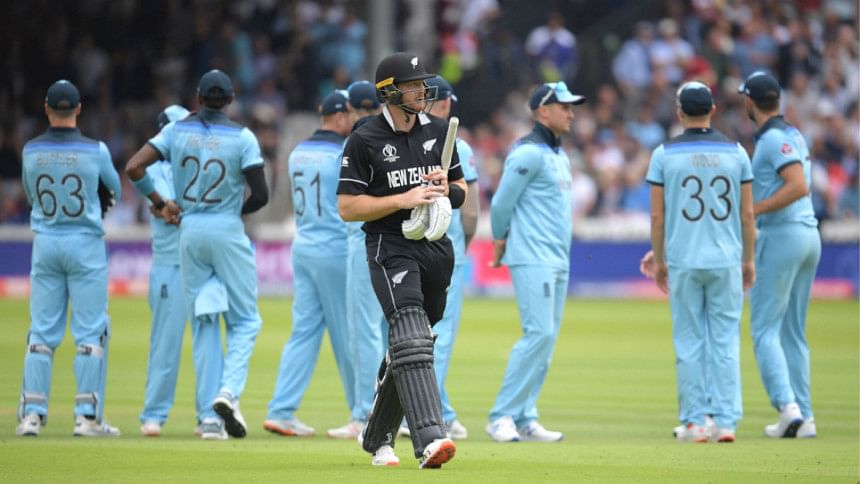 6.2, NZ 29/1: Henry Nicholls had survived with a review off Chris Woakes but his opening partner Martin Guptill is not so lucky as he is trapped infront by Woakes when looking to drive the ball on the up. Guptill challenged the umpire's decision and took the review but replays showed that ball would have hit the stumps this time around. England draw first blood in this final. Guptill lbw b Woakes 19 (18b 2x4 1x6) SR: 105.55
Nicholls survives with early review
It looked like England had drawn first blood when Chirs Woakes hit Henry Nicholls with a inswinger which darted back in late to the left-hander. The umpire raised his finger but Nicholls considererd it for a moment even as the ball hit his back leg. Everything looks good for England except the height of the delivery and replays confirm that the ball would have missed the stumps. Good decision to review that one. Nicholls survives.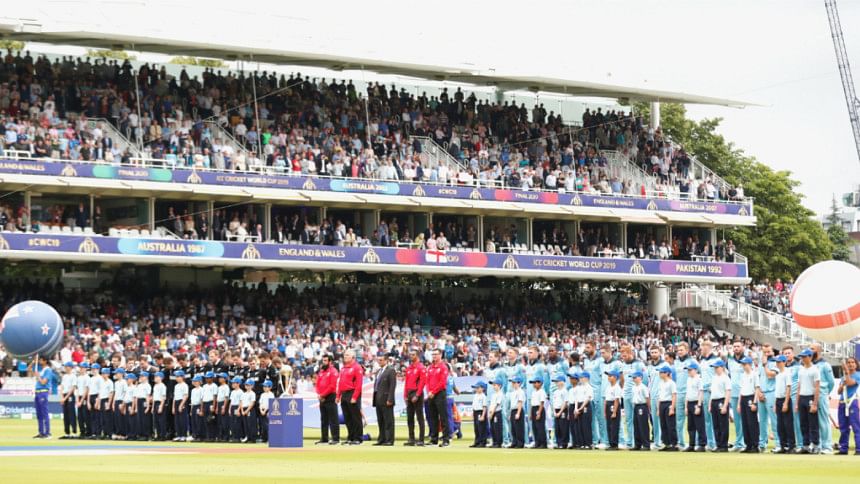 New Zealand have won the crucial toss and decided to bat first against England in the final of the 2019 ICC World Cup at Lord's. Both teams are unchanged. 
Playing XIs:
England: Jason Roy, Jonny Bairstow, Joe Root, Eoin Morgan (capt), Ben Stokes, Jos Buttler(wk), Chris Woakes, Liam Plunkett, Jofra Archer, Adil Rashid, Mark Wood
New Zealand: Martin Guptill, Henry Nicholls, Kane Williamson (capt), Ross Taylor, James Neesham, Tom Latham (wk), Colin de Grandhomme, Mitchell Santner, Matt Henry, Trent Boult, Lockie Ferguson
The toss was delayed by 15 minutes due to morning showers, but rain seems to have eased away. The match will start at 3:45pm Bangladesh time.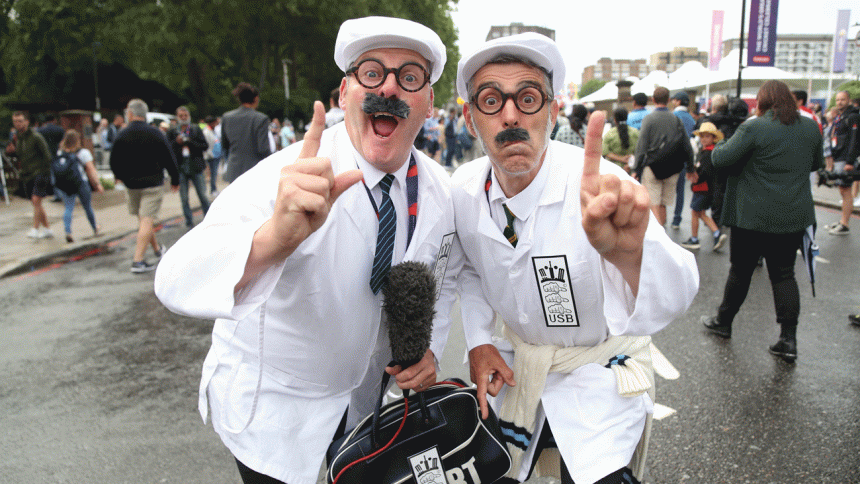 The prize purse for the winners and runners-up is heavy, with the champions to get $4m and the runners-up half of it. There will also be indivdual awards, including the MVP of the tournament, where Shakib Al Hasan is a front-runner. 
But that will be decided after the final itself. The past finals have been rather drab affair, one-sided and often predictable. This time, we'd hope it is a different thing for the sake of the game and those who follow it.
At least one thing that is definitely going to be different is that we will get a new champion. And it is likely to be a battle between the most explosive batting line-up and a shrewd bowling attack.
Hosts England have brushed aside years of underachievement by reaching the final for a fourth time -- 27 years since their last -- and look like the team to beat. New Zealand, the perennial semifinalists, had gone one better last time with a final appearance. Could they go one better again this time?