Still worth a fight
Injury clouds over Mushfiqur, Mahmudullah as Bangladesh take on Pakistan in their final World Cup game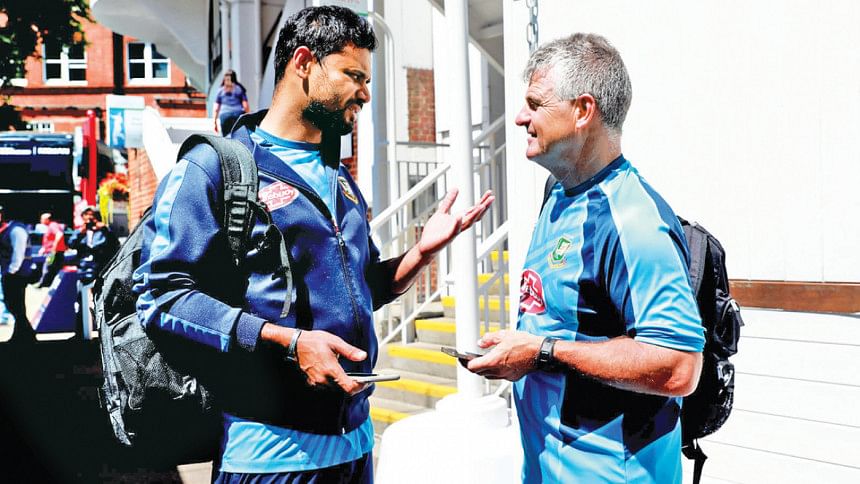 A final match at Lord's was what all of Bangladesh -- team and fans alike -- would have dreamed of before the World Cup started. However, instead of July 5, they would have been eyeing a final match on July 14.
After their 28-run defeat against India in Birmingham on Tuesday, July 5 and an inconsequential league game against Pakistan -- with both teams effectively ruled out of the semifinal race -- is what the Tigers will have to settle for.
From Bangladesh's perspective, it is not entirely inconsequential. It is skipper Mashrafe Bin Mortaza's last World Cup game, and they would want to win the match for their beloved captain. There is also the question of whether the 35-year-old would retire after the match. It has led to a lot of speculation because he has not clearly ruled it out or confirmed it over the last week or so. A win -- and a subsequent loss for Sri Lanka against India tomorrow -- would see Bangladesh in fifth position. It would place them as the best of the rest, and that would be an honourable end for a team that impressed neutrals with their fighting performances in the World Cup.
Injuries have once again thrown open the team combination for the last game. Mushfiqur Rahim was hit on the elbow while batting in the nets yesterday and although an X-Ray revealed no fractures, his participation will only be determined on the day of the match. Mahmudullah Riyad missed the India game because he could not run comfortably after sustaining a calf muscle tear in the match against Afghanistan, and while he did sprint during practice yesterday, his participation is also a 50-50 chance. Mashrafe, who has been playing the World Cup with a hamstring injury, did not practise yesterday although he was present at the historic venue. With the tour of Sri Lanka coming up later on this month, it remains to be seen how far the team management would risk their key players in this month.
Even with all this uncertainty and the obvious disappointment of not being alive as contenders anymore, the players were taken by the occasion of playing a match at cricket's most hallowed venue. Only Mashrafe, Shakib Al Hasan, Tamim Iqbal, Mahmudullah, Mushfiqur and Rubel Hossain have played here before. Many of the youngsters were seen taking selfies in the iconic dressing room balcony and posing for pictures taken by photographers with telephoto lens from all the way across the ground. Rhodes also said that they were awestruck when walking through the Long Room, and had eagerly surveyed the Honours Board, where Tamim and Shahadat Hossain have been immortalised for a century and five-wicket haul respectively in 2010.
"If we beat Pakistan, I think we've had a very good World Cup, even though we've not qualified," head coach Steve Rhodes said yesterday. "And I say that because the other teams, some of the big teams that we've played against, we've had close-ish games against them. We've pushed them. Australia we pushed. India we pushed. We had a not great game against England, apart from the magnificent 100 from Shakib. But generally the games we've played, we've been in the contest, and we've showed a lot of fight."