Kiwi resilience versus English aggression
Cricket to crown new kings today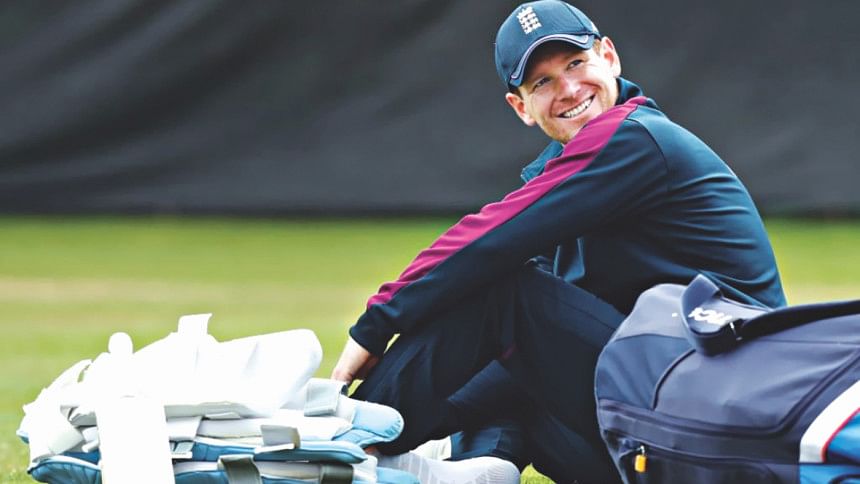 Cricket's global crown will find a new resting place today when perennial bridesmaids England and New Zealand square off in the 2019 World Cup final at Lord's. By the end of the final, cricket will have first-time world champions for the first time since 1996, when Sri Lanka etched its name into cricketing folklore.
England, the top-ranked ODI side, had been tipped for a maiden trophy before the tournament started, but New Zealand's second successive final may have surprised some. Today's final at Lord's, starting at 10:30 am (3:30 pm Bangladesh time) will pit two contrasting cricketing philosophies against each other -- the pace-setters versus the adapters.
Since being booted from the 2015 World Cup at the group stage, England have undergone a renaissance. Fearlessness has been the mantra for the hosts -- they are arguably the only team capable of accelerating throughout the 50 overs of an ODI. They proved that for the umpteenth time in the semifinal against a formidable Australia. Having bundled their old foes out for 223, openers Jason Roy and Jonny Bairstow did not give much space to Australia's feted pacers, putting on 124 in just 17.2 overs. Even after their dismissals, England kept accelerating and romped home with 17.5 overs to spare as Joe Root and skipper Eoin Morgan ensured that the pressure on the Aussies does not relent.
Fittingly, England's hyper-aggression was seeded by none other than New Zealand in the 2015 World Cup. Under Brendon McCullum's captaincy, New Zealand had displayed the same streak of fearlessness as they romped unbeaten to the World Cup final before the wheels came off against Australia. Morgan had said before that it was their defeat to New Zealand, apart from the Adelaide loss against Bangladesh that sealed their exit, that brought home how far England lagged in terms of being at the cutting edge of ODI cricket.
"I think he has had quite a bit to do with it," Morgan said at the pre-final press conference at Lord's yesterday when asked about McCullum, whom he had just chatted with on the way to the press meet. "You could say about world cricket. We are close mates and he's taught me a lot about leadership and I think in 2015 the way that New Zealand played, very similar to the way they are playing at the moment. They proved to everybody that you can perform at the highest level and get to the top by being yourselves and not trying to be somebody else, or a different team, or be somebody that is a bit of a novelty for everybody else, so that's quite cool."
Now, however, New Zealand are the adapters chasing England's pace. That does not necessarily mean that they will be clear underdogs in the title-decider. They have proven to be remarkably awake to situations on the pitch. While McCullum blazed a new trail in 2015, Kane Williamson's men are performing a function that has been a reality of New Zealand cricket since inception. Being a small country with a tiny talent pool, recognition of limitations has been their tried and tested method to success. And that is what they have done throughout the World Cup -- be it in pacing their chase against Bangladesh on June 5 and winning by a whisker, or resetting targets when batting in Manchester in the semifinal against India, when they bucked a three-match losing streak to beat the pre-tournament favourites in a match that rain had extended to the reserve day on July 10. Their adaptability has seen them through to the finals despite being the only team other than Afghanistan not to have scored 300 in the edition.
"I think most teams expected scores to be a lot higher than what we have seen, but the reality of it is that they have been quite tough surfaces and there's been surfaces that have aged throughout perhaps a match on one day," Williamson said. "Trying to make those adjustments are really important. I think both sides looked at the surface [in the semifinal], thought it was a really good one, and thought perhaps 300 was going to be at play, but after 15 overs or so, we were saying 'this is really quite difficult and 300 looks like a long, long way away' so if we are able to perhaps achieve something a little bit more realistic on that surface, then that gives you every chance to win. And we have done it on a number of occasions but we will have to be good at doing that tomorrow."
The pitch at Lord's bore a green look and that may favour the Kiwis a little more as their seam attack has been the most consistent in the World Cup so far. Their bowling attack is the only one to have conceded runs at less than five an over and against a side that have scored at more than six an over throughout the tournament, that will probably be the main battle in deciding the new champions.
While England, having won their league match comfortably on July 3, will start as favourites, both sides have shown that the tools at their disposal -- aggression and adaptability -- can win the day. As Williamson said, it will all come down to responding to conditions and realities on the day.