The island of ILLEGAL ARMS
At least six crime gangs run makeshift gun factories in Moheshkhali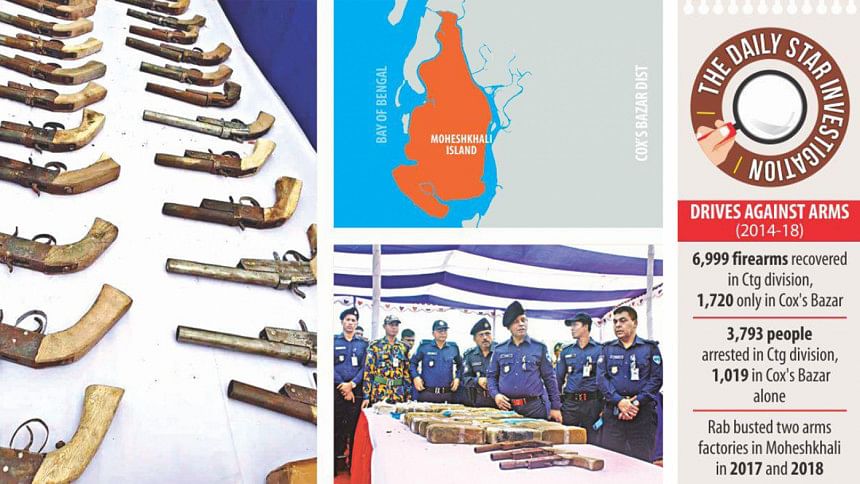 The type of light guns put on display during the recent surrender of 102 narcos in Teknaf is easily available in Moheshkhali island, where illegal makeshift factories manufacture such firearms.
The Daily Star carried out an investigation in Moheshkhali, off Cox's Bazar coast, after the "recovery" of 30 LGs from listed yaba godfathers and dealers who gave themselves up on February 16.
Locals and even some law enforcers were surprised to see the small arms -- made of wood and metal -- at the surrender ceremony.
They had noticed yaba godfathers using firearms, but not these locally made guns which any one can buy for around Tk 6,000 each.
"Give me Tk 3,500 and an additional Tk 2,000 as carrying cost, you will get an LG after four days," a source at a Moheshkhali gun factory casually said on February 18.
Long-barrelled rifles cost more -- Tk 8 to 10 thousand for single barrel and Tk 15 to 20 thousand for double.
"But bullet prices these days are higher; you need to pay Tk 600 for each. Earlier it was Tk 300," said the source when these correspondents in local dialect expressed willingness to buy guns after identifying themselves as members of a Chattogram-based political group. 
Iqbal Hossain, additional police superintendent of Cox's Bazar, told this newspaper they have information that this type of guns are made in hill areas of Moheshkhali and Chattogram. 
"We are trying to specify the source."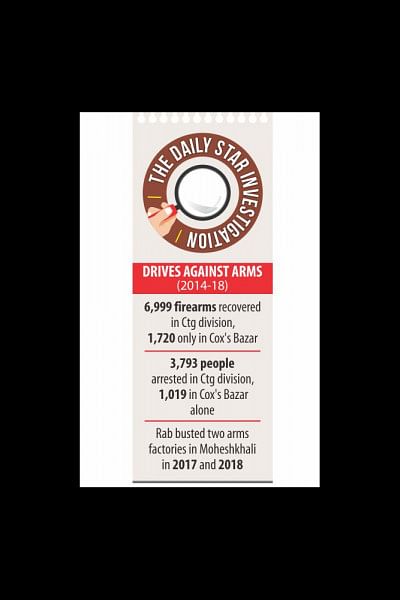 THE FACTORIES
There are no permanent structures for arms manufacturing in Moheshkhali. Criminal gangs set up the makeshift factories with bamboo, grass and leaf inside dense forests, sources say.
They need coal, drill machines, screws and wood cutting tools for making guns. As they have no power connections and avoid generators because of noise, they usually cut the metals in workshops set up in the locality.
There are at least 30 such workshops on the island.
During a visit to a workshop in Upazila Bazar around 10:45am on February 18, one of these correspondents met a person who introduced himself as the chief technician. 
"Give us any design and I will make it for you," he said. 
The correspondent then asked him to cut two feet steel pipe and clean it clearly from inside. The technician asked Tk 100 for the pipe and Tk 350 for the work.
Asked why the cost is so high, the man said this is the rate and he is working on a monthly salary. "The owner pays me Tk 20,000, Tk 15,000 for the second man and Tk 8,000 for another associate."
Sources said once the gang members get their items delivered from these workshops, they can make guns in their factories. But they are not able to manufacture bullets.
"The gangs buy bullets mostly from the insurgent groups of hill areas," one of the sources said.
Asked about durability of these guns, a senior police official working with an arms recovery group said, "If anyone uses 12 gauge shotgun bullets, these guns will last long. Besides, these firearms when not in use have to be wrapped in poly bags."
Very poor quality metals are used for making these guns and that's why they have a short lifespan, he said. 
THE SIX GANGS
At least six organised gangs are now operating several gun factories on the island, law enforcement sources said.
The gang members are involved in extortion and land grabbing apart from the arms manufacturing, according to three different sources having close links to them.
Ayub Ali, 45, of Huanok union is the chief of one group that is active in the area for the last 14 years. He took over after his uncle Junab Ali died five years back, said local sources.
Ayub is wanted in at least 10 cases, including for robbery and illegal arms. One of his sons and a son-in-law were killed in a "gunfight" with law enforcers several years back, the sources added.
Locals said the most notorious gang in Moheshkhali is Kodalia Bahini, active since 2001 with their main dens set up in Puichora. It has around 40 to 50 cadres and a person named Jinnat Ali is at the helm.
A top Chhatra Shibir cadre named Akter Hamid is the founder of this gang. He also worked as a security guard of war criminal and Jamaat leader Ghulam Azam.
Ten years back, when Hamid went into hiding, a large number of his gang members left and formed Ferdous Bahini.
The Daily Star could not collect any details of Ferdous Bahini.
Jalal Bahini, which is the third largest, is leading the arms factories in Gorakghata hill area, some three kilometres from Moheshkhali main road.
Jalal Ahmed, 45, is the leader of the gang, which has 30 to 40 armed cadres. They can do anything for money.
Three siblings -- Enamul Karim, Akter Hamid and Md Shahjahan -- used to lead Enam Bahini that has 20 to 30 cadres, sources said.
Now Enam alone steers the group as Akter disappeared several years back and Shahjahan was arrested by police three months ago with 13 firearms. 
The sixth gang is run by Mahmudullah and his nephew Arifullah along with a person named Salauddin. It also operates a local liquor factory.
Two sons of Moheskhali upazila AL Vice President Md Forkan -- Didarul and Alamgir -- were allegedly murdered by this group.
According to sources, these groups usually set up their makeshift factories in Kerontoli area of Huanok; Puichora and Adharghona near Kalagazirpara; Nonachori and Varitoli in the middle of east side hill areas of Boro and Chhoto Moheshkhali, and Kolmadia and Tunikata in Chhoto Moheshkhali.
Local sources say the summer and winter -- the seasons of salt and shrimp farming -- see a rise in the demand for these illegal firearms. Owners and workers depend on guns for protecting salt fields and shrimp enclosures from dacoits.
THE BEGINNING
Locals and law enforcement sources said these gangs came into being mostly in 2001.
Local political leaders gave birth to these gangs to use them in grabbing sand fields, betel leaf orchards and forest land, and now a section of law enforcers are backing them, they added.  
Ashek Ullah Rafique, lawmaker from Cox's Bazar-2, told The Daily Star that several gangs now active on the island were formed by different vested quarters for establishing supremacy.
Asked about involvement of political parties, the lawmaker said he became enemy of a number of people when he tried to take action. 
Mohammad Hossain Ibrahim, a former chairman of Moheshkhali upazila, told The Daily Star that locals have long been held hostage to these gangs.
If the law enforcers and political parties want, it is possible to crush these groups within a week, he claimed.  
Talking with this newspaper, Tareq Bin Osman Sharif, chairman of Kalarmarchhora union, said he often needs to stay out of his home for continuous threat from the armed cadres as he is against them.
'SITUATION IMPROVED'
Rejecting the allegation that law enforcers backing the criminal groups, Ratan Kumar Dash Gupto, assistant superintendent of police of Moheskhali circle, said they are taking action against all the gangs regularly.
"Due to continuous police drive and vigilance, the arms makers no longer have strongholds in dense forests like in the past," he added.
Contacted, Provash Chandra Dhor, officer-in-charge of Moheshkhali Police Station, told The Daily Star that the "situation improved" after the surrender of 43 robbers and pirates in Moheshkhali in October last year.
"We are conducting drives almost every day and the gang leaders either went into hiding or got arrested," he said.
Md Mehedi Hasan, company commander of Rab-7 Cox's Bazar camp, said they have kept a close watch on activities of these gangs but there are no permanent factory structures.
"We often conduct drives and have success and things are better now," he added.