Preparations underway at Rohingya camps in Cox's Bazar to tackle Cyclone Asani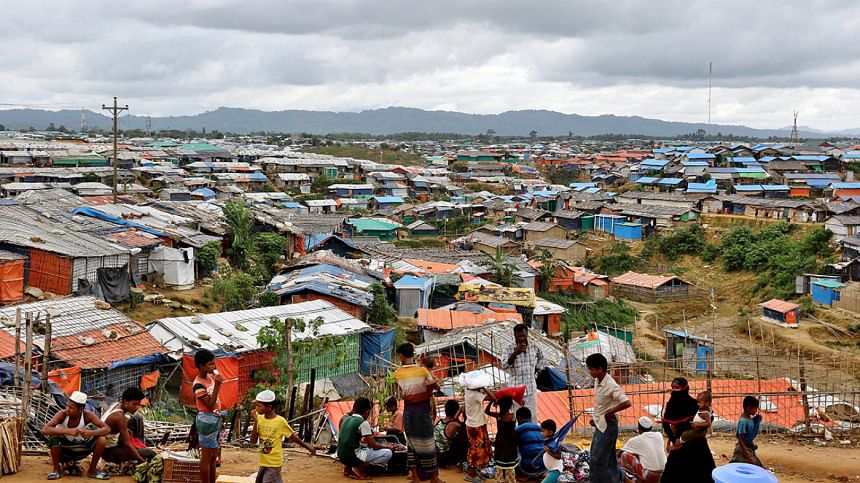 Cox's Bazar District Administration has taken preparations in advance to ensure safety of Rohingyas in the refugee camps in Ukhiya and Teknaf upazilas of Cox's Bazar as there is a forecast of cyclone "Asani" under the influence of low pressure in the Bay of Bengal.
The Refugee Relief and Repatriation Commissioner (RRRC) issued a notification yesterday (May 6, 2022) mentioning nine activities, including instructions to set up control room in each camp.
According to the notification, Rohingyas, who are living on hills at risk, will have to be quickly relocated to a safer place, with the help of the concerned authorities.
The other activities to deal the possible cyclone include preparing shelters for safety of Rohingyas, ready mobile teams to ensure emergency healthcare and instruct those concerned for distribution of emergency food during disasters.
State Minister for Disaster Management and Relief Md Enamur Rahman on May 5 said a cyclonic storm that developed near India's remote Andaman Islands on Wednesday could intensify and hit the coast of Bangladesh.
"It is expected to turn into a depression on May 9 and will intensify gradually," he said at a media briefing in Dhaka.
Read More: Preparing to face possible cyclone