102 narcos give themselves up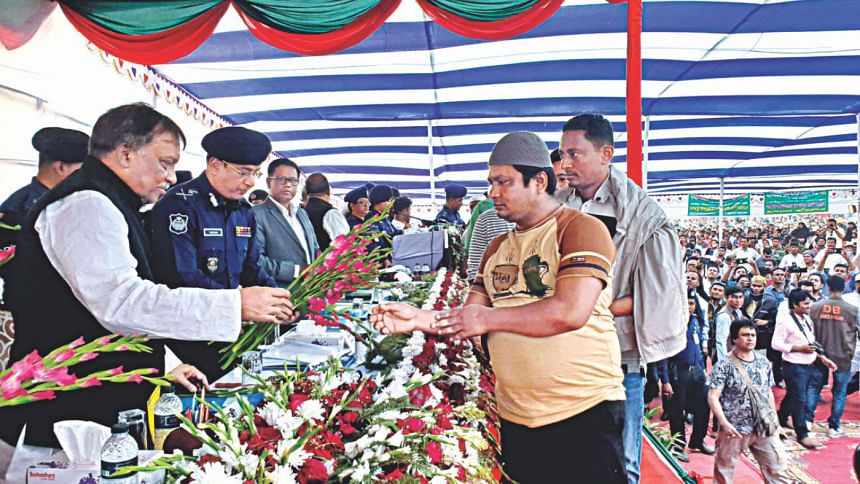 With one police jeep in front and another behind, four buses brought 102 yaba godfathers and dealers to Teknaf Model Primary School from Cox's Bazar Police Lines around 9:00am yesterday.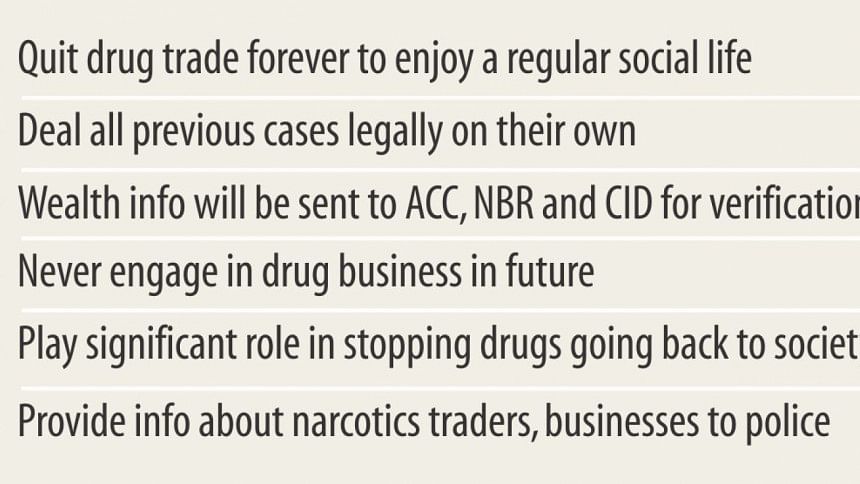 Later around 11:45am, they were taken to Teknaf Pilot School where all was set for a surrender ceremony. They entered the venue walking on foot under heavy police protection, waving at the crowd.
Home Minister Asaduzzaman Khan and Inspector General of Police Mohammad Javed Patwary received them with flowers while thousands of locals, waiting there since 8:00am, broke into applause.
Police had made a seating arrangement for five thousand, but the school ground was teeming with people by 9:00am, one and a half hours before the programme began.
Two dealers were called up on the stage to express their feelings.
"I regret my past activities. Those of us who surrendered today want your blessings so that we can live a better life and work for building a drug-free society," said Sirajul Islam.
Enamul Haq, an UP member of Teknaf Sadar union, speaking after Sirajul, said 12 cases were filed against him but he was actually a victim of jealousy. Now he would work for eliminating the drug menace from Teknaf, he said.
Police put on display around 3.5 lakh yaba pills seized in drives and 30 arms found in the possessions of narcos.
All the 102 were taken to Teknaf Senior Judicial magistrate court around 2:00pm after showing them arrested in two cases -- one under arms act and another under narcotics act, officials said.
Sources added that police served them biriyani and cold drinks before taking them to the court.
The court later sent them to Cox's Bazar district jail, said Kazi Didarul Alam, inspector of Cox's Bazar Court Police.
The godfathers and dealers had been kept at the police safe house in the district police lines since January 10. They were accused in three to 16 cases each.
Sixteen of them are family members of former lawmaker Abdur Rahman Bodi, 24 top godfathers listed by the home ministry and 10 others local elected representatives.
Bodi's family members who surrendered include his four brothers, two nephews, six cousins and four other relatives. 
The former MP from Cox's Bazar-4 was named as a yaba godfather in reports of the Department of Narcotics Control alongside several intelligence and law enforcement agencies.
A DNC report mentioned him as a patron of yaba trade in Ukhia-Teknaf, the gateway of smuggling the crazy drug from Myanmar.
But he didn't even appear at the surrender ceremony though he came to his Teknaf home from Cox's Bazar late on Friday night.
Bodi's wife Shahin Akter, currently lawmaker from the same constituency, however, was present at the ceremony as a special guest.
In her address, she said drug is the only curse of her electoral area which is known as the narcotics haven.
Drawing attention of the home minister, she said initiatives should be taken to set up a security fence at Shah Porir Island to stop yaba smuggling from Myanmar as 70km border remains unprotected there.
"I am also calling upon the authorities to allow around 10,000 local fishermen to fish in daytime in the region, as anti-drug drives have disrupted their livelihood," she added.
Speaking at the surrender ceremony, Cox Bazar Awami League President advocate Sirajul Mostafa said, "The number of people surrendering is not important. We want a visible progress in curbing drug-related offences."
Shruti Dhar, a postgraduate student of Teknaf Degree College, who was present at the ceremony as a guest, told this newspaper she is hopeful about the success of police initiatives.
But close monitoring is needed as the dealers might go back to previous business again, she added. 
Arman Jamil, another student of the college, said yaba dealers often exert their influence over local representatives using their illegal wealth. He requested the authorities to take action regarding this.
Lawmakers of four constituencies in the district -- Shahin Aktar Chowdhury, Jafar Alam, Ashek  Ullah Rafiq, and Saimum Sarwar Komol -- were also present at the programme.
The formal surrender came after a massive anti-narco crackdown since May last year left nearly 300 people, including 40 from Teknaf, dead and some 25,000 people arrested.
'MANY OTHERS WANT TO SURRENDER'
In his speech, IGP Javed Patwary said this surrender programme is just the beginning.
"We will hold this kind of surrender programme in all districts as we are receiving information from SPs that many drug dealers want to surrender," he said.
"On the other hand, we will sincerely try to ensure a better life for those who surrendered today, and if needed they will be rehabilitated," said the police chief, adding necessary action will be taken to ensure a quick lawful solution to their cases.
Issuing a note of warning, he said those who did not surrender will face dire consequences. "We will not let you go, no matter where you hide."
Stressing that building a drug-free society cannot be achieved by the police alone, the IGP further said a social movement is necessary in this regard.
He further said, "If any law enforcer is found involved in drug trade, he will be treated the same way as a drug peddler."
Echoing the police chief's statement, Home Minister Asaduzzaman said no drug peddlers and smugglers will be allowed in Bangladesh.
"The administration will take tougher action as the drug dealers are harmful for the country," said the minister while addressing the ceremony as the chief guest.
Regarding the 102 narcos, the minister said if anyone needs support, the government will do its best to rehabilitate those who surrendered.
"The government will assist them in returning to a normal life and will form drug abuse prevention committees in thanas with support from police and BGB," said the minister.
Before this, Superintendent of Cox's Bazar Police AKM Masud Hossain in his welcome speech said a total of 1,461 cases have been filed against the drug peddlers in the district since May last year and 1,583 persons were arrested in the cases.
Besides, 53 persons were killed in "gunfights with police and rival groups", he said, adding that the authorities concerned will deal with the assets of those who surrendered today. 
102 godfathers and dealers who surrendered yesterday