Human trafficking bid foiled in Teknaf
Two Rohingyas among five intercepted before setting sail to Malaysia; alleged trafficker held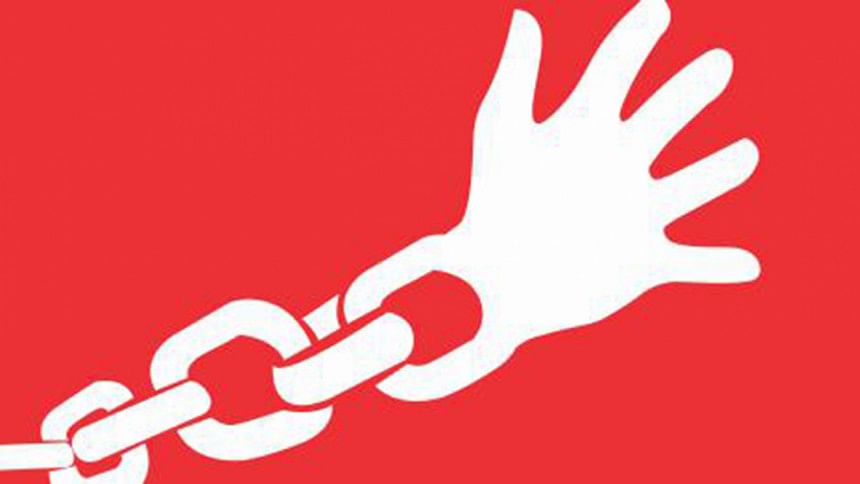 Bangladesh police arrested an alleged human trafficker and intercepted two Rohingya refugees preparing to board a boat for Malaysia, officials said yesterday.
Police acting on a tip-off raided a home near the coastal town of Teknaf, where five people had assembled ahead of a promised voyage across the Bay of Bengal. Two Rohingya Muslims, both men, were among the group.
The pair had arrived from Myanmar since August, when a surge of violence in Rakhine state forced hundreds of thousands of Rohingya across the border.
The other three would-be passengers were Bangladeshi, another police officer said.
"They were herded there as part of an effort to take them to Malaysia. They said they would be taken there by sea," Teknaf police chief Main Uddin told AFP.
"Among the five, there were two Rohingya men who had already paid 10,000 taka ($120) each. The arrested person is being charged with human trafficking."
The would-be passengers told police they had promised to pay the alleged trafficker, a Bangladeshi, another 200,000 taka each upon arrival in Malaysia.
Since August nearly 650,000 Rohingya Muslims have fled a military operation in Myanmar's westernmost Rakhine state described by the UN and US as "ethnic cleansing".
Bangladesh authorities worry many refugees may risk travelling to Southeast Asia by boat, a route once popular among Rohingya seeking economic opportunities outside the grim, long-standing camps in Cox's Bazar.
People smugglers in recent years have sent tens of thousands of Rohingya from Bangladesh to Malaysia, a Muslim-majority country in Southeast Asia, usually between November and March when seas are calmest.
But these networks were targeted by Bangladesh in 2015 after Thai authorities discovered mass graves and boats overcrowded with thousands of migrants drifted at sea while Southeast Asian nations squabbled over a solution.
Bangladesh police said they were questioning the alleged people smuggler to determine whether he was part of a larger regional trafficking ring.
Bangladesh has arrested dozens of suspected traffickers and broken up networks since the 2015 crackdown, but authorities fear these networks could be revived during the latest Rohingya crisis.
The refugees living in camps in Cox's Bazar are prohibited from leaving the area, but already aid groups and officials say trafficking networks are targeting the stateless minority.
Bangladesh in recent months has stepped up patrols in coastal areas and fishing villages where traffickers moor their vessels, police say.
"We have zero tolerance toward human trafficking. We are working day and night," Iqbal Hossain, head of police in Cox's Bazar district where the Rohingya camps are located, told AFP.
He said police were not aware of a single journey undertaken by a people smuggling vessel in Cox's Bazar in the previous two years, citing the success of law enforcement efforts.