87pc households use mobile
BBS survey finds 3.14cr households own at least one cellphone but only 4.8pc use internet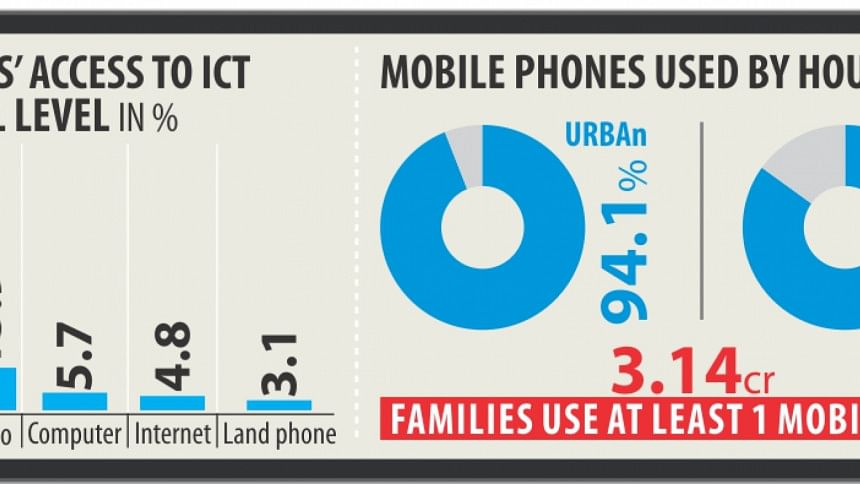 More than 87 percent households in Bangladesh own mobile phones, indicating the rapid expansion of digital connectivity the present government has brought forth, according to a government survey.
Besides, 3.14 crore households have at least one mobile phone, shows the survey conducted in 2013 and published last week by Bangladesh Bureau of Statistics.
 It also says 4.8 percent households have access to internet.
This is for the first time a government agency has done such a survey.
The BBS findings on internet access have drawn the ire of experts and policymakers, who say the data don't reflect the reality given the digital transformation that took place in the country in the last two years.
They say the 2013 data are outdated for sectors such as information communication and telecommunication services.
The massive survey, involving a sample of 36,268 households with 130,714 individuals aged above five, found that only 5.6 percent households have computers.
The survey, "ICT Use and Access by Individuals and Households in Bangladesh 2013", says 13.9 percent households have radio and 3.1 percent house units have landline phone connections.
According to the study, 94.1 percent households in urban areas and 85.2 percent in rural areas are connected with mobile network.
And one in every four women in rural areas is connected with mobile network.
The 15-24 age group is the largest segment of mobile users, accounting for 91.4 percent of the market, according to the survey.
"All these data show that Bangladesh has developed as a country in the ICT and telecommunication sector," said State Minister for ICT Zunaid Ahmed Palak.
He, however, was not satisfied with the findings on internet connections at households.
"Our calculation showed that internet penetration is now more than 34 percent, and it will be 100 percent by 2021."
Last year, 44 lakh smartphones were sold, and the number would double this year, he said.
"Sometimes, the BBS findings put us in an embarrassing situation, and that on internet users is one such finding.
"This sort of finding stands in the way of showing the real picture of digitisation. It pushes us down the bottom of different international indices," said Palak.
According to the BBS, only 17.12 lakh of the 3.58 crore households in the country are connected with internet. Of those, 11.8 percent in urban areas and 2.5 percent in rural areas have data connectivity.
Division-wise, Dhaka has the highest number of internet users, making up 7 percent of all subscribers. Only 1 percent households are connected with internet in Rangpur and 1.5 percent in Rajshahi.
Of those having mobile internet, 92.7 percent are in urban areas and 67.2 percent in rural areas. Some 5.9 percent internet users are using Wi-Fi in urban areas, shows the survey.
Dhaka also has the largest number of mobile users (91.3 percent). Of the households in the division, 10.5 percent use computers, 5.2 percent landline phones and 59.7 percent televisions.
Chittagong topped the list in radio use category with 24.2 percent households using the device. Barisal secured the second position (18.2 percent).
Chittagong was ranked second in terms of mobile connections (90.8 percent households), followed by Khulna (87.1 percent), Sylhet (86.9 percent), Rangpur (82.2 percent) and Rajshahi (81.9 percent), according to the report.
The largest segment (19.3 percent) of the 17.12 lakh internet users used the medium for downloading software, 19 percent for banking, 10.4 percent for purchasing goods or services and 18.4 percent for entertainment.
Referring to the BBS findings, TIM Nurul Kabir, secretary general of Association of Mobile Telecom Operators of Bangladesh, said, "It is our success that we have covered the entire country. Mobile penetration is increasing day by day. We have to build on the success and introduce modern services in order to boost internet use."
Statistics dating back two years might not match the reality, especially in case of internet users, added Kabir.
Mustafa Jabbar, former president of Bangladesh Computer Samity, said the country as a whole saw significant development in the field of digitisation, especially in case of internet use, over the last two years.
But it is missing in the survey, he added.