3 more 'drug dealers' killed in 'shootout'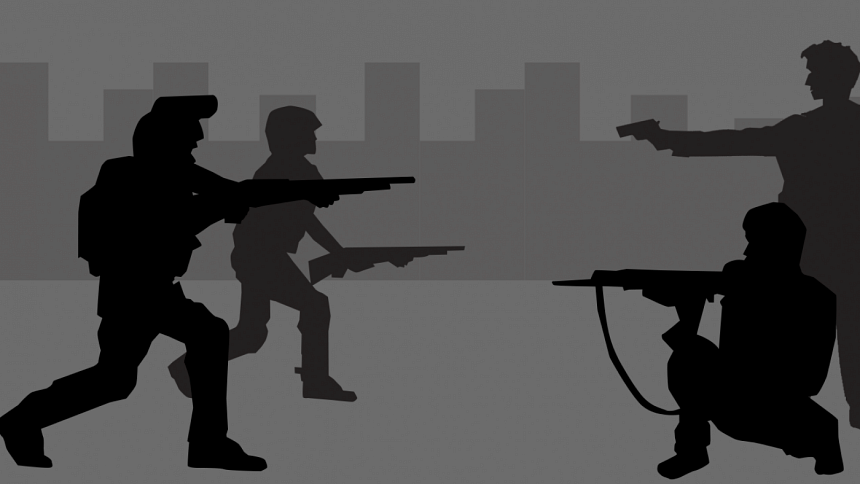 Three alleged drug dealers and one "criminal" were killed in separate incidents of "shootouts" with Rab and police in Chittagong and Tangail yesterday.
With the deaths of the "drug dealers", the number of deaths since the anti-narcotics drive began on May 4 has risen to 202.
In the incident in Chittagong, two of the dead "drug dealers" were identified as Jakir Hossain, 31, and Md Dalim Sheikh, 29, both from Morrelganj of Bagerhat district. The identity of the other "dealer" could not yet be confirmed, Rab said.
According to Rab, Jakir was accused in one case involving drugs while Dalim in two.
Mimtanur Rahman, an assistant director of RAB-7's media wing, said the "gunfight" took place at Ambagan Railway Canteen Gate area after a Rab team signalled a private car coming from Comilla to stop.
"Seeing the Rab men, the passengers of the car opened fire at them, forcing them to retaliate," he said.
Afterwards, Rab found the three bullet-hit bodies inside the car, the Rab official said.
The bodies were sent to Chittagong Medical College Hospital morgue for autopsy.
Rab claimed to have recovered 120 kilograms of marijuana, two firearms and some bullets from inside the car.
With the latest incident, 10 suspected drug peddlers were killed in "gunfights" with law enforcers in Chittagong, nine of them with Rab, during the ongoing anti-narcotics drive.
Meanwhile in Tangail, an alleged criminal was killed in a "gunfight" with police at Mirzapur upazila early yesterday, minutes after he was picked up by police from his house.
Nazmul Hossain, 28, of Bagjan village, was accused in at least 12 cases involving murder, robbery, possession of firearms, and drugs, said Mizanul Haque, officer-in-charge (OC) of Mirzapur Police Station.
He said that a police team arrested Nazmul from his house at around 3:00am. When the police were on the Dhaka-Tangail highway, a "gunfight" ensued as a group of criminals attacked the police van.
As the criminals sprayed bullets at police, Nazmul attempted to flee. When the police fired back, Nazmul was left with bullet wounds while the other criminals fled the scene, reports our Tangail Correspondent quoting police. 
After he was rushed to a local hospital, they sent him to Dhaka Medical College Hospital upon referral. As his condition deteriorated on the way there, he was admitted to the Sheikh Fazilatunnesa Mujib Memorial Hospital in Gazipur where doctors declared him dead at 11:00am, OC Mizanul said.