5 more 'drug dealers' killed in 'shootouts'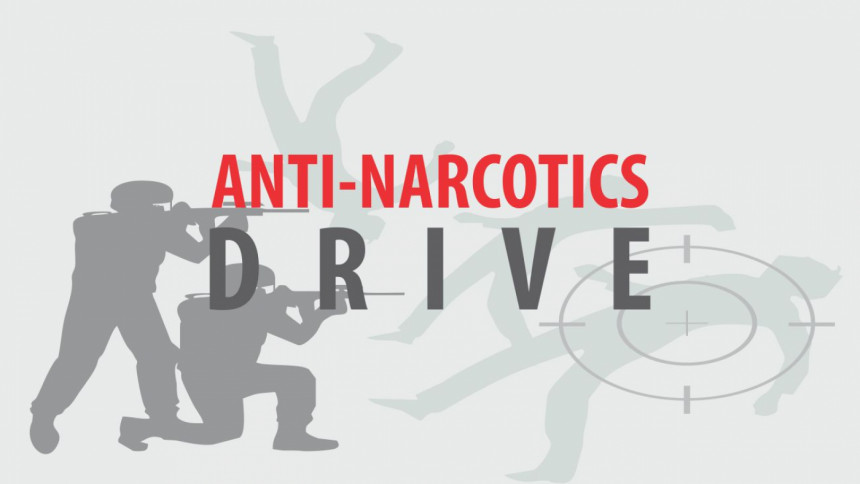 Five alleged drug traders were killed in "gunfights" between law enforcers and criminals in four districts early yesterday.
Two of them were killed in Kushtia and one each in Natore, Dhaka and Lakshmipur.
Meanwhile, another alleged drug peddler, who was injured in a "gunfight" between detectives and criminals in Rajshahi's Charghat upazila six days ago, died of his wounds at Rajshahi Medical College Hospital yesterday.
With the six, at least 179 alleged drug peddlers have been killed since the beginning of the countrywide anti-narcotics drive on May 4. Most of the dead were killed in so-called shootout incidents involving the police and Rab.
Many families of the deceased alleged that law enforcers picked up their relatives and later cooked up stories of "shootouts" to cover up the murders.
Yesterday, two people were killed in a "gun battle" between Rab and criminals in Kushtia's Mirpur upazila. The dead -- Abdul Mannaf Fotu, 35, and Rassel Ahmed, 30, -- were from the same upazila.
Mohaiminul Islam, company commander of Rab-12, said the "gunfight" took place around 3:30am when a Rab team raided a brick kiln in Anandabazar village on information that some drug traders were holding a meeting there.
Sensing the presence of law enforcers, criminals opened fire at Rab. The Rab men fired retaliatory shots, triggering the "gunfight", he said.
At one stage, criminals ceased their firing and fled the spot. The Rab recovered the two bodies from there.
According to Rab officials, the two were named on the home ministry's list of drug traders. They were accused in eight cases each. 
In Natore's Boraigram upazila, alleged drug peddler Osman Gani died of his bullet wounds at a local hospital early yesterday, around half hour after he was injured in a "gun battle" between Rab and suspected criminals.
Maj Shibli Mostafa, company commander of Rab-5, said a Rab team conducted a raid in Bahimali village around 11:40pm on Tuesday on information that a group of people were carrying out suspicious activities there.
At one stage, Osman and his cohorts opened fire at Rab members. The Rab men retaliated with gunshots, trigging the "gunfight" that left Osman injured.
He was rushed to a local hospital where doctors declared him dead.
Shahim Hossain, a cousin of Osman, said his brother was involved in drug peddling previously, but he quit the trade over a year ago.
In Lakshmipur, the man killed in a "gun battle" was identified as Sohel Rana alias Suriya Sohel, aged about 37. He was from the district's Raipur upazila.
Police said they picked up Sohel, an accused in 22 cases, from near Jhumur Cinema in the town on Tuesday afternoon and conducted a raid in Raipur area around 3:00am yesterday, taking the detainee along with them.
The police team was attacked by Sohel's cohorts, forcing the cops to retaliate with shots. Bullets hit Sohel as he tried to escape, said Azizur Rahman, officer-in-charge of Raipur Police Station.
He was rushed to Raipur Upazila Health Complex where doctors pronounced him dead.
In Dhaka's Keraniganj upazila, alleged drug trader Nur Hossain Nuru, 35, was killed in a "gunfight" between criminals and Detective Branch of police. He was accused in at least 12 cases.
Monirul Islam, officer-in-charge of DB, said the gunfight took place near Diamond Melamine Factory in Deushur area, reports UNB.
INJURED 'DRUG PEDDLER' DIES
Alleged drug peddler Abdul Malek died of his bullet wounds at Rajshahi Medical College Hospital yesterday.
Malek passed away at 2:00am, said a staff member of the hospital, adding that he had been admitted to the hospital with bullet injuries to his left leg.
The 48-year-old man was injured when a team of detectives opened fire on a group of drug peddlers in Charghat upazila on Friday, said Ataur Rahman, OC of Detective Branch of Rajshahi district police.
He claimed police opened fire after they had come under attack from criminals.
According to the OC, Malek was accused in 10 drug-related cases.
'ROBBER' KILLED IN 'GUNFIGHT'
An alleged robber was killed in a "gunfight" between two groups of robbers in Jessore's Monirampur upazila early yesterday.
The dead, Rahman Babla, 35, was from Hasimpur Moddhopara in Jessore.
Mokarram Hossain, OC of Monirampur Police Station, said a police team went to Gangolia Jamtola area acting on information that two groups of robbers were exchanging shots. Police recovered Rahman's bullet-hit body from there.
The other robbers fled the scene sensing the presence of law enforcers, police said.
The body was sent to Jessore General Hospital morgue for an autopsy.
Our correspondents in Noakhali, Kushtia, Natore and Benapole contributed to this report.