Anti-Drug Drive: 4 more killed in 'gunfights'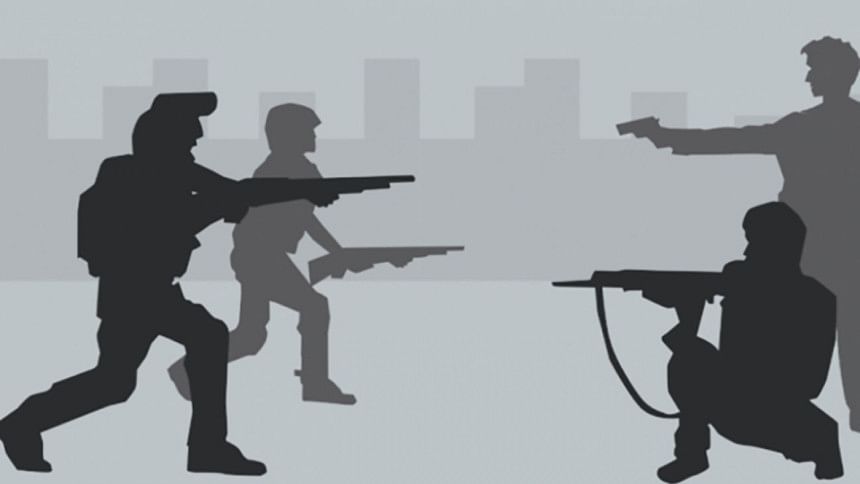 Four more suspected drug peddlers were killed in reported "gunfights" in four districts early yesterday.
One of them was killed in a "shootout" between two rival groups of drug peddlers in Cox's Bazar while the others died in incidents involving police and Rab in Dinajpur, Kushtia and Chapainawabganj, officials say.
Besides, an alleged drug peddler was injured being shot by police in Lalmonirhat.
With the four included, at least 195 individuals, who according to Rab and police were involved in drug trade, got killed since an anti-narcotics crackdown began on May 4.
Against this backdrop, Farid Uddin Ahmed Chowdhury, secretary of security services division at the home ministry, yesterday said it is an "all-out" drive and it will continue until the drug peddlers are wiped out.
The drive will be strengthened in Cox's Bazar to stop the inflow of yaba from Myanmar, the secretary said at a meeting to exchange views with the local administration at Chittagong Circuit House.
Regarding the godfathers of drug trade, he said none of them would be spared. "There are a lot of questions regarding godfathers… there is no scope for sparing anyone."
Referring to Narcotics Control Act-1990, the secretary said it had many loopholes and it did not provide for detaining godfathers, reports one of our correspondents from Chittagong. 
"The law will be amended by including provision for capital punishment in narcotics cases. It will be passed very soon and will be applied in capturing the big guns," said the secretary.
"We are not a narcotics producing country, we are the consumer. Had our neighbouring country been cooperative enough, it would have been easy for us to stop the drug business."
Bangladesh had a contract with Myanmar in 1994 for closing down the entry points of drugs but the Myanmar government did not take any action, Farid said.
"We held three meetings with them afterwards. They did not implement any of the decisions taken in those meetings. It shows that they are not at all interested in this matter."
THE 'SHOOTOUTS'
In Kushtia, Shamsuddin alias Sham, 38, an accused in eight cases, was killed in a "gunfight" with police in Bheramara upazila, reports our Kushtia correspondent.
The incident occurred around 3:30am when a police team raided Bankapul area after a tip-off that a group of drug peddlers were having a meeting there, said Aminul Islam, officer-in-charge of Bheramara Police Station.
Police also recovered 500 pieces of yaba, a gun and two bullets from the spot, he added. 
Earlier, Sham was arrested twice in drug-related cases filed with Bheramara Police Station but got released on bail. He was last arrested on July 12, 2017, said the OC.
In Chapainawabganj, Khairul Islam, 42, an accused in eleven cases including seven on narcotics charges, was killed in a "gunfight" with Rab in Sadar upazila.
Abu Khayer, deputy commander of Chapainawabganj Camp of Rab-5, said an elite force team raided a mango orchard in Mollan village around 1:30am following information that a gang was engaged in drug peddling there, reports our correspondent from the district.
After the gunfight, Khairul was found with bullet injuries but others managed to flee. He was taken to Chapainawabganj Sadar Hospital where doctors declared him dead.
The Rab official also said they recovered one pistol, one magazine, four bullets and 117 bottles of Phensedyl from the spot.
In Dinajpur, Md Abdur Rahim, 45, an alleged drug peddler, was killed in a "gunfight" with police in Parbatipur upazila early today, reports our district correspondent.
Two narcotics gangs were meeting in Bannirghat village and they opened fire when police raided the area around 3:00am, said Habibiul Haq Prodhan, the OC of Parbatipur Police Station.
Later, police found bullet-hit Rahim and took him to Parbatipur Upazila Health Complex where he died of injuries, the OC said, adding they recovered 100 yaba pills, 50 bottles of Phensedyl and a gun from the spot.
In Cox's Bazar, Md Ismail, 42, an alleged drug dealer, was killed in a "gunfight" between two groups of drug dealers in Chakaria around 2:30am, reports our correspondent in the district.
On information that two gangs of drug peddlers were locked in a gunfight, a police team raided the area. But the feuding groups fled sensing presence of law enforcers, said Bakhtiar Uddin Chowdhury, the OC of Chakaria Police Station.
Police later found the body of Ismail and also recovered a local pistol, two bullets and 465 yaba tablets, he added.
In Lalmonirhat, Rabiul Islam, 40, another alleged drug peddler, was injured in police firing at Singimari village of Hatibandha upazila, reports our district correspondent.
Omar Farooque, the OC of Hatibandha Police Station, said after a tip-off that a group of people are involved in drug smuggling, police raided the village and opened fire.
Rabiul was found lying on the ground with injuries while the other smugglers managed to flee. He was later admitted to the Upazila Health Complex and police also recovered 25kg of marijuana from the spot.