Shuvoo makes mother proud as she sees him on-screen for the first time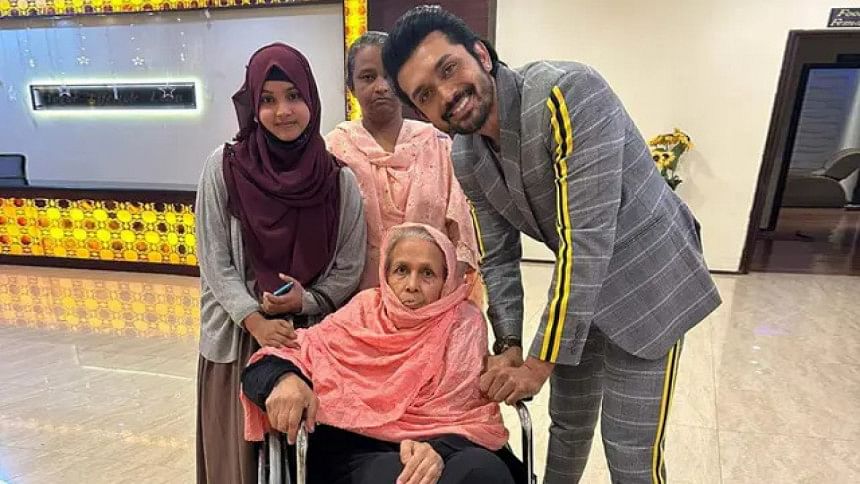 In his 13 year-long career, Arifin Shuvoo has set fire to the silver screen, with his charming presence. However, just recently, Khairun Nahar—the actor's mother—got to see her son's acting on the screen, for the first time.
Arifin Shuvoo starrer "Black War" was released on January 13 countrywide. Yesterday evening, during a screening of the show at Jamuna Future Park Blockbuster Cinemas, Arifin Shuvoo was spotted alongside his mother, enjoying the film. The actor was also seen selling tickets for the show to promote "Black War".
"I am very grateful to the Almighty for being able to bring my mother to watch my film, for the first time. Although she is not physically well, she enjoyed the film very much," shared Shuvoo.
Revolving around the theme of terrorism, "Black War" continues from where "Mission Extreme" left off. Directed by Sunny Sanwar and Faisal Ahmed, the film showcases how terrorists weaponize religion for their own selfish goals and how the police force works to fight them off.
The film stars Taskeen Rahman, Jannatul Ferdous Oishee, Sadia Nabila, Sumit Sen Gupta, Misha Shawdagar, Hasan Imam, Fazlur Rahman Babu, Shahiduzzaman Selim, Shatabdi Wadud, Dilara Zaman, Laila Imam, Iresh Zaker, Maznun Mizan, Manoj Pramanik, Aref Syed, Khalid Hasan Rumi, and Khashru Parvez, among others.