Jaya Ahsan's Irani film 'Fereshta' selected to compete at IFFI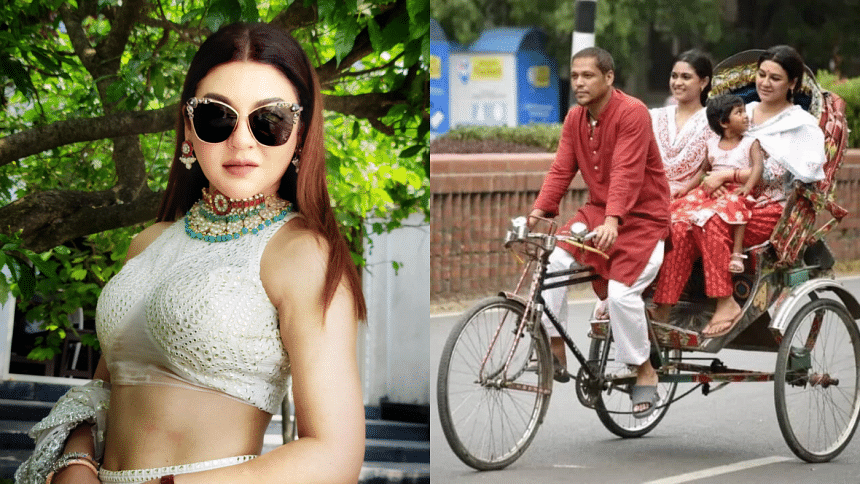 Five-time National Award and three-time Filmfare Award-winning actress Jaya Ahsan has appeared in an Irani film titled "Fereshta". The movie wrapped up filming last year, under the direction of Iranian filmmaker Morteza Atashzamzam.
On the 54th edition of the International Film Festival of India (IFFI) in Goa, "Fereshta" has been selected to compete in the Feature Films category amongst other foreign films. This film festival is organised every November. Recently the film's poster which Azad Khorshidi designed, was also released. 
Regarding the movie Jaya Ahsan said, "It is a film about humane values and emotions. I believe that the way the director portrays the Bangladeshi community, culture and politics will be surprising for the nation," said Jaya to The Daily Star.
"It was a very challenging film for me to do. The entire crew primarily spoke in their language (Persian) but films do not have any specific language which is why we ended up connecting profoundly throughout the process of filming. I played the role of a courageous and economically underprivileged woman."
In addition to Jaya Ahsan, several other Bangladeshi artistes including Reekita Nondine Shimu, Shahiduzzaman Selim, Shahed Ali, Shaheen Mridha and child artiste Sathi acted in this film.
The film was written by Mumit Al-Rashid of Bangladesh along with director Morteza Atashzamzam whilst the dialogues were translated to Persian and Bengali by Mumit Al-Rashid and Foisal Ifran.
"Fereshta" has also been selected as the opening film of the 22nd Dhaka International Film Festival 2024 in January. Maximum Enterprise Bangladesh is the co-producer of this Iran-Bangladesh joint production.