53 years of being together: Abul Hayat and Mahfuza Shirin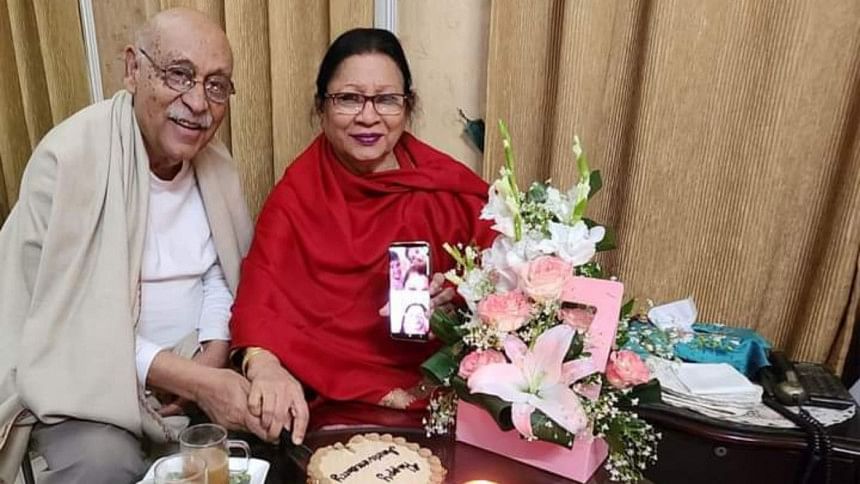 February 4 is a special day for Ekushey Padak winning legendary actor, director and play-wright Abul Hayat. It was on this day in 1970, that he had started his married life with Mahfuza Shirin. Together, they have completed 53 years together, happily stepping onto their 54th year.
Speaking on this momentous occasion, the actor remarked " My wife is 100% responsible for the person I am today. She has helped and supported in every way possible, she is a remarkable human being. I am extremely grateful to have her as my partner"
He also added that Mahfuza has had significant contributions behind raising their two daughters, Bipasha and Natasha Hayat. Both the sisters have followed in their father's path and have built careers in the acting industry. 
 Abul Hayat and Mahfuza Shirin had a quaint celebration to commemorate their anniversary. Bipasha Ahmed and Tauquir Ahmed had sent their well wishes from abroad along with their grandchildren. Many admirers and fans have also showered the couple with love and blessings on this happy event.
The veteran actor remarked that he was overwhelmed by the love he received from his fans and well-wishers, all the while acknowledging his biggest supporter, his wife.
The Daily Star wishes the wonderful duo long years ahead and well wishes as they march ahead into their 54th year,together.