The Afzal-Tauquir-Bipasha trifecta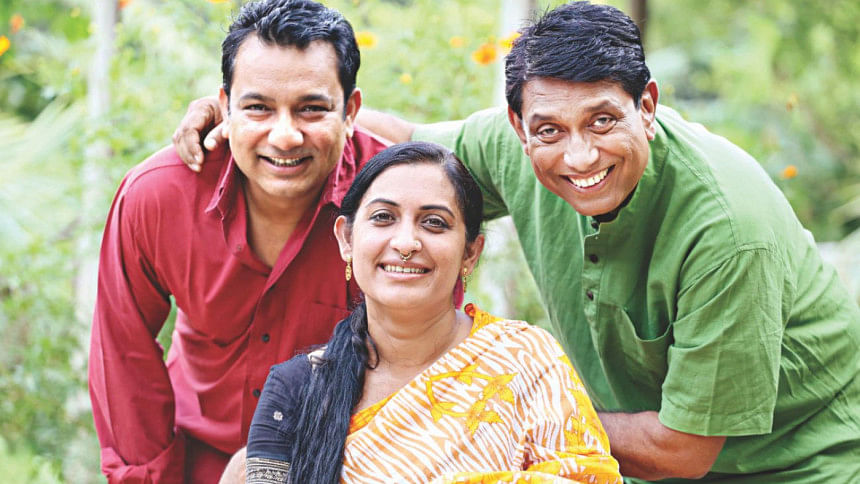 TV director Arif Khan is bringing out the big guns this Eid, casting Afzal Hossain, Tauquir Ahmed and Bipasha Hayat for tele-film "Rupali Diner Golpo", putting the three big names on the same screen for the first time.  
Filming for the tele-film began in Pubail, Gazipur on Wednesday. At the shoot, Bipasha Hayat is seen dressed in a village woman's attire, with Afzal Hossain seated beside her in a chair. The actors then resume rehearsals for their scene, which is emotionally charged and includes dialogue between Afzal and Bipasha. 
For the next scene, Shormimala and Tauquir join the cast members on set. Tauquir looks unrecognisable as he emerges from the makeup room with a false moustache and tousled hair. What ensues thence is a seemingly rural domestic scene where Bipasha sweeps the courtyard and Shormimala works on a sewing machine in the verandah. Tauquir, playing a villain, is to approach the two women from outside the house. However, the scene is interrupted by Afzal Hossain, who suggests the scene would be better if Shormimala descends from the veranda to join Bipasha in the yard. The director agrees to make this chance and they begin filming again. For this particular scene, pigeons are used as props. Shooting goes on as late as midnight, stopping only for iftar and dinner in between takes. 
Bipasha Hayat's involvement extends beyond acting; the veteran actor has written the script as well. On her work, Afzal Hossain said, "Bipasha has written a very serious script in which viewers will see me in a new light. Arif Khan is a close friend of mine, and together we hope to create a good drama."
Upon being asked on what message she hopes to convey with the tele-film, Bipasha responded, "People constantly change over time and 

this is what I have tried to capture."
"Rupali Diner Golpo" is scheduled to air during Eid on ntv.