Meet the man behind 'Obak Bhalobasha'
Warfaze's Babna Karim sits down with The Daily Star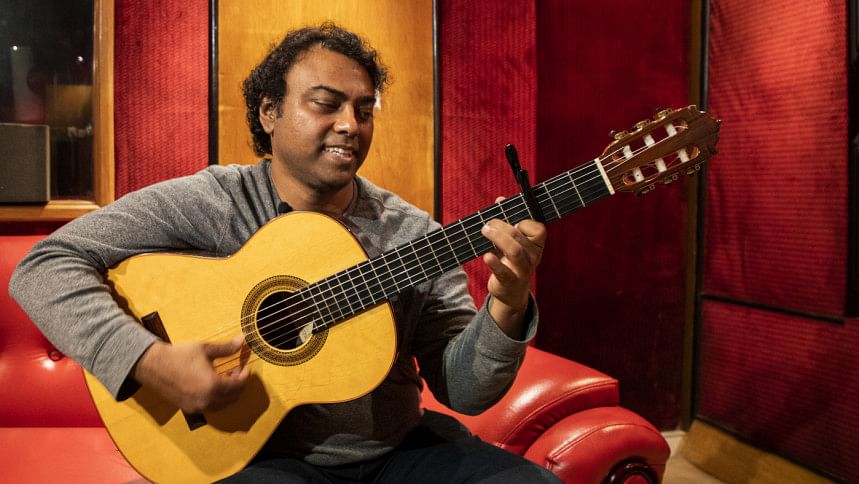 Legacy. It's often an arbitrary word that is thrown around. But very few can truly say that their legacies have been solidified in the stars.
Babna Karim is one such individual. The original bassist of Warfaze, Babna Karim has been the man behind some of the band's most iconic songs.
While Babna bhai currently resides in the US, he visited Bangladesh for a short trip this January. Having loved his Warfaze songs for years, I had to sit down for an interview with the man himself.
How did you start out composing songs for Warfaze?
While I joined the band in 1986, I was not really composing music at that time. In 1987, Warfaze was really taking off. However, in the same year, my immediate older brother–who was in the air force–passed away in an accident. At this time, I took a break from everything. I was only 18 at that point.
During this period of seclusion, I began composing music. However, I was not really composing for Warfaze, rather for myself.
"Bicchinno Abeg" was my first composition. After that came songs like "Ekti Chele" and "Boshe Achi". Back then, I did write a lot of songs for Warfaze, but it was how the band came together, arranged the songs and added their own flavours to it that made them such great hits.
Is it true that you composed 'Obak Bhalobasha' on a BUET batch trip?
I had the tune for "Obak Bhalobasha" already, but I don't think I had the lyrics. At that time, 17 of us from BUET had gone to Cox's Bazar. This was my first time there. When my friends went to the beach, I stayed back because I wanted to work on the song.
Funnily enough, I had not taken my own guitar, because I was a little embarrassed about what people would think. Thankfully, my friend Shuvo had brought his guitar. So, I continued writing the song that evening with his guitar.
It was on the roof of that Tnt resthouse that my friends heard the first version of "Obak Bhalobasha", fresh out of the oven.
How do you feel about the fact that 'Obak Bhalobasha' has become such a phenomenon in Bangladesh? To this day, it is a song that resonates with people of all ages.
Every song has a statement, but I think some people might like it because they think it is a love song. But really, the song is about the love of existence. How we have been given this gift of life. I am extremely grateful to God for giving me this life, where in some ways every moment is a gift.
It was inspired by seeing how wonderful life can be, mostly when you see something enormous and beautiful like Cox's Bazar. At the end of the day, I am extremely humbled by people's love for this song. When I was writing it, I could never have imagined it would get to this level.
Could you tell us about your upcoming projects?
Romel Ali and I have many compositions in the pipeline for RBR's next album. Right now, we are shortlisting songs for the album. I have also worked on something with Warfaze, which should be released soon. Personally, I want to continue working on my flamenco playing skills.