Anjan Dutt: A story of music and films
Celebrating the maestro's 70th birthday
It is indeed, a task most difficult, to pen down Anjan Dutt.From writing songs to singing them, from directing movies to acting in them, there's nothing he hasn't done. In the span of his decades long career, his works have been a constant companion of Bengalis around the globe. On the occasion of his 70th birthday this January 19, let's reminisce, in celebration of the life and works of this extremely prolific, versatile artist.
Anjan broke all societal rigidity and embarked on a journey of unabashed expressiveness,a practice often discouraged in the South Asian culture. His songs, aptly called urban folk, deeply reflect various aspects of life. Not only the yearning for simplicity, but also the mediocrity of life, the missed love interests or the lost old passions, all get the attention they deserve. "Shunte ki Chao", "Brishti" or "Purono Guitar" never age precisely for this reason.
His songs know what Bengalis go through. Bela is just an imaginary character and the phone number was ironically the phone number of an editor who filed a case against him. Yet, the earnestness and helplessness that he captures right in his voice convinced generations that this a song made personally for them. The fate of love stories meeting a tragic end because of family interventions have rarely been as aptly caught.
Who has not been moved listening to "Mala"? Forsaking her love, the character in the song, Mala, goes on to settle for opulence. We do not hear accusations in her lover's voice, but a knack of pride, for he knows, in her dreams, it is to him that Mala returns. When Anjan asks if she knows who she is, we are unsure if the question was directed to Mala or to us. In this ruthless world of today where wealth dictates actions, we are reminded of all of our bottled-up emotions we deliberately hide.
Songs like "Ranjana Ami Ar Ashbona", Chyapta Golap", "Tumi na Thakle" and "Mary Ann" capture the true realities of love. Mary Ann, an Indian Christian doesn't get to marry her love, for he has to abide by his family's strict Hindu principles. The immigration of certain minorities, the coherence yet difference among religious communities or demographic realities are poetically captured in his works. There is no melodramatic sentimentality in Anjan's songs, but the emotions captured in flattened roses in teenage love or the indispensability of beloved gets delicate attention. That is the true magic of this maestro.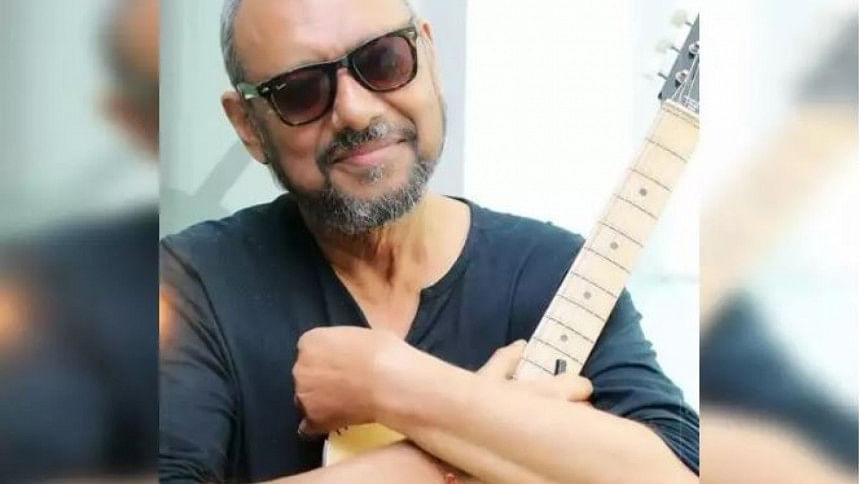 in terms of film,"Haripada", "Mr. Hall" and "Kanchan Jongha" tell stories of people whom we seem to know. The yearning of a working-class person, away from his beloved mountain Kangchenjunga, or the life of Haripada, the clerk, are tales we witness every day. Mr. Hall, on the other hand, is the embodiment of the teacher we all miss in our adult lives. Anjan is loved by all precisely because he voices our feelings, the emotions we can articulate through his works. 
Anjan Dutt had always wanted to be an actor. Mrinal Sen discovered him from theaters and Anjan debuted in the legendary "Chalchitra" in 1981.  Within a span of 11 months, he did 3 movies and was also awarded at the Venice Film Festival as the Best Actor. He later said that at that point he believed he would truly make it as an actor.
He is still very active as a creator. His recent works, "Ami Ashbo Phirey", "Finally Bhalobasha", and "Murder in the Hills and Murder by the Sea" keep gifting his audiences with refreshing, original pieces of art.
What makes Dutt dearest to all, is the nonchalant honesty with which he carries himself. He insists on his normalcy, talks about all the fights he has with his family and explains his financial uncertainties. Anjan believes in fearless self-expression and that is precisely what would be his lasting legacy to many.