Migration fraud
Offenders must be brought to justice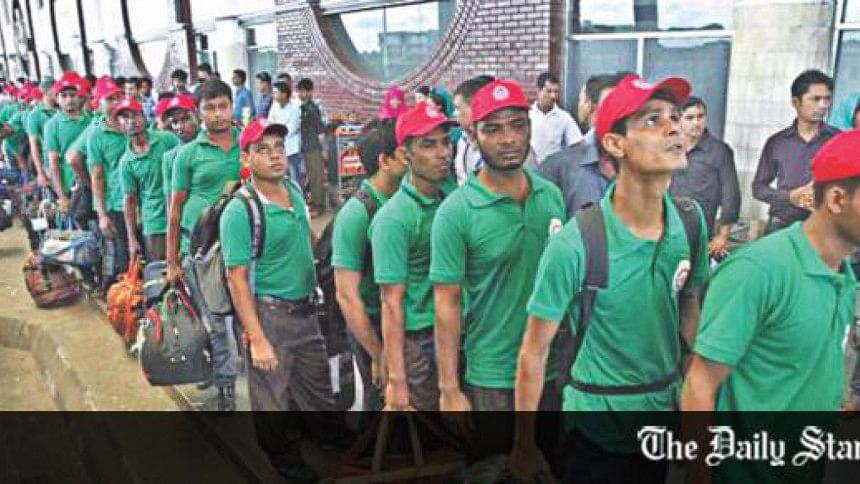 It's no secret that the path to Bangladesh's success in labour migration is covered in prickles. Every year our expatriate workers are making a huge contribution to the country's GDP, but behind the shiny façade lie heartbreaking stories of deception that simply refuse to go away. A new report on Wednesday by a local migration watchdog agency painted an unflattering picture of the migration process, detailing complaints by families of individuals who were deceived either in their destination countries or while trying to make the move. 
The report says that about 51 percent of job seekers are deceived in various stages of migration. About 19 percent of them fail to migrate even after making full or partial payments, while 32 percent are subjected to degrading treatment after migration. It was based on a survey conducted in nine villages and 11 wards in Tangail district. 
The fact that corrupt recruiting agencies and government officials continue to take advantage of the desperation of job seekers questions the sincerity of the regulatory authorities, and effectiveness of the laws that are meant to be safeguards against such practices. Also importantly, we need to understand what's driving so many of our citizens to seek jobs abroad and recognise the importance of reaping the benefits of our demographic dividend. 
The immediate challenge is to stop migration fraud. Bringing the culprits to justice can be a good start, as it will help deter future offenders from indulging in the practice. There should also be greater clarity in the migration process so that recruitment agencies function within the bounds of the law and the job-seekers are discouraged from circumventing official channels.