Better policy support is needed to boost remittance
Authorities should take migrant-friendly initiatives to encourage them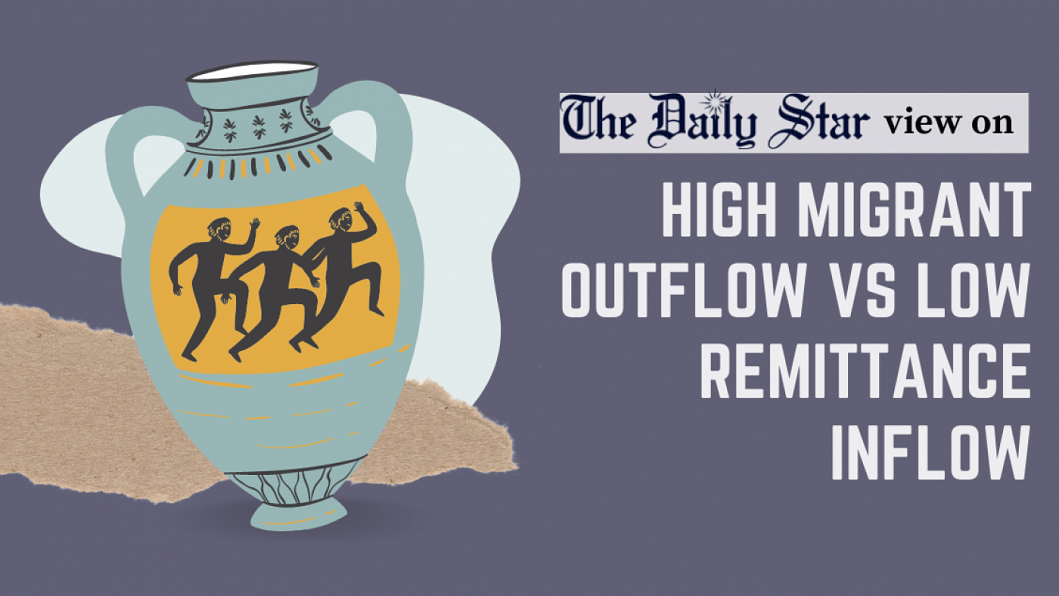 With millions of its migrant workers spread around the world, particularly in the Middle East, Bangladesh could boost remittance inflow and thereby its forex reserves simply by following a "stick and carrot" policy: carrot (or incentives) for migrants sending in remittances through legal channels, and stick (or punishment) for hundi cartels/operators facilitating illegal transfer of remittances. Unfortunately, it has managed to do neither. Its current policy can be summed up as a jumble of part-carrot-but-no-stick measures. As a consequence, even after the biggest surge in its history of migrant worker outflow recorded last year, it didn't amount to a surge in remittance receipt.
In fact, according to a report by The Daily Star, while more than 11.35 lakh Bangladeshis left for jobs abroad in 2022 – nearly doubling the figure from 2021 when 6.17 lakh flew abroad – remittances sent in through formal channels actually registered a 6.65 percent drop. The amount in 2022 was USD 21.28 billion; in 2021, it was USD 22 billion. How to explain this inverse effect? Why have we failed to translate a record migrant outflow into an increase in remittance inflow?
This would be a worrying development at any time. But it has special significance now, coming as it does at a time when Bangladesh is struggling with a protracted dollar crisis to pay for escalated imports. Already, owing to lower remittance receipt and moderate export earnings, the country's forex reserves declined from the January 2021 high of USD 44.95 billion to a disquieting low of USD 32.52 billion earlier this week. Bangladesh desperately needs to shore up its reserves, and remittance – as a crucial player at both macro and micro levels of our economy – could do the trick.
The reasons for the decline in remittance numbers are not unknown. Many migrants choose unofficial channels because of the ease of sending money. Many have no legal status, which deters them from using official channels. Not having financial literacy, or sufficient incentives from the government, is also an issue. Hundi, for them, offers a more advantageous alternative. But most importantly, in recent times, the yawning gap in the dollar rates offered by the informal market and the banking channel has emerged as a big motivation for those using illegal channels. It's no surprise, then, that in a desperate bid to collect/process remittance, a number of banks are ignoring directives to not offer over Tk 107 for each US dollar coming in as remittance.
This speaks of a deeply unsustainable, unregulated foreign exchange ecosystem that neither serves the country nor the migrants in the long run. The authorities need to address this issue urgently. As economists have suggested, the central bank should allow a market-oriented exchange rate and beef up surveillance to rein in illegal transfer of remittances. The government also needs to take firmer action against hundi cartels, and raise awareness among migrants and their families about the importance of using formal channels. Increasing the government incentive on legal remittance transfer from the existing 2.5 percent to 5-10 percent can work as an extra motivation.