Injured migrant workers deserve much better
Bangladesh authorities must expand services to help injured or ill returnee migrants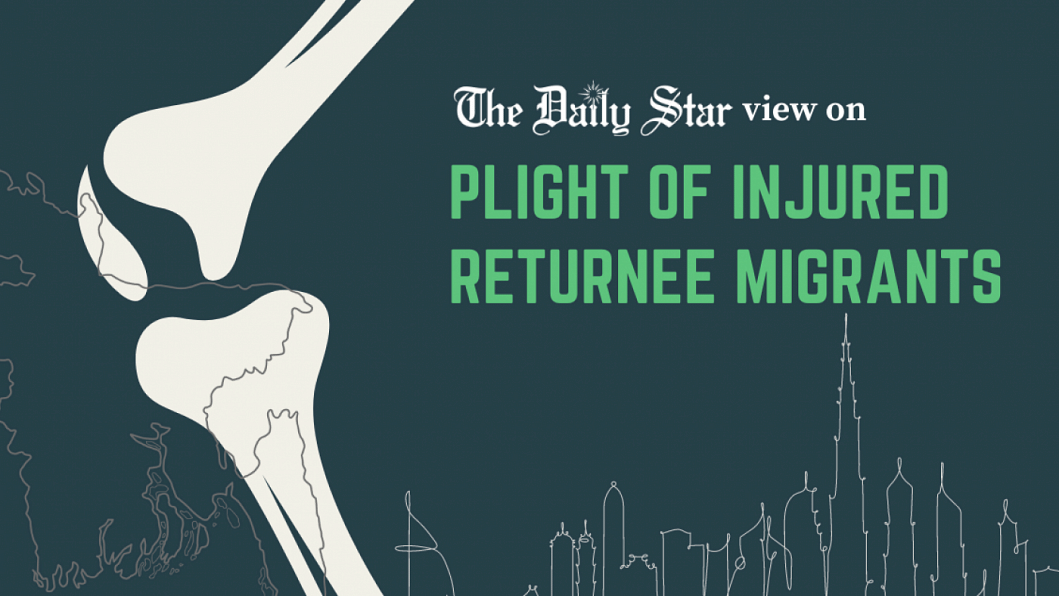 Migrant workers are a vital part of our country as they provide us with valuable remittances that have been boosting our economy for the past few decades. However, as a nation we have done little to recognise their contributions. In the last five decades, over 12 million Bangladeshis – nearly one million of them women – have gone abroad as migrant workers, sending back a total of USD 275 billion in remittance earnings, according to the Bureau of Manpower Employment and Training (BMET). However, many of them had to suffer terribly in the host countries as well as when they returned home, with little support offered by the state. Among them are those returning with injuries or diseases sustained abroad.
Reportedly, even though the Wage Earners' Welfare Board (WEWB) offers a variety of services to these workers, those are still quite insufficient. At the moment, the board gives them only Tk 1 lakh as medical support, as well as the ambulance service to carry them from airports. In many cases, however, injured migrants are not even aware of these services. From 2010 to January 2023, the WEWB distributed about Tk 14.4 crore to 1,508 returnee migrant workers for treatment. Last year, 383 of them received financial assistance, the most in a single year. The Ovibashi Karmi Unnayan Program (Okup), a migrant rights organisation, also offered medical assistance to 228 returnee migrant workers between 2019 and 2021.
There are a number of reasons behind the illnesses, injuries or deaths of our migrant workers abroad. Employers' abusive and exploitative behaviour, occupational hazards, and chronic diseases that develop over time abroad, among other things, cause their health to deteriorate, resulting in some cases in the collapse of their immune system. Furthermore, their poor skill sets and lack of negotiating power prevent them from accessing basic health facilities or benefits. Okup has been requesting a unique social safety net system for injured and ill returnee migrants but so far to no avail. If such a plan could be put in place, medical assistance can be provided under the plan until these workers fully recover.
Globally, several governments have taken the initiative to repatriate patients from host countries to ensure that they receive care in their own countries. Another strategy to ensure improved health is to provide health insurance systems. Overseas Filipino workers, for example, pay for health insurance, which allows them to receive medical treatment when they return home. Bangladesh can follow a similar policy and make available services known to all migrant workers. We must be more compassionate and proactive in the care of our migrant workers. That is the only way out for the workers who are now living a life of pain and misery. The migrant workers have given so much to our country. It is high time we took better care of them.