Maimed, many are left in the lurch
Govt provides only Tk 1 lakh each for treatment, ambulance service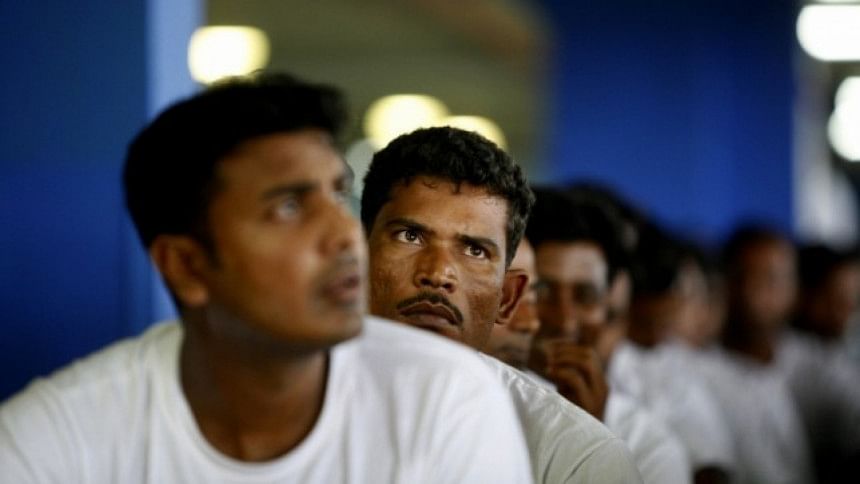 Jahangir Sheikh of Faridpur's Madhukhali migrated to the UAE as a construction worker in 2008 with the hope of turning things around for his poor family.
Everything was going well until in November 2020 a workplace accident in Dubai changed the course of the 32-year-old's life.
While Jahangir and another Bangladeshi were painting an under-construction building from the outside, he fell from the second floor and fractured several bones, including in his hands and waist.
"It was after lunch. I was on a tin-made platform outside the building. Suddenly, I felt dizzy," Jahangir said, adding that he had no safety gear on at the time.
He underwent treatment at a Dubai hospital for nearly three months, after which his employer sent him home in February 2021.
"I can't lift heavy objects now and I'm still on medication," said Jahangir, a father of one, while talking to The Daily Star recently.
He now makes ends meet by selling vegetables.
As Bangladesh sends tens of thousands of migrant workers abroad each year, scores return home prematurely after suffering various injuries or illnesses in the host countries.
Although the Wage Earners' Welfare Board (WEWB), under the expatriates' welfare ministry, provides several services to the workers, services for the ailing or injured returnee migrant workers are scarce.
At present, the board only gives such migrant workers a maximum Tk 1 lakh for treatment and ambulance service from the country's airports.
Speaking to this correspondent, Jahangir said he was not even aware of the services.
Migrant rights activists said the services are not sufficient to address the various challenges of ailing or injured returnee migrant workers, as many of them need a long-term treatment and face financial difficulties.
They said that once such migrant workers return home, they should be brought under a specific "social safety net" scheme to ensure their survival. Besides, migrant workers should be made aware of their health and safety issuesbefore their migration, they added.
According to WEWB website, it disbursed around Tk 14.4 crore among 1,508 returnee migrant workers for treatment from 2010 to January 2023. Of them, 383 got financial support last year -- the highest in a single year.
In a recent report, Ovibashi Karmi Unnayan Program (Okup), a migrant rights group, said it provided medical support to 228 returnee migrant workers from 2019 to 2021.
Of them, 21 percent received it for the workplace injuries they sustained in the host countries.
Okup Chairperson Shakirul Islam said they have been demanding a special social safety net scheme for the injured and ailing returnee migrants forthe past few years.
Under the scheme, medical support can continue until they recover fully. So far, the government has not introduced any such scheme, he said.
"There should be a needs-based sustainable reintegration of such returnees."
Shakirul also suggested giving them instant cash support at the airport upon arrival.
He said in many cases, it takes more than the expected time for an injured migrant worker to receive the WEWB's financial support. Besides, those who return home due to workplace injuries often do not get due compensation from employers, he added.
Shariful Hasan, head of Brac Migration Programme, said although providing Tk 1 lakh for treatment is a positive step, it is not a sustainable solution.
He suggested the expatriates' welfare ministry or welfare board take steps to ensure special care at government hospitals for those who need long-term treatment.
Also, migrant workers need to be aware of the health challenges in the host countries and the scopes of treatment there, he said, calling upon Bangladesh missions abroad to arrange regular health check-up campaign for Bangladeshi workers.
Contacted over phone, WEWB Director (finance and welfare) Shoaib Ahmad Khan said though they do not have other services except for cash and ambulance supports at present, migrant workers are now under insurance coverage through which they can get more benefits.
About compensation from employers,he said they took the required steps in this regard and many workers already received the compensation.