Gulshan café attack: Sculpture of slain cops inaugurated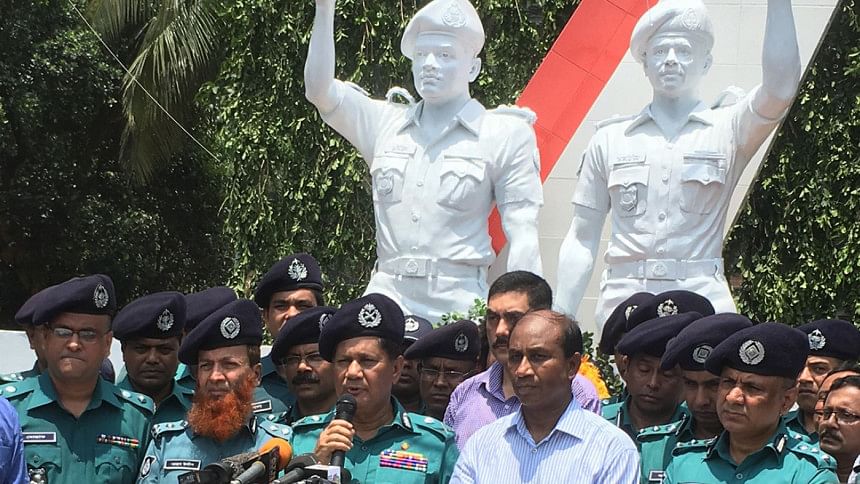 A sculpture built to commemorate the supreme sacrifices of the victims of the Holey Artisan tragedy was inaugurated near old Gulshan Police Station of Dhaka today.
Dhaka Metropolitan Police Commissioner Asaduzzaman Mia inaugurated the sculpture named Dipto Sopoth around 10:30am.
The sculpture portrays Assistant Commissioner Rabiul Islam and Officer-in-charge of Banani Police Station Salauddin Khan, who lost their lives during the Holey Artisan operation on July 1, 2016.
The incident also claimed the lives of 20 people, mostly foreigners.
"We have turned the sorrow of their death into our strength," said Asaduzzaman Mia told reporters at a briefing after the inauguration of the sculpture at Old Gulshan Thana, 115, Gulshan Avenue, near Azad Mosque.
Along with Counter Terrorism and Transnational Crime (CTTC) unit, other police units and elite force Rab have broken the network of militants but still the risk remains because militancy is a worldwide problem, said Asaduzzaman.
"If the rise of militancy could not be stopped, the economic growth of Bangladesh would have stalled," Asaduzzaman added.
Saying that the sacrifices made during the Holey Artisan attack will not be forgotten and will not go to waste, the commissioner said "We will submit the charge sheet in the case next week."
Two years ago, a group of militants lay siege to the Gulshan café killing 20 hostages, including 17 foreigners. Two police officers also lost their lives in the incident.
Five attackers and a restaurant staffer also died in the Operation Thunderbolt that brought an end to the 12-hour hostage crisis at the eatery.