Trial of Holey Artisan case begins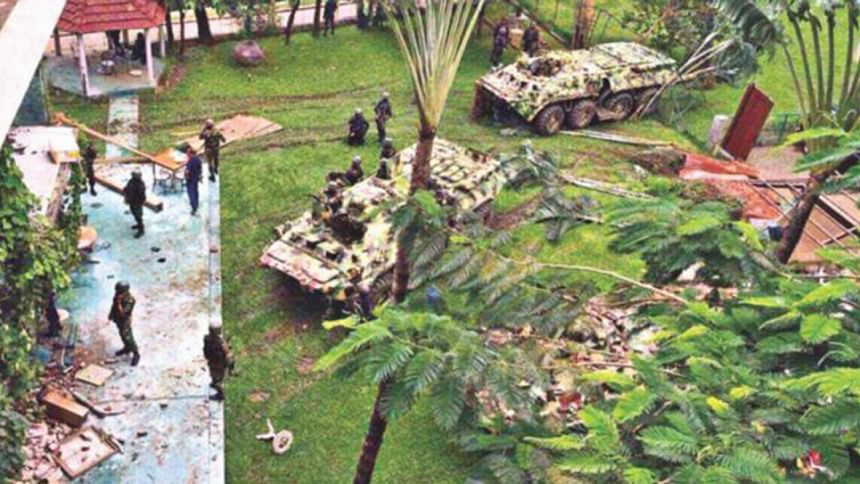 A tribunal in Dhaka yesterday started the trial of the sensational Holey Artisan Café terror attack case with recording the complainant's testimony.
Ripon Kumar Das, the complainant of the case and also a sub-inspector of Gulshan Police Station, gave his statement before the Anti-terrorism Special Tribunal.
Ripon, the first prosecution witness, narrated his experience of how the law enforcement agencies and army personnel completed the operation and rescued the victims following the harrowing attack on the café in the city's Gulshan area on July 1, 2016.
Judge Majibur Rahman recorded Ripon's statement for over two hours. Later, the defence lawyers for two of the accused were cross-examined.
During the hearing yesterday, six of the accused, now in jail, were produced before the court under tight security.
As the defence could not complete cross-examination of the complainant, the tribunal fixed today for continuing the hearing.
Earlier in the day, the tribunal appointed five state lawyers -- Shahid Uz Zaman, Mahfuzur Rahman Chowdhury, Setara Fouzia Salam and Farhana Kuddus Sweety -- to defend the six accused.
Another lawyer Faruque Ahmed was appointed by two other accused -- Aslam Hossain alias Rash and Raqibul Hassan alias Regan.
In his deposition, Ripon said he got a message over wireless that some criminals were firing inside the café around 7:45pm on July 1, 2016.
Soon after receiving the message, he along with his patrol team members went to the spot and saw the militants firing shots. The firing incident left some 30 to 35 policemen injured. They were admitted to United Hospital for treatment.
Of them, the then officer-in-charge of Banani Police Station Salauddin Khan and assistant commissioner of Detective Branch of police Rabiul Karim died.
In the meantime, then inspector general of police visited the hospital and went near the spot. Around 7:40am on July 2, army commandos, as per instructions from the higher authorities, conducted an operation to rescue the hostages and arrest the criminals.
The commandos rescued 19 people, including two foreigners, alive. A total of 26 bodies, including those of five militants who were killed in the operation, were recovered from the spot.
On July 4, Ripon filed a case with Gulshan Police Station under the Anti-Terrorism Act accusing the militants of creating "unrest" in Bangladesh and trying to turn it into a "terrorist state".
On November 26, the tribunal framed charges against eight alleged militants in the case. Two of them are still on the run.