Jail authorities served show cause for failure to produce Dhaka attack case accused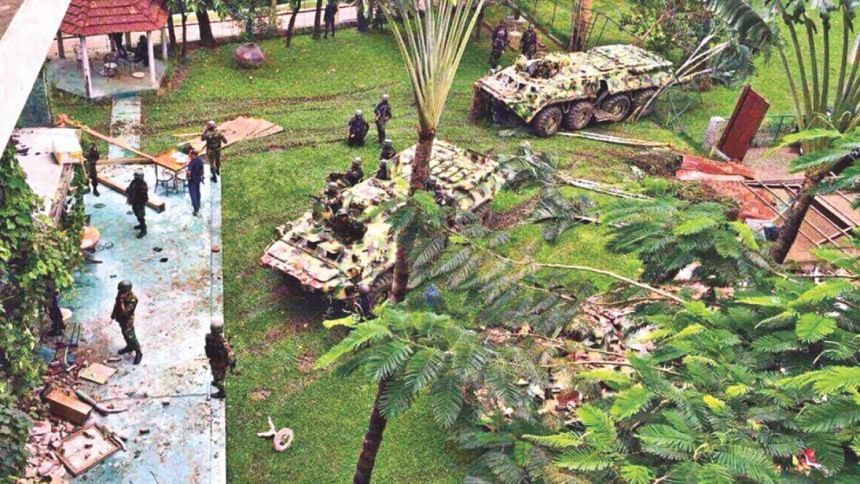 A tribunal in Dhaka today directed jail authorities to show cause for their failure to produce Jahangir Alam alias Rajib Gandhi, one of eight accused in the Holey Artisan café attack case, before the court on two consecutive dates.
Judge Mojibur Rahman of the Ant-Terrorism Special Tribunal of Dhaka passed the order after jail authorities concerned failed to produce Rajib Gandhi before it today.
Earlier on August 8, the jail authorities could not produce the accused without showing any reason.
The tribunal asked the jail authorities concerned to explain by August 29 why they failed to produce Rajib Gandhi on the two consecutive dates.
The tribunal also directed the officers-in-charge of Bagmara police in Rajshahi and Nandigram police in Bogra to submit reports by August 29 on execution of the arrest warrants issued against two fugitives who are accused in the case.
Earlier on August 29, the tribunal accepted the charge sheet against eight militants and issued the arrest warrants against the two fugitives.
The tribunal relieved private university teacher Abul Hasnat Reza Karim of the charges as the investigation officer (IO) in the case did not include his name in the charge sheet.
Earlier on July 23, IO Humayun Kabir, also an inspector of the Counter Terrorism and Transnational Crime (CTTC) unit of Dhaka Metropolitan Police (DMP), pressed charges against eight alleged militants in the case.
The other six accused are behind bars. They are -- Jahangir Alam alias Rajib Gandhi, Rakibul Hasan Regan, Rashedul Islam alias Rash, Sohel Mahfuz, Mizanur Rahman alias Boro Mizan and Hadisur Rahman Sagar.
On July 1, 2016, armed militants stormed the Holey Artisan Bakery in the capital's Gulshan are and killed 20 hostages, mostly foreign nationals. Two police officials were also killed during the 12-hour standoff.
Global terror outfit Islamic State-inspired home-grown militant group "Neo-JMB" was held responsible by police for the Bangladesh's worst ever terrorist attack.