Threat not big, worry still there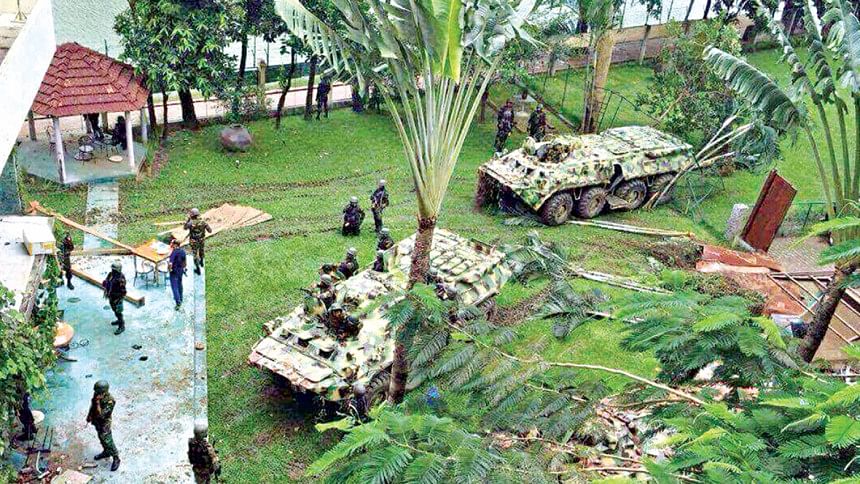 The IS-inspired "Neo JMB" and al-Qaeda-influenced Ansar Al Islam, which carried out targeted attacks between 2013 and 2016, have lost much of their strength, but are still active in cyberspace, motivating followers to join militancy.
Counterterrorism officials believe the terror outfits have little capacity to launch any organised attacks and can only perpetrate small and indiscriminate incidents.
Still law enforcers are on high alert especially after they intercepted communications between "Neo JMB" members regarding the third anniversary of Gulshan café siege. 
The JMB offshoot -- "Neo JMB" as law enforcers call it -- was behind the country's worst-ever terror attack which led to the killing of 20 hostages, including 17 foreigners, at the Holey Artisan Bakery in Gulshan on July 1, 2016.
Two police officers also got killed after they responded immediately.
Besides, five attackers and a restaurant staffer died during the Operation Thunderbolt that brought an end to the nerve-racking 12-hour hostage crisis at the posh eatery.
In July last year, police pressed charges against eight militants over the café attack. The case is now under trial.
The issue of militancy once again came to the fore after the government high-ups including the prime minister and top law enforcers recently urged the people to stay alert and provide information of any suspected militant activities.
Ahead of the Independence Day celebration in March, security was stepped up and several officials then said the measures stemmed from threats of militant attacks on religious establishments.
Besides, the home ministry recently directed Bangladesh missions abroad to strictly scrutinise the documents of the applicants before issuing travel passes.
The alarms were raised amid the concern that those who went to Syria from Bangladesh or other countries to fight for Islamic State might attempt to come back home as the last IS stronghold in Syria has fallen.
According to officials of the Counter Terrorism and Transnational Crime (CTTC) unit of DMP, around 40 such foreign terrorist fighters (FTFs) went to Syria from Bangladesh.
They have identified more than a hundred expatriates or foreign nationals of Bangladesh descent who went to Syria from different other countries.
"After the collapse of Islamic State centrally in Syria, its members are supposed to scatter …. They may carry out terrorist attacks returning to their home countries or motivate their affiliates to perpetrate attacks," said terrorism analyst Ali Ashraf.
The April 21 bombings in Sri Lanka came at a time when IS had fully been defeated in Syrian battlegrounds, added Ashraf, a teacher at Dhaka University international relations department.
CTTC unit chief Monirul Islam said they have taken cautionary steps at airports and entry points to ensure none of those fighters can enter without being arrested.
"We have also taken steps to ensure that people who are coming from the different countries, specially from Iraq or Saudi Arabia, are carrying proper travel documents," he told The Daily Star on Thursday.
Officials identified all those who had gone to Syria directly from Bangladesh as FTFs. They also got several lists of Bangladesh-origin FTFs from different other parts of the world, including Europe and America, he added. 
Even amid the heightened watch, a Bangladesh-origin FTF managed to enter Bangladesh on February 1 dodging the surveillance at Hazrat Shahjalal International Airport in Dhaka.
The Syria returnee, Saudi expatriate Motaj Abdul Majid Kafiluddin Bepari alias Motaj, was arrested on May 5 in the capital, around three months after his entry.
PRESENT STATE OF MILITANT OUTFITS
CTTC chief Monirul says the terrorist groups have no organisational strength now to plan a big attack. "The terrorist groups can conduct small operations if they get the chance."
He added, "The Neo JMB that follows IS ideology now has no charismatic leaders, hardcore activists, financiers, planners, organisers or motivators.  The group also does not have the supply of arms and ammunition."
About the alarm bell being rung by the government and police high-ups, he said they want to remain alert analysing the global trends so that militants cannot get the opportunity to carry out even small attacks.
Though the terror group's leaders and activists were killed in pre-emptive drives one after another since the café attack, it again managed to stockpile explosives in its dens in different areas till 2017. But those were dismantled in successful raids, said Monirul.
According to the official database, at least 78 leaders and supporters of the outfit were killed in different anti-militancy drives of law enforcers in the last two years. And nearly 250 people were also arrested by the law enforcers for their involvement in militancy during the period.
Right now, the militant outfit has some 12 to 14 active trained members who have come to leadership position from third or fourth tier. Three to four persons are leading small groups trying to reorganise it and recruiting sympathisers through cyberspace, the CTTC unit chief said.
"Cyberspace became a major platform to draw people to militancy… We don't conduct any sting operation directly, but we follow people who show interest in militancy in cyberspace, and try to neutralise them.
"We bring them out from cyberspace, provide them counselling and finally hand them over to their guardians."
Monir said those who get attracted to radicalism online are mostly young and under 18.
Before Neo JMB, Ansar Al Islam received most attention of counterterrorism officials between 2013 and 2016. At least a dozen writers, blogger and online activists were killed by the outfit.
Monirul said activists of this outfit, who were involved in killings, have either been arrested or exposed. Earlier known as Ansarullah Bangla Team, it is now mainly active on cyberspace and provoking radicals to carry out attacks.
"But, analysing their targeting policy, we do not think the outfit poses any terror threat now."
About Harkat-ul Jihad al Islami, CTTC officials said the outfit organisationally collapsed back in 2009 but it is again trying to regroup using Cox's Bazar Rohingya camps and trying to recruit the camp people.
The mainstream Jamat-ul Mujahideen Bangladesh (JMB), they said, is busy in robbery, dacoity and petty crimes to collect funds. Monirul said they do not think that there is any threat from this outfit as many of their leaders have either been arrested and executed.
Asked about another radical group Hizb-ut Tahrir, he said members of the organisation believe that they don't have to directly take part in "jihad".
"It believes that it has supporters in the administration and they will establish Caliphate through a coup after gathering massive support from all stages."
"But," he added, "We have been able to thwart or prevent the recruitment process of the militant organisation. So, we do not think there is any threat from it."