Gulshan Café Attack
Two years on, wounds still fresh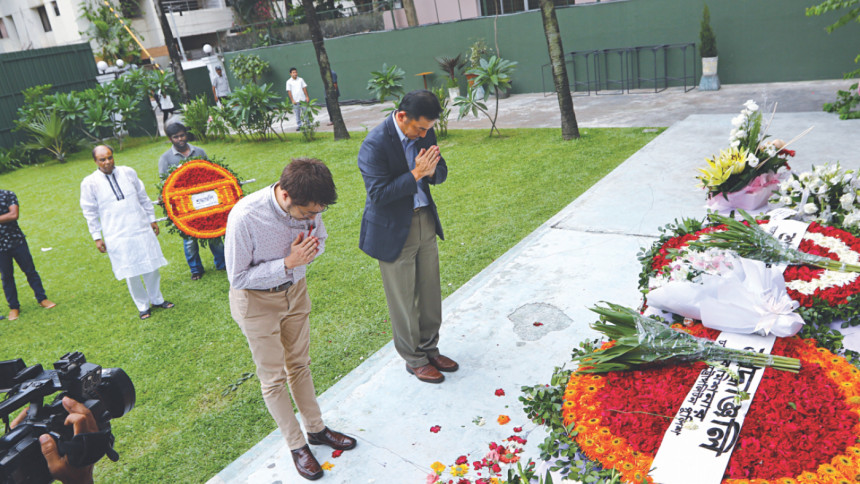 Wreaths of flowers in hand, she walked into the old premises of the Holey Artisan Bakery yesterday. Tears were streaming down her cheeks as she stood at the site of the deadliest terror attack in the country's history.
Her friend, a Japanese national, was among the 22 lives lost in the militant attack on July 1, two years ago. She stood still for a minute with her head bowed down in respect.
The agony she felt for her friend was clearly visible on her face as she failed an attempt to hide her eyes, tearful, with a handkerchief. She was also from Japan, but refused to speak. And so, she silently left the place with her name unknown.
Like her, mourners, including both locals and foreigners, placed flowers there as the once upscale restaurant was open to public for four hours from around 10:00am to mark the second anniversary of the horrifying attack that left a scar deep into the nation's psyche.
On the night of July 1 in 2016, five armed militants stormed the café in Gulshan diplomatic zone and held diners hostage at gunpoint. They then brutally murdered nine Italians, seven Japanese, one Indian and three Bangladeshis.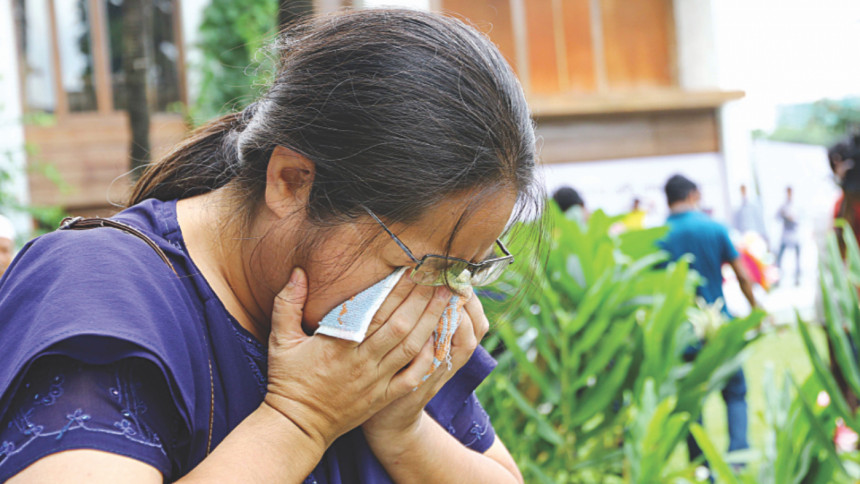 Two police officers also lost their lives as groups of law enforcers tried to close in on the place. The five terrorists and a chef of the café were killed in a commando operation the next morning. Another staffer died in hospital while in custody.
Around six months after the attack, the café reopened a few blocks from its original location.
Currently, the two storey building, that was once the Holey Artisan Bakery, is being used as a home by the land owners. The site at road 79 in Gulshan-2 was open for the second time for visitors since the incident.
Japanese Ambassador in Dhaka Hiroyasu Izumi, Italian Ambassador in Dhaka Mario Palma, representatives from the Australian Embassy, Dhaka Metropolitan Police Commissioner Asaduzzaman Mia, and Rab Director General Benazir Ahmed paid their homage to the victims of the terror attack.
A delegation of Awami League led by its General Secretary Obaidul Quader paid homage at around 10:25am. Meanwhile, a BNP delegation led by its Vice-chairman Major Gen (Retd) Ruhul Alam Chowdhury, paid respects to the victims at around 1:30pm.
Anisuzzaman, a former employee of buying house Studiotex, came all the way from Mawna in Gazipur only to pay respect to his "madam", Nadia Benedetti. Nadia was one of the nine Italian nationals slain in the terror attack. She was attending a farewell dinner at the restaurant with other Italian businesspersons in Dhaka.
Although Anisuzzaman left Studiotex six months after Nadia's death, he still fondly remembers Nadia as a friendly employer.
"Madam used to come to Bangladesh every two months. If she was here, she frequented this café," Anisuzzaman said, adding that he last spoke to her 15 days before the attack.
Along with him, 35 other officials of Studiotex visited the premises and paid tributes to the departed souls.
Twenty-year-old Faraaz Ayaaz Hossain, a student at Emory University's Goizueta Business School in the US, was one of the three Bangladeshis killed in the incident. He was given the choice of walking free from the café.
But he refused to leave his friends -- Abinta, a Bangladesh-born US citizen and also a student at Emory University, and Tarishi, an Indian student of the University of California, -- with whom he had gone to the café for dinner. He was brutally killed along with his friends.
Masuda Begum was also seen at the mourning site yesterday. She was holding onto a picture of her son, Zakir Hossain Shaon, 19. A restaurant staffer who was detained as a suspect that night, Zakir succumbed to his wounds on July 8. She claimed her son was innocent.
"He was killed," she added.
After the attack, a case was filed with Gulshan Police Station on July 4, 2016, and the police Counter-Terrorism and Transnational Crime (CTTC) unit took charge of the probe.
Police found 21 people involved in the Holey Artisan attack, starting from its planning and preparation to execution. Of them, 13, including the attackers, were killed in action.
Afterwards, law enforcers carried out at least 30 "successful" drives in militant dens where about 80 militants were killed and many arrested.
After paying tribute, Awami League General Secretary and Road Transport and Bridges Minister Obaidul Quader said although the militants have become weak, they have not been eliminated yet.
"Actions were taken immediately after the incident. We've been able to weaken the network of militants with the help of law enforcement agencies," Quader said adding that militant attacks are persisting globally. Even the US came under attack several days ago, he added.
Rapid Action Battalion (RAB) Director General Benazir Ahmed said, "There is no reason to be complacent. Because rooting out militancy is a long process," adding that the anti-militant drive will continue .
DMP Commissioner Asaduzzaman Miah said, "Two years after the Holey Artisan attack, we can claim to have shattered militant networks but cannot say radicals were eliminated."
"It's a global problem. The militants might still be continuing activities in different places. We can't reject the notion," he added.
The police commissioner made the comments after unveiling a sculpture, Deepto Shopoth (resolute oath) near old Gulshan Police Station to commemorate the supreme sacrifices of victims of the Holey Artisan tragedy.
The sculpture, created by eminent sculptor Mrinal Haque, is of Assistant Commissioner Rabiul Islam and Officer-in-Charge of Banani Police Station Salauddin Khan, who lost their lives during the Holey Artisan operation.