Gulshan Attack Case: No bar to free Hasnat Karim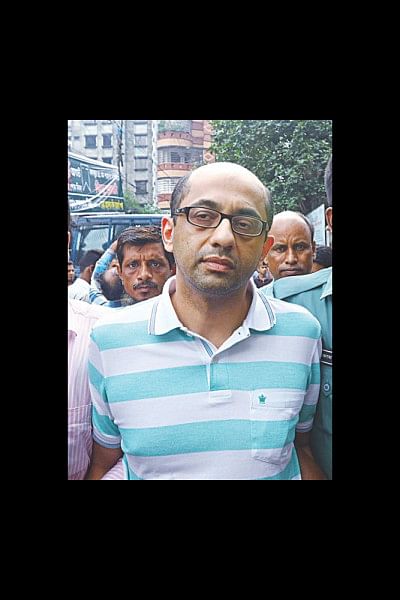 Private university teacher Abul Hasnat Reza Karim is set to be freed after two years in custody as a Dhaka court yesterday ordered his release in connection with the Gulshan café attack case.
The Anti-Terrorism Special Tribunal in Dhaka that accepted charge sheet against eight alleged militants issued the order on Hasnat, 16 days after police exonerated him as they had found no evidence of his involvement.
British-Bangladeshi Hasnat took his family to the restaurant on July 1, 2016 to celebrate his daughter's birthday. They were among several others released by the attackers before the army raided the cafe.
Immediately after his release, he was taken to the office of the Detective Branch of police for interrogation. The police claimed that Hasnat was released after questioning, but his family insisted he never returned home and could not be contacted by any means.
The police on August 3 that year said they had arrested Hasnat under section 54 of the Code of Criminal Procedure that allows arrest without a warrant.
He was shown arrested in the terror attack case on August 13 the same year and was interrogated for several days on remand.
Court sources say the order of his release was sent to the jail authorities yesterday afternoon. His release from Kashimpur jail is just a matter of time since he is not accused in any other case.
Sharmina Parvin, Hasnat's wife, said they are expecting his release in the morning today. Asked for her reaction, she refused to make any comment.
Earlier on July 23, Inspector Humayun Kabir of the Counter Terrorism and Transnational Crime Unit who is also the investigation officer of the case pressed charges against eight alleged militants in the Court of Chief Metropolitan Magistrate, Dhaka, showing 211 people as prosecution witnesses.
Judge Mujibur Rahman of the Special Tribunal accepted the charge sheet after hearing.
The tribunal also issued arrest warrants against two fugitives -- Shariful Islam Khaled and Mamunur Rashid Ripon -- as the investigation officer appealed to the court to that end.
The tribunal directed the officers-in-charge of Bagmara police in Rajshahi and Nandigram police in Bogra to submit reports by August 16 on execution of the warrants issued against them.
The other six accused are behind bars. They are Jahangir Alam alias Rajib Gandhi, Rakibul Hasan Regan, Rashedul Islam alias Rash, Sohel Mahfuz, Mizanur Rahman alias Baro Mizan and Hadisur Rahman Sagar.
Names of 13 other "militants" were not included in the charge sheet despite their involvement as they were killed in encounters with law enforcers at different places on different dates.
On July 1, 2016, armed militants stormed the Holey Artisan Bakery in the capital's Gulshan and killed 20 hostages, mostly foreign nationals. Two police officials were also killed during the 12-hour standoff. Global terror outfit Islamic State-inspired home-grown militant group "neo-JMB" as police called it is held responsible for the Bangladesh's worst ever terrorist attack.
Meantime, the Anti-Terrorism Special Tribunal has no courtroom to run the trial proceedings of the cases filed against militants independently. It has to begin its trial after adjournment of the Speedy Trial Tribunal-3 of Dhaka.
Due to shortage of courtrooms for the Anti-Terrorism Tribunal, trial of the cases pending with it is not running smoothly. As a result, litigants are being deprived of justice.