FEATURE
The comfort of books amidst wedding lights
Reflections and recommendations for this wedding season's brides and grooms-to-be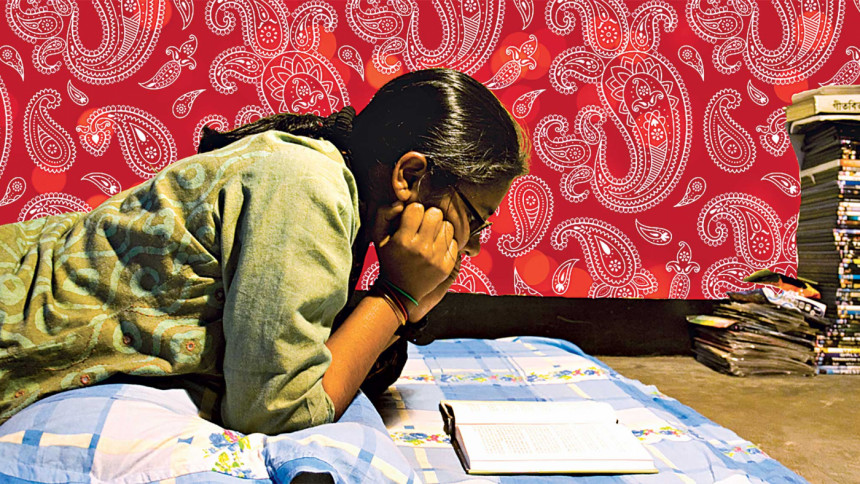 It is December again and as evenings set in, Dhaka becomes brighter than it has been in the past few months. At every alternate street, fairy lights glitter and lanterns float against a dark night—the wedding season is here. Yet, admiring the lights from a distance and being in their midst, in the eye of the storm, are two different worlds. We reached out to the local book-reading community on social media to ask brides and grooms-to-be (of the past and present) how books provided them with comfort and insight while confronting such a major change.
Inhabiting this role often comes with the mental and physical strain of planning a wedding—from deciding the colour of the tiniest cufflinks to overseeing guest lists and venue decorations. Doito Bonotulshi, who is currently in the midst of organising her upcoming wedding events, finds herself reading her childhood favourites on her commutes to shopping malls. "I have been reading Humayun Ahmed and at times Jafar Iqbal because of the ease of language and flow of writing. The characters seem like people I know in real life."
"More importantly", she adds, "I always know where the story is heading, even if I don't remember the exact endings after all these years. So, there is a sense of comfort and control to be found."
The looming presence of "what if something goes wrong?" waits at the turn of every shopping trip and venue tour, especially amidst the ongoing pandemic. But with the help of friends, families, and books, there is a sense of relief and happiness to be found when things come together eventually.
For some devout readers, a love of books can help bridge gaps between personalities. 
"A week before I asked [my husband/ then friend] out, I took him to Baatighar Dhaka", bookstagrammer Zaima Hamid Zoa shares. Zaima's has been a popular wedding among the book-reading community of Instagram. A week before their wedding, Zaima began shopping for books that her fiance was planning to read. As she sat getting ready for their ring exchange ceremony, a cousin came in to inform her: "Apuni, they brought you a book dala."  She realized all of the books were from her wish list. "I even got a book as my Kabeen at my wedding. It meant the whole world to me."
"He was not at all into reading", Zaima recalls of their first trip to Baatighar, before they started dating. "But that day, I saw a change in him. I was showing him the books that I liked and the books that I did not care for much, and I could just see he was kinda in awe of me. I knew that day that this might be going somewhere special. And a week after that I wrote him a long letter (of course I did, because that's what all the cool protagonists do in books) and asked him out. The rest is history."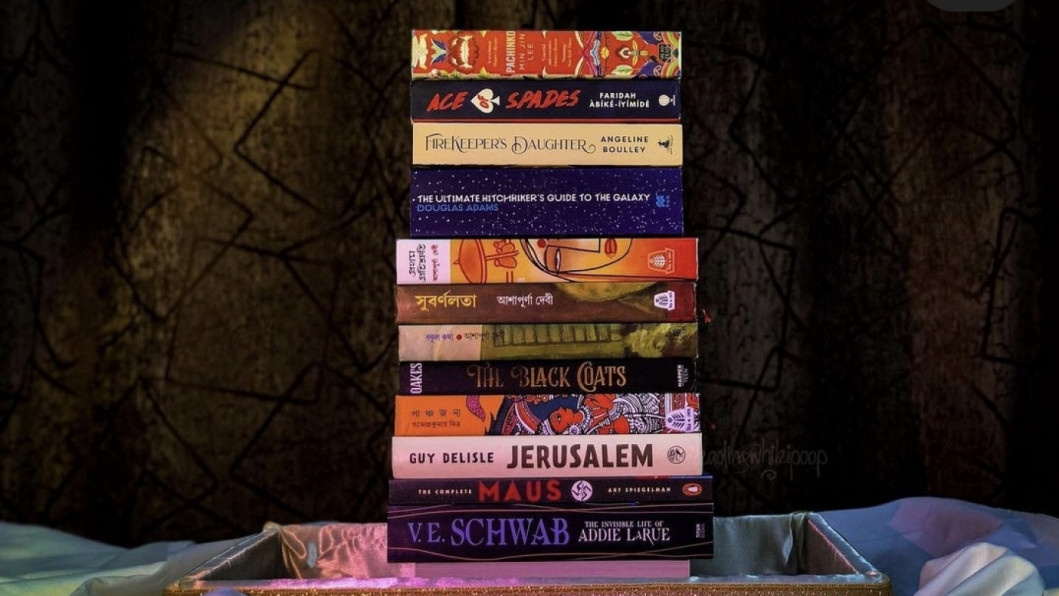 Beyond the pressures of organising the festivities, one also stands at the precipice of personal changes that will impact all aspects of their lives—from sharing their space with another person everyday, to learning about a new family's habits and dynamics.
Wahida Mashrura, a Bangladeshi marketing and business professional living in New York who got married in 2018, shares the books that she would seek out at the time: The Blue Castle (1926) and Anne's House of Dreams (1917) by Lucy Maud Montgomery, Good Wives (first published in 1869) by Louisa May Allcott, and Golpo Guccho by Rabindranath Tagore.
"Golpo Guccho is one of my favorite books", Mashrura shares, recalling with particular fondness short stories like "Hoimonti", "Megh o Roudro", and "Moddhobortini'" among others. "For me, the stories reflect how humans and their motivations interact, and it shaped my expectations and tolerance for other people's perspectives. Marriage brings new people into our lives and as a general rule, accepting that people are different, helps", she adds.
It is while standing at this exciting turning point that many find themselves unpacking what goes into a marriage. Even in the midst of the chores and chaos, there is a need for introspection.
Upoma Rashid, a development professional based in Dhaka who tied the knot earlier this year during lockdown, shared her experience in searching for more practical advice from books.
"My then fiancé/now husband and I have completely different personalities. I was looking for assurance that despite having so little in common, it's possible to build a wonderful life together. A bit of browsing directed me towards books by co-writers, John M Gottman and Nan Silver, and I picked up What Makes Love Last? (2012). Despite dealing with a topic that can get overwhelming and which has so many factors to account for—because no two relationships are the same—it felt easy to read, provided insights on issues of communication, intimacy, etc."
Upoma's reflection points out the importance of not only remembering to focus on our relationships but also to carve out time to understand, to navigate the changes and challenges of a relationship that is transitioning, be it a love or an arranged marriage. Suggestions poured in as we asked readers about the books that helped them through the planning, the rituals, and the post-wedding madness—Sourov Kabir recommends Alain de Botton's The School of Life: An Emotional Education, Zaima suggests Tarun Majumdar's Cinema-Para Diye, Emily Henry's People We Meet on Vacation, and Ali Hazelwood's The Love Hypothesis, and Shoaib Alam mentions books specifically for young Muslims getting married, such as Salam Love and Love, Inshallah, anthologies of stories of Muslim women and men, edited by Ayesha Mattu and Nura Maznavi. 
Getting married comes with a burden of intense social scrutiny—the choices and decisions of a bride and groom to-be are rarely their own. Looking back at my own experience of getting married, I remember reaching out to books when I felt exhausted by the social expectations of acting and looking like the "perfect" bride. I found myself reaching out for poetry anthologies; I knew that in between verses I would find that inexplicable sense of hope and love, which had led me and my partner to marriage in the first place. Chris Riddell's illustrated anthology, Poems to Fall in Love With (Pan Macmillan, 2019), is one such varied set of poems. It talks about the universal experiences of love, a collection where classic Shakespearean verses sit along with modern ones.
So in the spirit of reaching out for comfort at a time when life visibly rearranges and changes around us, I leave you, dear readers, with a verse. I hope you find joy both in between these lines and in between the celebrations and bittersweet change:
Because there are things you cannot know before you experience them.
Because no study can prepare you for the joys or the trials.
Because nobody else's love, nobody else's marriage, is like yours,
and it's a road you can only learn by walking it,
a dance you cannot be taught,
a song that did not exist before you began, together, to sing.
- All I Know about Love, Neil Gaiman
Ishrat Jahan is an early stage researcher who writes in her free time. You can follow her on Twitter @jahan1620.