Work together to fight IS globally: Bernicat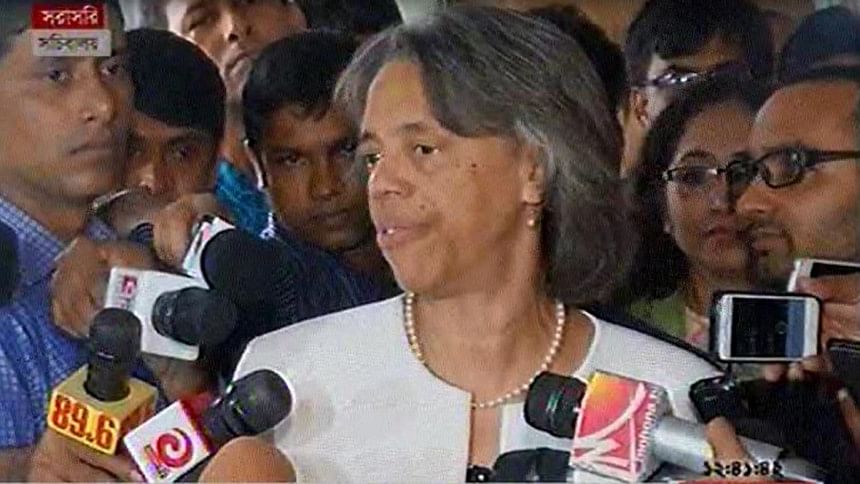 US Ambassador to Bangladesh Marcia Stephens Bloom Bernicat today put emphasis on working together globally to fight terrorist group Islamic State "instead of trying to find out whether it has any presence in Bangladesh or not".
"Terrorism is a global threat, therefore its presence is global, we don't have to talk about where an organisation is or is not, our two governments have agreed that it's a global threat and we have to work on it globally," the US ambassador told journalist in her reply to an enquiry at the Secretariat in Dhaka.
She answered to several questions by the journalists after she held a meeting there with the Home Minister Asaduzzaman Khan Kamal.
While explaining the global threat of terrorism Bernicat said, "If I can go on to my computer and I can reach by somebody in ISIL or I can find somebody in ISIL and talk to them then they are present in my life and they can distort my life, they can take my life and so presence isn't really the right question to ask."
"The question to ask, are we working together to deny them…" she said.
Bangladesh government including the head of the state Prime Minister Sheikh Hasina in the past persistently ruled out the existence of militant outfit Islamic State (IS) in the country.
She said, "…nobody should be killed for their beliefs or killed in the act of trying to convince other people to do things," while expressing her reaction on the ongoing killing of freethinkers in the country.
She emphasised on making people aware that "the terrorists' narrative a false one."
 "That's a much harder question, how do we convince people that the terrorists' narrative a false one, that in fact… nothing inconsistent living in democracy that respects all religions, that respects people… freedom to speak and that's not counter to any religion and terrorists will have us believe that but it's not true," she said.
On the development of the case filed over the brutal killing of USAID official Xulhaz Mannan, she said that she knows that the police are working hard to identify the suspects and round those up.
 "Despite the fact that this is a very difficult investigation, we believe the police are working on a breakthrough and we look forward to that breakthrough," she added.
Xulhaz, 35, and his friend Mahbub Tonoy were hacked to death by a gang of five/six who entered Xulhaz's Kalabagan flat posing as couriers in the afternoon on April 25.