US-Bangla plane crash
Priok, end of an undaunted spirit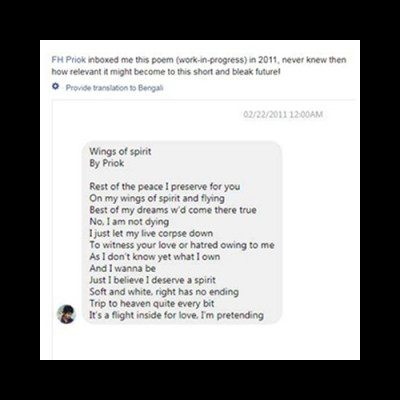 "No, I am not dying

I just let my live corpse down

To witness your love or hatred owing to me

As I don't know yet what I own…"
The lines were taken from a poem that FH Priok, one of the victims of the tragic crash of a US-Bangla aircraft at Tribhuvan International Airport in Kathmandu yesterday, wrote to one of his friends back in 2011.
His friend shared a screen shot of the poem in a Facebook post today saying he "never knew then how relevant it might become to this short and bleak future".
Priok, who graduated in English Language and Literature from Northern University Bangladesh, had an adventurous spirit. He used to write poetry, loved travelling and photography, according to his friends.
Hailing from Gazipur, Priok was the only child of his parents. He was a well known travel photographer in Bangladesh, and his work was recently selected for the Siena International Photography Awards competition.
He was on board the fateful flight with his wife Almun Nahar Annie, their child Tamarra Prionmoyee, his cousin Mehedi Hasan and Mehedi's wife Saiyada Kamrunnahar Shwarna, on their way for a tour to Nepal.  
Just before entering the immigration at Hazrat Shahjalal International Airport in Dhaka, Priok's wife Annie shared a group photo in Facebook saying "Ready to fly to Kathmandu from Hazrat Shahjalal International Airport ...Pls keep us on your prayer".
They were all seen smiling as they posed for the photo, looking forward for a memorable trip to the mountains, maybe.
Little did they know the nightmare awaiting them in the flight they embarked on only a little while later, as the plane crash landed at the airport leaving 51 of the 71 on board dead.
Priok and his daughter Priyonmoyee were among those who lost their lives in the tragic accident. The three others of the family on board the plane -- his wife Annie, cousin Mehedi, and Mehedi's wife Shwarna -- survived the crash sustaining injuries and were hospitalised.
Mehedi's father Tofazzal Hossain, also Priok's uncle, confirmed The Daily Star of his death this morning citing his son.
The child, Prionmoyee, was confirmed as dead yesterday.
Forty-nine people, including 26 Bangladeshis, were killed when the US-Bangla flight from Dhaka crashed in Kathmandu's Tribhuvan International Airport yesterday afternoon. Two more passengers succumbed to their injuries today raising the death toll to 51, according to the Nepal-based daily the Kathmandhu Post.