26 Bangladeshis among 49 killed
Confusing conversation between pilot, air traffic control before US-Bangla plane crash-lands in Kathmandu; 11 medical students among 21 Nepalese dead; shocked Hasina cuts short S'pore visit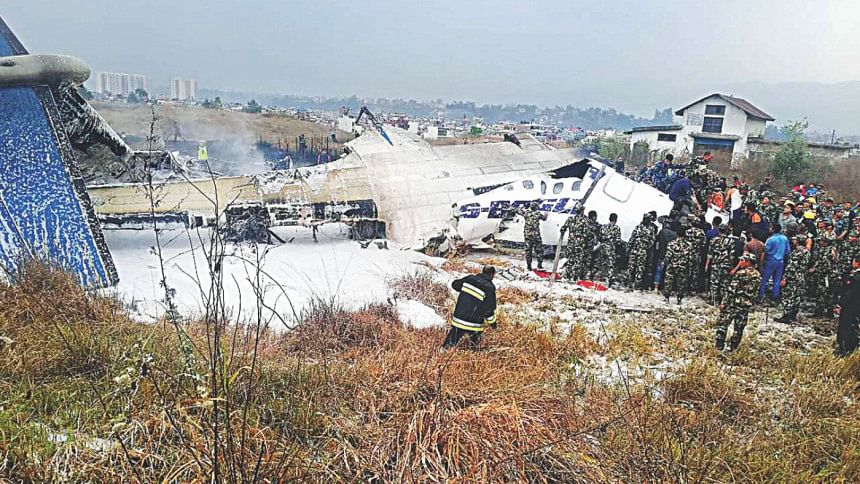 This is the deadliest civil aviation disaster in Bangladesh's history. 
At least 49 people, including 26 Bangladeshis, were killed when an US-Bangla flight from Dhaka crashed in Kathmandu's Tribhuvan International Airport yesterday.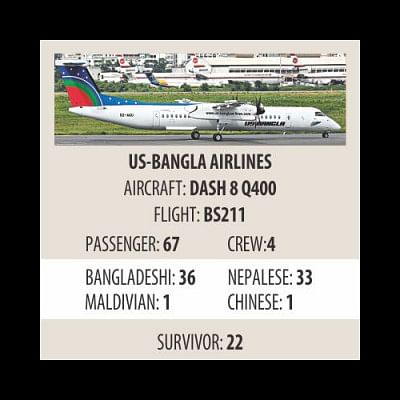 The dead include 21 Nepalese, one Chinese and a Maldivian, Rajkumer Chhetri, general manager of the airport, told this paper at 11:30pm yesterday.
According to him, 10 Bangladeshis and 12 Nepalese survived the crash.
Of the injured, 12 were undergoing treatment at the Kathmandu Medical College Hospital while five others at Norvic Hospital, journalists in Kathmandu told The Daily Star quoting officials.
At least 40 died at the scene, eight died at Kathmandu Medical College Hospital and one at Tribhuvan University Teaching Hospital.
The US-Bangla Airlines flight BS211, a 76-seater Bombardier Dash 8 Q-400, slammed on an empty field, caught fire, and came to a rest on a football pitch. It left a trail of twisted metal and scattered luggage, they said.
Dark smoke billowed from the pitch on the east of the runway at Nepal's only international airport as rescuers tried to save people trapped inside the burning wreckage.
It was flying with 67 passengers, two pilots and two cabin crew members.
The cause of the crash could not be immediately known. However, an unverified audio clip of the conversation between the pilot and the air traffic controllers at the airport suggested confusion over landing clearance and on which end of the runway to land.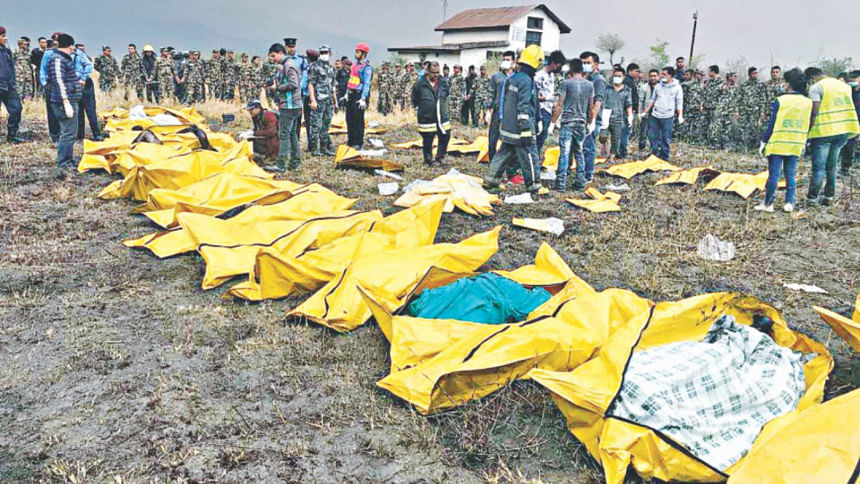 The flight data recorder and the cockpit voice recorder, commonly known as the black box, were recovered from the scene.
Basanta Bohora, a survivor, said the take-off was alright in Dhaka but when the plane approached Tribhuvan for landing, the aircraft began to behave strangely.
"Suddenly, the plane shook violently and there was a loud bang," he told Nepalese media while receiving treatment at Norvic Hospital.  "I was seated near the window and was able to break through the window."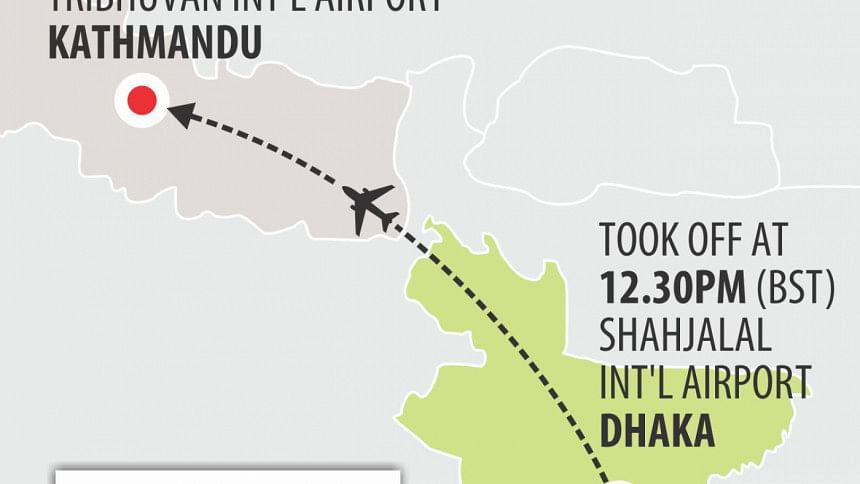 Bohora, who had come to Bangladesh along with 16 other Nepalese for a training, said, "I have no recollection after I got out of the plane; someone took me to Sinamangal Hospital," he said.
As the news of the crash spread, people in Bangladesh began to enquire about the people on the plane. Anxious family members, relatives and friends checked with the Hazrat Shahjalal International Airport and US-Bangla office in Dhaka to get information.
They also thronged the head office of US-Bangla Airlines at the city's Baridhara yesterday, desperately looking for updates as the officials provided little information on the victims.
"We are trying to get updates," Baqui Billah Milon, a friend of the Priok family, told reporters.
FH Priok, his wife, and daughter were on the flight.
"Ready to fly to Kathmandu from Hazrat Shahjalal International Airport ...Pls keep us in your prayers," Annie Priok, wife of FH Priok, wrote on Facebook and tagged her husband before departure.
Flight BS211 took off from Dhaka around 12:51pm with 32 Bangladeshis, 33 Nepalese, and one each from the Maldives and China. It was scheduled to land at Tribhuvan at 2:20pm [BST].
Of the Nepalese, 13, including 11 women, were students of Jalalabad Ragib Rabeya Medical College in Sylhet, said Prof Abed Hossain, principal of the college. Of them, 11 reportedly died and the two are in the intensive care unit of a Kathmandu hospital. 
In Dhaka, US-Bangla officials were suspecting "negligence" on part of the airport's air traffic control. US-Bangla Chief Executive Officer Imran Asif told media that there was a "tendency of giving misinformation and a negligence on behalf of the ATC [air traffic control] at Nepal airport." He said the ATC fumbled the landing.
However, Tribhuvan officials told a press conference at the airport that the pilot of the plane did not follow the ATC's instructions and that it was way off in its approach and had tried to land near the aircraft parking area.
The pilot of the plane, Abid Sultan, had 5,000 hours of flying under his belt and he was an instructor for Bombardier.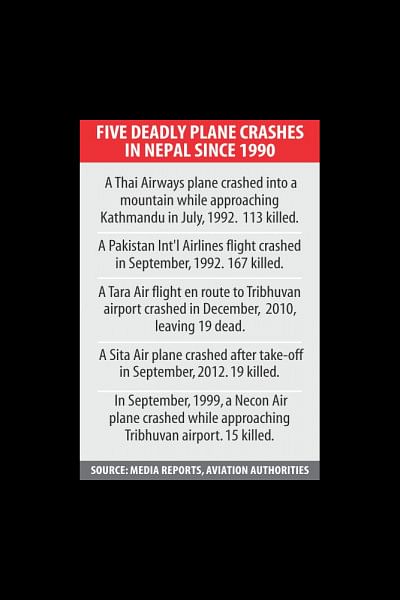 Sources in the aviation industry said he was displeased with the US-Bangla and wanted to fly Boeings instead of the Dash 8s. Airlines officials, however, refused to confirm or comment on the matter.
Civil aviation authorities of Nepal and Bangladesh and US-Bangla Airlines formed three probe bodies to investigate the crash.
Civil Aviation Authority of Bangladesh has formed an enquiry committee which would cooperate with the probe body formed by the Nepalese Civil Aviation Authority.
"We are in close contact with our Nepalese counterpart to provide them with necessary information," said Shahjalal International Airport Director of Flight Safety Wing Commander Ziaul Kabir.
He also added that two officials of Aircraft Accident Investigation Group had already left for Nepal.
Tribhuvan was closed for hours and all flights were diverted following the crash, airport spokesman Birendra Prasad Shrestha said.
Nepalese prime minister and home minister rushed to the spot to oversee rescue operations that lasted three and a half hours.
President Abdul Hamid, Prime Minister Sheikh Hasina and senior government officials and political leaders expressed profound shock.
Hasina, who was in Singapore on a four-day official visit, called her Nepalese counterpart Khadga Prasad Sharma Oli and assured him of all-out assistance from Bangladesh.
"Immediately after the plane crash, I talked to the Prime Minister of Nepal... I told the Prime Minister of Nepal that Bangladesh will always stand by it in the rescue work, treatment and whatever necessary," she said in a video message from Singapore, reports UNB.
Expressing deep shock and sorrow at the loss of lives, Hasina said a plane with doctors and necessary personnel was ready to leave for Kathmandu.
Hasina cut short her Singapore trip and would be returning home today. She was scheduled to return tomorrow evening.
Indian Minister of External Affairs Sushma Swaraj has spoken to
Bangladesh Foreign Minister AH Mahmood Ali, now in Singapore, and expressed deepest condolences and sympathies to Bangladesh for the loss of lives in the crash.
The Embassy of Bangladesh in Nepal has opened hotlines for any information regarding the crash. It asked to contact Mohammad Moniruzzaman (+8801912062966), MJH Jabed (+88001757682489), and M Delwar Hossain (+8801553344588)
Health Minister Mohammed Nasim in a statement said they formed a medical team to provide treatment to the passengers injured in the crash.
"The medical team of burn injury experts will fly to Nepal as soon as Nepal authorities ask for help."
Yesterday's crash equals the death toll of the crash in 1984 when all 49 people on board a Fokker F27 of Biman died after the aircraft dived into a marsh while landing in Dhaka.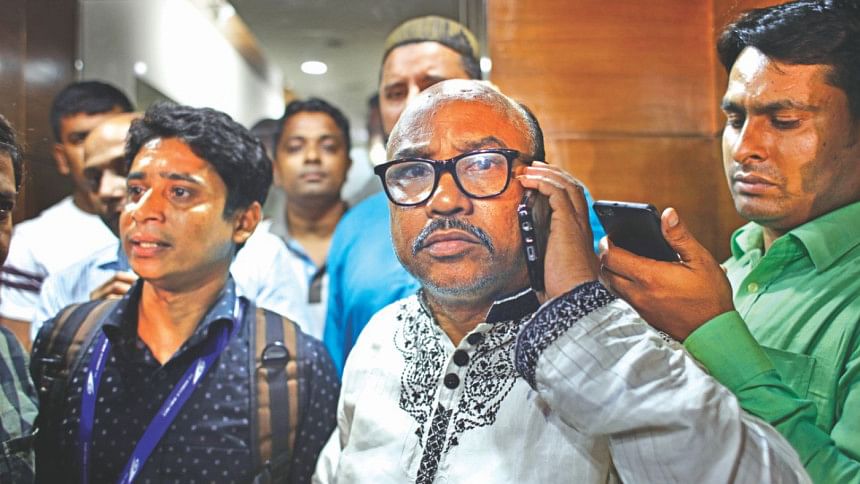 US BANGLA STATEMENT
US-Bangla Airlines in a press release said it has formed a probe body to identify causes behind the accident. It also expressed sympathy for the family members and relatives of the deceased and the injured.
"US-Bangla has taken initiative to hand over the deceased and injured persons to their near and dear ones through bringing them back from Nepal very soon."
US-Bangla Group, a US-Bangladeshi joint venture company, started aviation business in July 2014.
The plane that crashed (tail number S2-AGU) was 16 years old. Industry insiders claimed that the aircraft was involved in another accident in Saidpur airport in September of 2015.
On March 4, a US-Bangla Dash-8 made an emergency landing at Hazrat Shahjalal International Airport due to issues with propeller balance. The plane had 71 people on board and was heading to Jessore.
THE SURVIVORS
According to the state minister for foreign affairs, Shahreen Ahmed, Almun Nahar Annie, Shahin Bepari, Rezwanul Haque, Mehedi Hasan, Emrana Kabir Hashi, Kabir Hossain, Sheikh Rashed Rubayet, and Saiyada Kamrunnahar Shwarna survived the crash.
LIST OF PASSENGERS
Bangladesh: Ahmed Foysal, Shahreen Ahmed, Eakub Ali, Alifuzzaman, Almun Nahar Annie, Bilkis Ara, Begum Hurun Nahar Bilquis Banu, Akhtara Begum, Shahin Bepari, Nazia Afrin Chowdhury,  Rezwanul Haque, Rokibul Hasan, Mehedi Hasan, Emrana Kabir Hashi,  Kabir Hossain, Sanzida Huque, Hasan Imam,  Mohammad Nazrul Islam, Akhi Moni, Meenhaz Bin Nasir, FH Priok, Tamarra Prionmoyee, Md Motiur Rahman, SM Mahmudur Rahman, Tahira Tanvin Shashi Reza, Pias Roy,  Sheikh Rashed Rubayet, Umme Salma, Saiyada Kamrunnahar Shwarna,  Aniruddha Zaman, Nuruz Zaman,  Rafiquz Zaman. 
Nepal: Sila Bajgain, Algina Baral, Charu Baral, Sobindra Singh Bohara,  Basanta Bohora, Samira Byanjankar, Prabin Chitrakar, Sajana Devkota, Princy Dhami, Gyani Kumari Gurung,  Dinesh Humagain, Shreya Jha, Purnima Lohani, Meeli Maharjan, Neega Maharjan, Sanjaya Maharjan, Keshav Pandey, Prasanna Pandey, Binod Raj Paudyal, Hari Shankar Poudel, Sanjay Poudel, Ashish Ranjit, Sanam Shakya, Ashna Shakya, Saruna Shreshta, Hari Prasad Subedi, Dayaram Tamrakar, Bal Krishna Thapa, Shweta Thapa, Kishore Tripathi, Abadhesh Kumar Yadav, Krishna Kumar Sahani, Anjila Shrestha. 
Maldives: Rizana Abdulla.